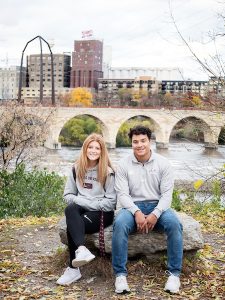 When you live and learn in the heart of the city, there's always something to do. Take a stroll along the nearby Mississippi River, hike multiple nature paths, explore theaters and restaurants—all within walking distance from our friendly, close-knit campus.
The Twin Cities boast a strong economy and a vibrant culture as the third-largest theater market in the nation, and home to 6 professional sports teams and 16 Fortune 500 companies, and the largest private company in the state with access to diverse employment opportunities.
Explore the city
When you're ready to venture off campus, you'll find we're just minutes from Downtown, Uptown, and Dinkytown, to name just a few! Below is what you'll find among your new surroundings.
East Bank and Dinkytown boast Annie's Parlour and legendary Al's Breakfast, as well as international cuisine and fast food. And there's no shortage of arts and culture with the Weisman Art Museum and Huntington Bank Stadium.
East Town—home to the Mill City Museum, Gold Medal Park, and U.S. Bank Stadium (go Vikings!)—has become a major cultural hub with the Guthrie Theater and MacPhail Center for Music, as well as restaurants like Boludo and Zen Box Izakaya.
Cedar-Riverside, Augsburg's home, boasts the largest community of immigrants in the Twin Cities, adding a vibrant richness to the culture and heritage of the area. It offers a thriving arts scene, ethnic restaurants, grocery markets, retail and coffee shops—most notably the Mixed Blood Theater, and Cedar Cultural Center.
Seven Corners, a district within Cedar-Riverside, offers a number of restaurants including Town Hall Brewery, Chipotle, and even a sushi joint. The area is rounded out with a comedy club and one of the oldest theaters in the state, Theatre in the Round Players.
Seward, which includes Franklin Avenue, is known for its progressive values, natural food co-op, and favorites like Birchwood Café and Dogwood Coffee. It's also home to arts organizations Northern Clay Center, ArtiCulture, and The Playwrights' Center.
Getting around
Getting to and from your favorite destinations and activities is easy. You can rent a bicycle or find METRO Transit bus and light rail stops just a few blocks from campus, taking you to downtown St. Paul and Minneapolis, the MSP International Airport, and Mall of America.