Brenda Hemmingsen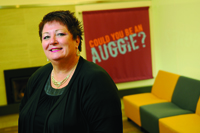 Visit Coordinator, Auggie Guide Co-Coordinator, and Campus Mom
Phone: 612-330-1001
E-mail: hemmings@augsburg.edu
Hometown: New Brighton, MN
Advice to new Auggies: You are a gift. Each day you are here unwrap something new about yourself.
Mary Jastremski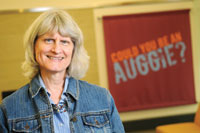 Admissions Operations Coordinator
Hometown: New Brighton, MN
Advice to new Auggies: Focus hard during your study time so you can give yourself "free" time, AND study abroad
Rick Ellis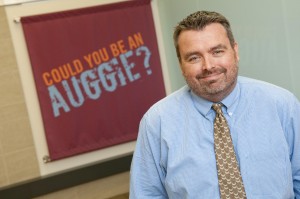 Director of Undergraduate Admissions
Phone: 612-330-1581
E-mail: ellisr@augsburg.edu
Hometown: Rutland, VT
Education: B.S. in Business Administration, Colby-Sawyer College (NH). M.S. Organizational Leadership, Southern New Hampshire University (NH)
About me: I recently left behind the beaches and weather of Bradenton, Florida to join the amazing team here at Augsburg College. My career has been focused on education, and I enter my nineteenth year in College Counseling and Admissions. I still pretend I am an athlete, trying hard to not to let younger more athletic players beat me in tennis, softball, golf, and basketball. As a former student-athlete, coach, and member of residence life, I know how important staying active and involved on campus is while you are a student. So if you are interested in varsity athletics, living and learning on campus, or just want to be more engaged in the community, there is a place for you here at Augsburg.
Why I love Augsburg College: I am a passionate believer in the benefits of a small school education.
Advice to new Auggies: When I worked in a high school setting, the biggest concern I heard was around the fear of making a bad choice. There are no bad choices, the importance of a college degree is so critical in today's world. You will know what feels right, that always talked about "gut feeling." We hope it is Augsburg College, a very special place where your education is only the beginning. We are what the world will be, and we hope you join us!
Devon Ross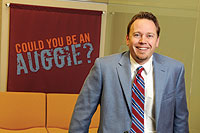 Senior Associate Director
Phone: 612-330-1588
E-mail: ross@augsburg.edu
Hometown: Bronxville, NY
Favorite thing about Augsburg: Melby Hall because of the fun I had playing soccer and being involved in athletics here.
Advice to new Auggies: Balance is everything!
Kristin Daniels '09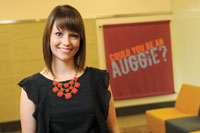 Senior Admissions Counselor
Phone: 612-330-1577
E-mail: danielsk@augsburg.edu
Hometown: Golden Valley, MN
Education: Communication Studies with a Public Relations and Advertising Emphasis from Augsburg College – Class of 2009.
About me: I am a Senior Admissions Counselor at Augsburg and an '09 Auggie grad! I work with students from St. Paul, North and South Dakota, and Iowa. I am passionate about Augsburg's promise to our students and our ability to not only talk about it, but deliver it, makes Augsburg a truly special place.
Why I love Augsburg College: Small campus in the heart of Minneapolis, intentionally diverse student body, opportunities to enhance your learning through study abroad, community service, research, and internships
Advice to new Auggies: Come to Augsburg with an open mind and heart. We want you to explore new things, be challenged, meet new people, and grow as a person. If you are willing to take part in all of the wonderful things Augsburg has to offer there is no way you won't love it here!
Paul Kienberger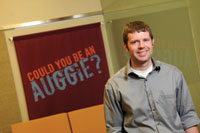 Senior Admissions Counselor
Phone: 612-330-1047
E-mail: kienber@augsburg.edu
Hometown: Hastings, MN (H-Town)
Education: Gustavus Adolphus College – B.A. in Business Management, Sociology & Anthropology
About me: I enjoy running, biking, hanging out with friends, and living the dream. I am also very quotable.
Why I love Augsburg College: The students makes our college great!
Advice to new Auggies: The more involved you are with the school and your classes the more rewarding your college experience will be.
Shonna Fulford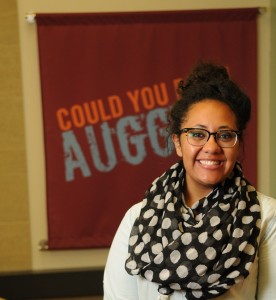 Senior Admissions Counselor
Phone: 612-330-1589
E-mail: fulford@augsburg.edu
Hometown: Perham, MN
Education: Augsburg College 2009, Major: Political Science Minors: Sociology & Leadership Studies. Grad School: Capella University '12, Leadership in Higher Education
About Me: I grew in the small town of Perham, MN and came to Augsburg in the big city for college and I haven't left! I love spending time with friends and family, my favorite thing to do is laugh, I'm a movie junkie, I enjoy meeting new people, experiencing new things, and just about anything else as long as I'm having a good time doing it!
Why I love Augsburg: Because you can be who you are; whoever that may be. You don't have to fit into a box or be a certain type of person. We thrive off of people's differences and unique characteristics and it truly is a place where we don't expect anything from you besides being yourself!
Advice to new Auggies: Take chances and be true to yourself.
Jenna Obler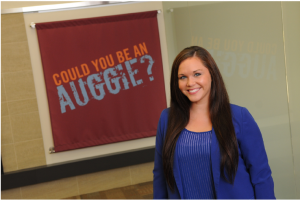 Senior Admissions Counselor
Phone: 612-330-1585
E-mail: obler@augsburg.edu
Hometown: Marshall, MN
Education: Augustana College in Sioux Falls, SD – Bachelor of Arts in Psychology.  Graduate: University of Saint Thomas, Master of Arts in Counseling Psychology
About me: I absolutely love everything Minneapolis has to offer including restaurants, the lakes, outdoor activities, and concerts. Regardless of their record, the Twins will always be my favorite MN team. When I'm not exploring the city or hanging out with friends, I have the tendency to watch Netflix for an hour or two…. or three. My goal for the next five years is to cook more gourmet food, and travel to at least two foreign countries.
Why I love Augsburg College: One of the things I love most about Augsburg is the diversity of the campus. Everyone has a unique story about where they came from and how they got here. The students, faculty and staff all have different perspectives on our world which allows us to learn and grow with one another.
Advice to new Auggies: Everyone has their own gifts and talents to share – make sure you continue to use yours! Also, take advantage of opportunities to be involved on campus such as service learning, special events, athletic games, and student organizations. Those memories will last a lifetime!