Devon Ross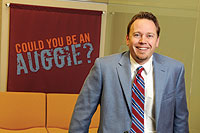 Senior Associate Director
Phone: 612-330-1588
E-mail: ross@augsburg.edu
Hometown: Bronxville, NY
Education: Augsburg University 1993, Bachelor of Arts in History and current Master of Leadership student
About Me:  I have been a member of the Augsburg University community for more than 20 years now since I came from New York as a student in 1989.  While it is hard to out myself for being as old as I am, I have loved every year I have spent here at Augsburg.  I have been fortunate to continue my growth from being a student to being an employee and now a student again.  I live in Prior Lake, MN where I spend lots of time with my wife and running my 5 kids to and fro while trying to get a work out or a game of racquetball in here and there.  The competitiveness I had as a varsity soccer player here continues in the occasional 5k, half marathon, and a hopeful 5th marathon soon.  I am thankful for the many opportunities for growth I have had at Augsburg and I know there are many for you as well.
Why I love Augsburg University:  I have been blessed with the gift of longevity here at Augsburg, so I have been able to see where the university had been, where it is now, and where it is going.  Augsburg is always growing, changing, and evolving with the times.  We have been on the cutting edge with programs like Honors, StepUp, CLASS, Women's Ice Hockey and Lacrosse to name a few.  GO AUGGIES!
Advice to new Auggies:  Well, if you haven't met with me during your campus visit, I would encourage you to open your mind and be willing to try new things.  Augsburg will provide you with so many opportunities to grow, learn, be challenged and have fun, so take advantage of it.
Paul Kienberger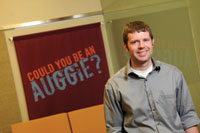 Assistant Director of Undergraduate Admissions
Phone: 612-330-1047
E-mail: kienber@augsburg.edu
Hometown: Hastings, MN
Education: Gustavus Adolphus College, Majors: Business Management, Sociology & Anthropology
About me: I enjoy running, biking, hanging out with friends, and living the dream. I am also very quotable.
Why I love Augsburg University: The students makes our university great!
Advice to new Auggies: The more involved you are with the school and your classes the more rewarding your college experience will be.
Shonna Fulford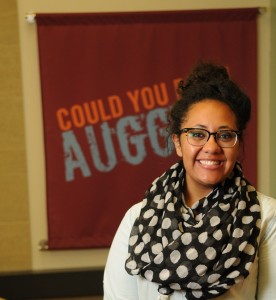 Assistant Director of Undergraduate Admissions
Phone: 612-330-1589
E-mail: fulford@augsburg.edu
Hometown: Perham, MN
Education: Augsburg University 2009, Major: Political Science Minors: Sociology & Leadership Studies. Grad School: Capella University '12, Leadership in Higher Education
About Me: I grew in the small town of Perham, MN and came to Augsburg in the big city for college and I haven't left! I love spending time with friends and family, my favorite thing to do is laugh, I'm a movie junkie, I enjoy meeting new people, experiencing new things, and just about anything else as long as I'm having a good time doing it!
Why I love Augsburg: Because you can be who you are; whoever that may be. You don't have to fit into a box or be a certain type of person. We thrive off of people's differences and unique characteristics and it truly is a place where we don't expect anything from you besides being yourself!
Advice to new Auggies: Take chances and be true to yourself.
Brian Turk
Assistant Director of Undergraduate Admissions – StepUP
Phone: 612-330-1709
E-mail: turkb@augsburg.edu
Hometown: Fond du Lac, WI
Education: University of Minnesota Duluth, B.A.A. – Teaching Social Studies. University of Wisconsin – La Crosse, M.S.Ed. – Student Affairs Administration in Higher Education
About me: Like many college freshmen I went to college with a major declared and no idea what I wanted to do. Little did I know that my work-study job in admissions would result in a career that has already passed the 10 year point. A career that I didn't even realize existed became my passion through experiences I had in college.
In my free time I love to ride my mountain bikes and road bikes when it is warm and skiing – downhill and cross country – in the winter. Although, now that my young son loves to skate and play hockey that dominates my winter free time and I am ok with that.
As a family we are loving living in the Twin Cities with so many activities to keep us busy. This is a great place to live at any age!
Why I love Augsburg: There is a unique blend of a small, incredibly welcoming campus with limitless opportunities being in the heart of Minneapolis along with an education that provides experiences beyond the classroom. You will graduate with more than a degree, you will know your calling.
Advice to new Auggies: Take advantage of every moment and opportunity to find yourself while at Augsburg. Do things outside of your comfort zone, do things you think you may not like and always be building that resume. You never know when an experience you have sends you down a new life path and know that everything that happens is a great learning experience that you will grow from.
Jenna Obler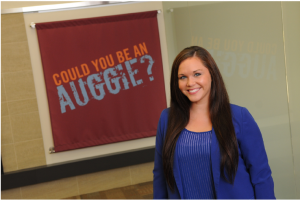 Assistant Director of Undergraduate Admissions
Phone: 612-330-1585
E-mail: obler@augsburg.edu
Hometown: Marshall, MN
Education: Augustana College in Sioux Falls, SD – Bachelor of Arts in Psychology.  Graduate: University of Saint Thomas, Master of Arts in Counseling Psychology
About me: I absolutely love everything Minneapolis has to offer including restaurants, the lakes, outdoor activities, and concerts. Regardless of their record, the Twins will always be my favorite MN team. When I'm not exploring the city or hanging out with friends, I have the tendency to watch Netflix for an hour or two…. or three. My goal for the next five years is to cook more gourmet food, and travel to at least two foreign countries.
Why I love Augsburg University: One of the things I love most about Augsburg is the diversity of the campus. Everyone has a unique story about where they came from and how they got here. The students, faculty and staff all have different perspectives on our world which allows us to learn and grow with one another.
Advice to new Auggies: Everyone has their own gifts and talents to share – make sure you continue to use yours! Also, take advantage of opportunities to be involved on campus such as service learning, special events, athletic games, and student organizations. Those memories will last a lifetime!
Rick Ellis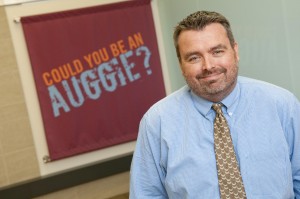 Director of Undergraduate Admissions
Phone: 612-330-1581
E-mail: ellisr@augsburg.edu
Hometown: Rutland, VT
Education: B.S. in Business Administration, Colby-Sawyer College (NH). M.S. Organizational Leadership, Southern New Hampshire University (NH)
About me: I recently left behind the beaches and weather of Bradenton, Florida to join the amazing team here at Augsburg University. My career has been focused on education, and I enter my nineteenth year in College Counseling and Admissions. I still pretend I am an athlete, trying hard not to let younger more athletic players beat me in tennis, softball, golf, and basketball. As a former student-athlete, coach, and member of residence life, I know how important staying active and involved on campus is while you are a student. So if you are interested in varsity athletics, living and learning on campus, or just want to be more engaged in the community, there is a place for you here at Augsburg.
Why I love Augsburg University: I am a passionate believer in the benefits of a small school education.
Advice to new Auggies: When I worked in a high school setting, the biggest concern I heard was around the fear of making a bad choice. There are no bad choices, the importance of a college degree is so critical in today's world. You will know what feels right, that always talked about "gut feeling." We hope it is Augsburg University, a very special place where your education is only the beginning. We are what the world will be, and we hope you join us!