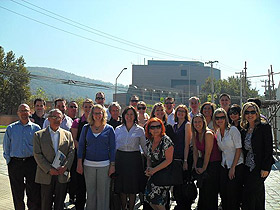 Once each year, the Augsburg MBA program offers students the option of earning credit toward their MBA via a 9-10 day international travel experience. The purpose of the trip is to expose the students to the thriving business climates of locations such as Chile, Brazil, Germany, France, the United Kingdom, or Argentina and to allow students an opportunity to understand the culture and environment of an emerging economy outside the U.S.
Students experience an exciting week that alternates visits to and with business leaders from (depending on location) Nike; RBS Chile, The Royal bank of Scotland; AgroSuper, a large food processor; a representative from the Chilean Foreign Investment Committee; and an executive from Sonami, Chile's largest mining association; Cargill, Moscow; Plekhanov Russian Economic University; Medtronic, Moscow.
The Global Business Environment or Strategic Management required classes are fulfilled by students traveling abroad. Students meet in class sessions before the trip, during the trip, and after. Students in both classes are assigned appropriate projects that will enable them to leverage their experiences.
Testimonials
"I had the pleasure of studying abroad in Brazil and Germany during the MBA program. Both travel experiences were eye-opening, and gave me a true sense of perspective on international business, and the legal and cultural nuances of conducting business in different countries."
–Ava Beilke, '14