The Center for Innovation & Entrepreneurship is dedicated to advancing education and support for Augsburg students and graduates in the disciplines of innovation, entrepreneurship, and leadership. Its focus will be on the practice and psychology of innovation and entrepreneurship, with a focus on the synthesis and sequencing of design thinking, lean start-up, and agile frameworks. It is intended to yield practical learnings and outcomes for students and graduates alike.
The Center's Innovator Series features six speakers each academic year.
October 23, 2023: Alex French
Alex is an innovative thought leader, early adopter, and disruptor in all things consumer brands. Where others see challenge and hardships, Alex sees an opportunity to innovate, disrupt, and accelerate new ideas. With passions and expertise in health and wellness, food and beverage, technology, and the millennial consumer, Alex has had the opportunity to consult, lead teams, and launch businesses within the food and beverage industries.  Alex currently acts as CEO of Get Bizzy Inc., a beverage company whose mission is to be the best by providing the highest quality and most convenient beverages on the market. When not working on his business, Alex spends his time mentoring college students and training for ultra-endurance races.  Prior to starting Get Bizzy Inc. Alex worked as an Associate at 301 Inc. General Mills' Venture Capital division, as a Marketing Analyst for Cheerios, an M&A Analyst at Lazard Middle Market, Demand Forecast Analyst at Best Buy, and started Lifty, a consumer brand in the snow sports industry. Alex holds a BA in Finance and Entrepreneurship from the Opus College of Business at the University of St. Thomas in St. Paul, MN.
SEPTember 18, 2023: DAVE MacLennan
Dave MacLennan served as the CEO of Cargill from 2013 to 2022 before becoming Executive Chair of the Board in 2023. He was the 9th CEO since the company's founding in 1865. He began his Cargill career in 1991 in Cargill's Financial Markets Division in Cargill's Minneapolis and London offices. He later lived and worked in Geneva before becoming Chief Financial Officer in 2008, and Chief Operating Officer in 2011.
Prior to joining Cargill, he began his career in the financial sector in Chicago. He was a member of the Chicago Board of Trade and Board of Options Exchange, and later in his career, president of fixed income capital markets at USBancorp Piper Jaffray in Minneapolis. MacLennan serves on the boards of Ecolab, Caterpillar, Bechtel, CARE, Amherst College and the advisory board of American Securities. His non-profit service has been focused on the needs of under-privileged youth, access to education and underserved communities. He holds a bachelor's degree in English from Amherst College and an M.B.A. in finance from the University of Chicago.
APRIL 13, 2023: JOHNNY OPARA
"FINDING YOUR PURPOSE"
Founded by Johnny 

Opara

 in 2009, JO Companies, LLC is a Black-owned, mission driven real estate development company that specializes in developing affordable and workforce multifamily housing.  JO Companies currently has over $200M in their real estate development pipeline. After spending over 15 years in corporate America in sales, Johnny left to become an entrepreneur and pursue his passion for real estate. Johnny's passion and motivation for developing high-quality, affordable housing was fueled by a promise he made to his late father. Johnny saw first-hand how important the lack of high-quality, affordable housing affects individuals, families and communities that need them most.
Previously, Johnny's career in Corporate America spanned almost two decades and was driven by high personal expectations. He achieved recognition repeatedly by Executive Leaders as a Top 5 -10% Sale's Professional in securing and maintaining high sales and revenue quotas within strong industries representing major corporations such as Pitney Bowes, American Express, CenturyLink, International Paper, Medtronic and Cox Automotive.

JO Companies has built on Johnny's leadership and relationship-building experience to develop high-quality housing that's affordable, sustainable, and will stand the test of time. Johnny is a licensed real estate agent and specializes in creating generational wealth for first-time home buyers. He serves on the Board of Directors for Minnesota Housing Partnership (MHP), and also serves on the Board of Directors for the Saint Paul Area Chamber and Advisory Board for the Rice and Larpenteur Alliance. Johnny graduated from Augsburg University with a B.A. in Business Administration and majored in Management.
JO Companies' development philosophy is simple, "Building high-quality housing that's market rate in design, sustainable, energy-efficient, and that will stand the test of time, but most importantly that's affordable. We're all human beings, and everyone should be treated with dignity and respect, and live somewhere they can be proud of." 
FEBRUaRY 7, 2023: JILL WIEDEMANN-WEST
"The Not-For-Profit as a Business Model"
Jill Wiedemann-West joined People Incorporated as its first Chief Operating Officer in 2010. She was promoted to CEO in 2014. Wiedemann-West's professional background and experience are in healthcare operations, management, and service development. Prior to joining People Incorporated, she was a chief operating officer at the Hazelden Betty Ford Foundation. She holds a Master of Arts in Psychology and Human Behavior from National University in San Diego and a Bachelor of Arts in Sociology and Social Work from the University of Wisconsin – Madison.
Congratulations to Jill for being honored by Minnesota 500 magazine (Minnesota Monthly) as one of the state's 500 most powerful and influential leaders in 2022!
NOVEMBER 1, 2023: ROBERTA DRESSEN
"If you follow your passion – life will unfold in miraculous ways!"
Roberta "Bobbie" Antoine Dressen is a strategic and visionary Health Care and Life Sciences leader focused on driving results and advancing public health. Dressen is the President and CEO of Medical Alley Association, an organization based in Minnesota representing one of the most diverse and influential healthcare ecosystems in the world. Medical Alley's mission is to champion and facilitate an environment that enables health technology and care organizations to innovate, succeed, and influence the evolution of healthcare. Under Dressen's leadership, the organization has grown to more than 750 member companies, ranging from pre-revenue startups to Fortune 500 companies.
Prior to joining Medical Alley, Dressen served in senior leadership roles at some of Minnesota's largest healthcare companies, including Boston Scientific, Medtronic, UnitedHealth, and Allina Health. At the age of 25, Dressen was named CEO of Shriner's Hospital for Children, Twin Cities, where she successfully led a multimillion-dollar facility replacement project. Dressen is also currently Operating Partner at LFE Capital, a private equity firm with a mission to build great wellness companies and connect extraordinary women leaders to the capital they need. In 2014, she was named one of Minnesota's Top 10 Women Corporate Executives by Twin Cities Business magazine, based on career achievements and leadership.
SEPTEMBER 27, 2022: JULIE KELLER
"A Map to Africa with Head and Heart: How to Build a Nonprofit and make a Difference"
For many years, Julie Keller has had friends in Kenya. In 2005, she was on the first trip to visit Mama Ada and her neighbors. It was on this trip that the vision of The Mama Ada Foundation was born, as new friends sat in a green gazebo on Mama Ada's lawn. Since then, Julie has used her skills and passion to create communication, fundraising, programming and administrative systems in the organization, working with many others.
Julie graduated with an undergraduate degree from St. Olaf College and she holds a Master's degree in Nonprofit Management and Social Policy from the Humphrey School at the University of Minnesota. She has worked in a number of nonprofits in various capacities, as well as for Head Start at the Minnesota Department of Education. This experience provided her with opportunities and knowledge to do consulting work in grants management/application and strategic planning/ evaluation.
She currently resides in the Twin Cities in Minnesota, where she lives with her husband, Peter, and their two sons, Evan and Ben.
When Julie is not busy dreaming new ideas for The Mama Ada Foundation, she loves reading, writing, gardening, cooking, learning French, yoga, and many other pastimes….fully believing that this world is a beautiful place, especially with friends in Kenya (and all those who love The Mama Ada Foundation!).
APRIL 12, 2022: DR. RYAN D. HURT
"Forced to Innovate: The Impact of the COVID-19 Pandemic on the Mayo Clinic"
Ryan is a faculty member in the Division of General Internal Medicine, Mayo Clinic, Rochester, Minnesota. He has a joint appointment in the Divisions of Gastroenterology and Endocrinology, Mayo Clinic. He holds a BA in biology and psychology from Hamline University, a MS in biology from Murray State University, a MS in physiology from the University of Louisville, and recently finished his MBA from Augsburg University. He is currently a student in Augsburg's MA program in Leadership. He received his MD and PhD in physiology from the University of Louisville School of Medicine. He completed his residency and chief residency in internal medicine at the University of Louisville Affiliated Hospitals. He is board certified by the American Board of Internal Medicine.  He has been the Home Parenteral Enteral Nutrition Program Director at Mayo Clinic Rochester since 2012. This multidisciplinary program cares for over 1000 new patients per year. He is the overall divisional Vice Chair  and Vice Chair of Research in General Internal Medicine which has 100 physicians and over 500 allied health staff. He holds the rank of Professor of Medicine in the Mayo Clinic College of Medicine and Science. He completed the Nestle Clinical Nutrition Fellowship for Physicians in 2013 and now is a faculty member. He has developed a clinical interest in nutrition, obesity, and addiction and has published over 160 peer-reviewed manuscripts and 14 book chapters in these areas. His previous NIH funding involves examining the overlaps between addiction and obesity. He has served on the Board of Directors for the American Society of Parenteral and Enteral Nutrition ( a society of over 7,000 members)  since 2019 and is the current President Elect. During COVID-19 he formed the COVID-19 Frontline Care Team (CFCT) which cared for over 50,000 COVID positive patients. He is the current Program Director of the Long COVID clinical and research operations in the Department of Medicine.
MARCH 2, 2022: MICHAEL MILLER
 "Navigating Growth"
Michael
 has been a member of the CEO Roundtable himself for over 12 years. Previously Founder and CEO of Hound Dog Products – a national marketer of specialty lawn & garden tools – he sold the company in 2007 and has since been consulting small businesses. 
Michael
 became President of the CEO Roundtable in March of 2013.
FEBRUARY 1, 2022: ANDRE CREIGHTON AND MYCHAL FRELIX
"A Signl For Change"
Mychal Frelix serves as a co-founder and Chief Growth Officer at TurnSignl. Frelix is also co-founder and Vice President of Foreshadow; a non-profit organization focused on providing career exploration services to inner-city youth. Frelix also volunteers with several non-profit organizations in the Twin Cities area. Before joining TurnSignl, Frelix managed Enterprise Accounts at Sony Electronics, where he helped Fortune 500 companies adopt innovative technology solutions and guided channel partnership relationships. Frelix has eight years of technology and sales experience with extensive knowledge of cloud, hybrid IT, SaaS, ERP/MRP, hardware, and electronics. Frelix holds a bachelor's degree from the University of St. Thomas (2013), where he majored in Marketing, and a master's of business administration (MBA) from Augsburg University (2019) focused on Organizational Leadership.
Frelix is passionate about leveraging technology to solve complex social problems and has transformed this passion into helping launch TurnSignl in three markets, with 12 markets on the horizon in 2022.
Andre Creighton serves as a co-founder and Chief Financial Officer at TurnSignl. Creighton graduated from Gustavus Adolphus College in 2013 with a Public Accounting degree, and Augsburg University in 2019 with an MBA in Finance. He possesses 8+ years of accounting, finance, and operational expertise. During the early part of his career, he spent four years in Public Accounting, working in taxation for CPA firm Lurie LLP and a national conglomerate Baker Tilly LLP. Thereafter, he worked for Cargill Inc in their corporate tax strategy department for 2 1/2 years as a Senior Tax Analyst. His final stint before joining TurnSignl was with SPIRE Credit Union as the lead Senior Financial Analyst, where he helped build out their Finance Department.
Creighton possesses a strong knowledge of accounting and financial compliance. Additionally, he has an exceptional understanding of KPIs and how to build ad hoc analyses of the business health and future initiatives.
DECEMBER 7, 2021: DAN SCHWARZ
"Craft Beer: A Recipe for Success!"
Dan Schwarz has a knack for building businesses. In 2001, he founded a software development and consulting business, providing service to 3M, Best Buy, and Fingerhut. In 2004, Schwarz joined Verify Brand as Director of Product Development. He developed a software service used by FORTUNE 50 companies to protect products against counterfeiting and diversion. Now, Dan Schwarz has a knack for building businesses. In 2001, he founded a software development and consulting business, providing service to: 3M, Best Buy, and Fingerhut. In 2004, Schwarz joined Verify Brand as Director of Product Development and authored a patented anti-counterfeiting technology used by fortune 50 companies and governments around the globe. 
Now, Schwarz has transformed his passion for beer into a business by co-founding the Lift Bridge Brewing Co., currently in the role of CEO. Schwarz has demonstrated his ability to make an early stage business succeed, evidenced most recently in his journey to take Lift Bridge from a one-car garage to a multi-million dollar facility — now adding a second production facility and taproom.  Lift Bridge is one of the top breweries in the country and was recently tapped to develop a Hell's Seltzer for television celebrity Chef Gordon Ramsay.  
OCTOBER 5, 2021: Björn Stansvik
"An Innovation and Entrepreneurial Story in 5 Acts"
As founder and CEO of global software design and development firm MentorMate, Bjorn Stansvik has steered the company's vision from inception to 750 full-time employees, accelerating digital ideas with end-to-end technology services since 2001. He has worked in high-tech and strategic business development in Europe, Latin America, and the US at leading companies including Procter & Gamble, Ericsson, and Arthur D. Little prior to founding MentorMate in 2001.
Bjorn remains a guiding force for MentorMate, constantly challenging the team to explore the boundaries of new technologies like AI and cloud computing, and to pioneer digital innovation in healthcare as well as entering new geographic markets. Under his leadership, the company has grown its design and technical capabilities across multiple industries.
MentorMate was named a Top ICT Employer in Bulgaria, and the Star Tribune included MentorMate on its Top 150 Workplaces list. The newest of its seven offices opened in AstraZeneca's BioVentureHub in Gothenburg, Sweden, in 2016.
Bjorn holds a Master's of Science in Business Administration from the Gothenburg School of Economics and has completed a Master's thesis in Industrial Economics at the Chalmers University of Technology in Gothenburg. A recognized technology innovator, Bjorn has won numerous distinctions and is a regular speaker to business groups on entrepreneurship, technology, and management.
April 14, 2021: Carline Bengtsson
Dine4Dinners®
Carline Bengtsson is retired from corporate life following careers within the insurance, military avionics and medical technology industries at Blue Cross & Blue Shield, Honeywell and most recently Medtronic, where she was a people/program manager.  She received her Bachelor of Arts Degree in Business Administration and Art from Concordia University St. Paul, a Mini MBA from the University of St. Thomas, and a Marketing Certificate from the University of Pennsylvania Wharton Executive Education Program. Carline immigrated to Minnesota from Jamaica as a child and grew up to marry a native Swede which sealed her affinity for the culture, language, country, and the American Swedish Institute (ASI) community at large.  In addition to all things Swedish, Carline is a published cookbook author and an engaged community leader serving on several boards, and was recently appointed to the President's Advisory Council at Concordia University St. Paul.  She is described by her family and friends as a chef of enticing, inventive and delicious eats and recently formed the organization Dine4Dinners® to further pursue her two passions of helping others and creating memorable meals. The Dine4Dinners® mission is a shared vision with organizations that provide meals for those in need of daily nourishment through dependable, reliable and sustainable sources.
MARCH 3, 2021: TOM MAYER
"How You Can Be a Rainmaker"
Tom Mayer is an energetic entrepreneur with 25 years of business successes under his belt. He is the visionary founder of Spirit Dental and Direct Benefits (named as one of the "Top Places to Work" by Minnesota Business Magazine), and co-founder of Five Star Gourmet Meat Company, a $4 million delivery business featured in Forbes, Success, and Twin Cities Business Monthly.
Mayer
 is unapologetically passionate about bringing affordable dental insurance to every American. His father inspired him to create Direct Benefits and its online storefront, Spirit Dental, more than a decade ago. "My dad was a janitor for the St. Paul Public Schools for 35 years," says 
Mayer
. "He was so meticulous about cleaning those classrooms and the little kids' restrooms. . .he had the happiest-go-lucky attitude of anyone you've ever met. He could talk to absolutely anyone about just about anything and make them smile."
But 
Mayer
's father suffered from diabetes. "Like most diabetics, Dad had a lot of tooth issues," 
Mayer
 recalls. By industry standards, he had great health benefits, including dental insurance that covered $1,000 per year, but that was usually spent in the first few weeks of January. "After that, he'd have to pay 100% of his dental expenses out of his pocket for the rest of the year." It was a financial and emotional drain on the entire family.
For 
Mayer
, it was also a motivating force, turning him into a crusader for dental health and dental insurance. He adds that the dental insurance industry still has a long way to go. "We have a dental health crisis in this country," he says. There are already 130 million Americans with no dental insurance, and some industry changes are actually making the situation worse, especially for American retirees. . ..Many of tomorrow's retirees – nearly 80 million Baby Boomers – will struggle to find affordable dental insurance," says 
Mayer
. "I believe all of us share responsibility for solving this problem and I will never stop finding ways to make better insurance and better value available to everyone."
"For most people, researching dental insurance can be overwhelming. It can be a challenge to find accurate information and even harder to know whom to trust. With 
spiritdental.com
, I want to get people's attention, make them smile, and make it easy for them to compare Spirit Dental to anybody else." If more people compared Spirit Dental to other insurance companies, 
Mayer
 believes they would know what he knows. "We created Spirit Dental to be the best dental insurance in America today. I don't think anyone can disagree with me on that."
Tom
 has a Bachelor of Arts degree in Management/Marketing from Hamline University, and a Master of Business Administration degree in Marketing from Carlson School of Management.
February 3, 2021: Yasameen Sajady and Samuel Ruiz Plaza
Student/Alumni Showcase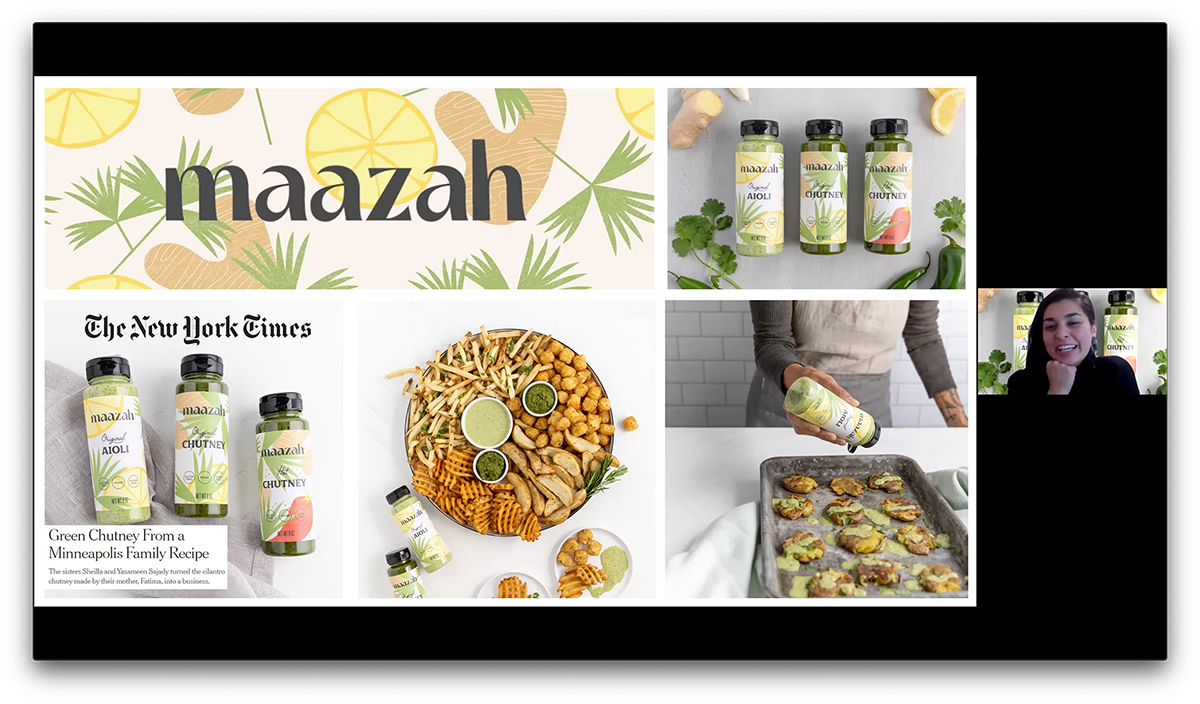 Yasameen Sajady is the co-founder and Chief of Operations at Maazah, founded with her sisters and mother in 2014. "Growing up, we can't remember a meal that didn't include Mom's famous Magic Green Sauce. A phenomenal cook, her secret blend of cilantro and peppers was the universal condiment that made everything more flavorful and delicious. We put it on everything — from rice and korma to tacos and pizza."
After graduating with her MBA from Augsburg University in 2020, Yasameen kicked this saucy side hustle into full swing. The move from markets to manufacturing wasn't easy. "Scaling our food company in 2020 brought on many challenges. There were major delays in sourcing materials, banks didn't have time for us, and we heard 'no' from every direction. Regardless of the bottlenecks and odds stacked against us, we hit store shelves the week of Thanksgiving."
Samuel Ruiz Plaza is the founder and owner of an early-stage start-up, Pumuki Labs,  a company that sub-licenses Automated Checkout Software (ACS) used to acquire highly sought-after items in the streetwear industry. Pumuki Labs follows a business-to-consumer model that separates itself through top-tier customer service and is dedicated to offering one-on-one expert support on handling the software.
Following his passion for soccer, Samuel joined the Augsburg Men's Soccer Staff as a Graduate Assistant in the fall of 2019 after a successful college career where he was a National Championship and All-American. At the same time, he was admitted into the MBA program at Augsburg, and through this, he developed new passions in business and shoes.
Samuel says, "When you do something you love, 99% of the time it doesn't feel like work. It has been rewarding seeing my hobbies turn into something more than some sort of 'side-hustle'. Looking back on the past year, it's incredible to see how far I have come. That being said, this is really only the beginning, and there is still so much work to be done. I am excited about what the future has in store."
December 9, 2020: Mike Nathan
"Innovation: New value through old ideas"
Mike Nathan is Co-Founder and CEO of FritzFinn, an advance wound care solutions company that is passionately committed to doing good things for other people. Most recently in the wake of the George Floyd murder, Mike co-founded a real-time, on-demand, legal representation app connecting citizens with attorneys in real-time called TurnSignl. Rounding out his time as a partner in Twin Ignition Startup Garage in NE Minneapolis, Mike finds joy in giving back and guiding first-time entrepreneurs in this business incubator.
Mike was the co-founder and former CEO of Livio Health Group, an innovative care delivery system using mobile urgent care and on-site clinics to provide access for all. In addition to FritzFinn, TurnSignl, and Twin Ignition, he serves on the boards for Nightware, Inc., Kaleidoscope Group, The Watch Group, and Brother Justus Whiskey Company. Mike is a veteran of the U.S. Navy, and MBA graduate, husband, and father of two who resides in Mendota Heights, MN.
October 28, 2020: Anne Finch
"A Leader's Purpose"
Anne Finch is the Chief Executive Officer (CEO) of Logistics Health Incorporated (LHI), a subsidiary of OptumServe, the federal health services business of Optum, focused on providing services to the Department of Defense and Department of Veterans Affairs, as well as other government and commercial entities. Optum is a division of UnitedHealth Group, a Fortune 6 company that employs more than 300,000 people worldwide; 17,000 of whom are IT professionals. Before becoming CEO, she served as LHI's Chief Information Officer (CIO) for four years. Anne has also been Vice President of UnitedHealth Group Solution Support Services (System Operations) where she oversaw a team of 1,500 IT professionals in the United States, India and the Philippines who operated 24/7/365. Prior to that assignment, she was the Vice President of Portfolio Management for UnitedHealthcare's Employer and Individual division, overseeing their $800 million in project investments. Anne is also a UnitedHealth Group culture facilitator, providing culture workshops across the enterprise.
September 30, 2020: Dr. Jeff Cernohous
"Leading In and Simplifying Complexity: ONE Entrepreneur's Perspective on Building an Innovative Organization"
Dr. Jeff Cernohous is the Founder and COO of Interfacial, a Nagase Company. For more than two decades, he and his companies have been recognized leaders in disruptive innovation, particularly in the development of advanced materials technology platforms. Dr. Cernohous is himself a serial entrepreneur and innovator. He launched his career as a successful innovator at 3M, and left at a young age to form his first company, Interfacial Consultants (IFC). He successfully built and sold IFC to 3D printing leader Stratasys in 2016. He then launched, developed and sold the company Interfacial to Nagase, a large global chemical conglomerate.