The Center for Innovation & Entrepreneurship is dedicated to advancing education and support for Augsburg students and graduates in the disciplines of innovation, entrepreneurship, and leadership. Its focus will be on the practice and psychology of innovation and entrepreneurship, with a focus on the synthesis and sequencing of design thinking, lean start-up, and agile frameworks. It is intended to yield practical learnings and outcomes for students and graduates alike.
The Center's Innovator Series features six speakers each academic year.
OCTOBER 5, 2021: Bjorn Björn Stansvik
As founder and CEO of global software design and development firm MentorMate, Bjorn Stansvik has steered the company's vision from inception to 750 full-time employees, accelerating digital ideas with end-to-end technology services since 2001. He has worked in high-tech and strategic business development in Europe, Latin America, and the US at leading companies including Procter & Gamble, Ericsson, and Arthur D. Little prior to founding MentorMate in 2001.
Bjorn remains a guiding force for MentorMate, constantly challenging the team to explore the boundaries of new technologies like AI and cloud computing, and to pioneer digital innovation in healthcare as well as entering new geographic markets. Under his leadership, the company has grown its design and technical capabilities across multiple industries.
MentorMate was named a Top ICT Employer in Bulgaria, and the Star Tribune included MentorMate on its Top 150 Workplaces list. The newest of its seven offices opened in AstraZeneca's BioVentureHub in Gothenburg, Sweden, in 2016.
Bjorn holds a Master's of Science in Business Administration from the Gothenburg School of Economics and has completed a Master's thesis in Industrial Economics at the Chalmers University of Technology in Gothenburg. A recognized technology innovator, Bjorn has won numerous distinctions and is a regular speaker to business groups on entrepreneurship, technology, and management.
February 3, 2021: Yasameen Sajady and Samuel Ruiz Plaza
Student/Alumni Showcase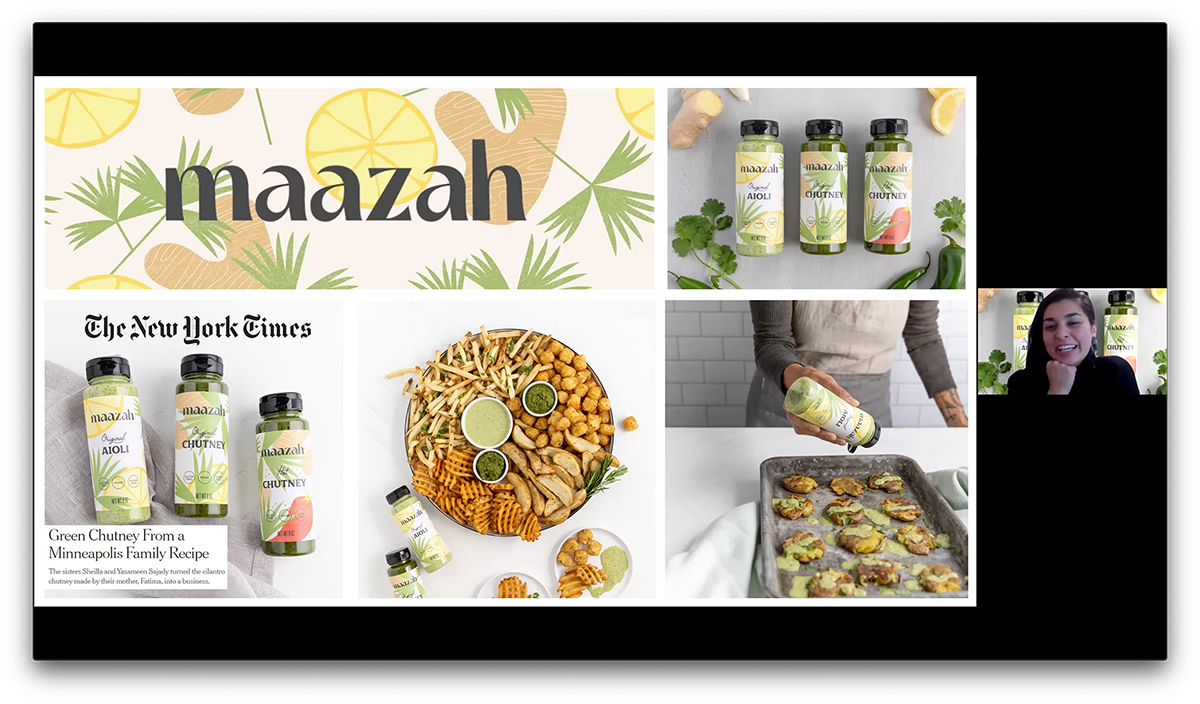 Yasameen Sajady is the co-founder and Chief of Operations at Maazah, founded with her sisters and mother in 2014. "Growing up, we can't remember a meal that didn't include Mom's famous Magic Green Sauce. A phenomenal cook, her secret blend of cilantro and peppers was the universal condiment that made everything more flavorful and delicious. We put it on everything — from rice and korma to tacos and pizza."
After graduating with her MBA from Augsburg University in 2020, Yasameen kicked this saucy side hustle into full swing. The move from markets to manufacturing wasn't easy. "Scaling our food company in 2020 brought on many challenges. There were major delays in sourcing materials, banks didn't have time for us, and we heard 'no' from every direction. Regardless of the bottlenecks and odds stacked against us, we hit store shelves the week of Thanksgiving."
Samuel Ruiz Plaza is the founder and owner of an early-stage start-up, Pumuki Labs,  a company that sub-licenses Automated Checkout Software (ACS) used to acquire highly sought-after items in the streetwear industry. Pumuki Labs follows a business-to-consumer model that separates itself through top-tier customer service and is dedicated to offering one-on-one expert support on handling the software.
Following his passion for soccer, Samuel joined the Augsburg Men's Soccer Staff as a Graduate Assistant in the fall of 2019 after a successful college career where he was a National Championship and All-American. At the same time, he was admitted into the MBA program at Augsburg, and through this, he developed new passions in business and shoes.
Samuel says, "When you do something you love, 99% of the time it doesn't feel like work. It has been rewarding seeing my hobbies turn into something more than some sort of 'side-hustle'. Looking back on the past year, it's incredible to see how far I have come. That being said, this is really only the beginning, and there is still so much work to be done. I am excited about what the future has in store."
September 30, 2020: Dr. Jeff Cernohous
"Leading In and Simplifying Complexity: ONE Entrepreneur's Perspective on Building an Innovative Organization"
Dr. Jeff Cernohous is the Founder and COO of Interfacial, a Nagase Company. For more than two decades, he and his companies have been recognized leaders in disruptive innovation, particularly in the development of advanced materials technology platforms. Dr. Cernohous is himself a serial entrepreneur and innovator. He launched his career as a successful innovator at 3M, and left at a young age to form his first company, Interfacial Consultants (IFC). He successfully built and sold IFC to 3D printing leader Stratasys in 2016. He then launched, developed and sold the company Interfacial to Nagase, a large global chemical conglomerate.
October 28, 2020: Anne Finch
"A Leader's Purpose"
Anne Finch is the Chief Executive Officer (CEO) of Logistics Health Incorporated (LHI), a subsidiary of OptumServe, the federal health services business of Optum, focused on providing services to the Department of Defense and Department of Veterans Affairs, as well as other government and commercial entities. Optum is a division of UnitedHealth Group, a Fortune 6 company that employs more than 300,000 people worldwide; 17,000 of whom are IT professionals. Before becoming CEO, she served as LHI's Chief Information Officer (CIO) for four years. Anne has also been Vice President of UnitedHealth Group Solution Support Services (System Operations) where she oversaw a team of 1,500 IT professionals in the United States, India and the Philippines who operated 24/7/365. Prior to that assignment, she was the Vice President of Portfolio Management for UnitedHealthcare's Employer and Individual division, overseeing their $800 million in project investments. Anne is also a UnitedHealth Group culture facilitator, providing culture workshops across the enterprise.
December 9, 2020: Mike Nathan
"Innovation: New value through old ideas"
Mike Nathan is Co-Founder and CEO of FritzFinn, an advance wound care solutions company that is passionately committed to doing good things for other people. Most recently in the wake of the George Floyd murder, Mike co-founded a real-time, on-demand, legal representation app connecting citizens with attorneys in real-time called TurnSignl. Rounding out his time as a partner in Twin Ignition Startup Garage in NE Minneapolis, Mike finds joy in giving back and guiding first-time entrepreneurs in this business incubator.
Mike was the co-founder and former CEO of Livio Health Group, an innovative care delivery system using mobile urgent care and on-site clinics to provide access for all. In addition to FritzFinn, TurnSignl, and Twin Ignition, he serves on the boards for Nightware, Inc., Kaleidoscope Group, The Watch Group, and Brother Justus Whiskey Company. Mike is a veteran of the U.S. Navy, and MBA graduate, husband, and father of two who resides in Mendota Heights, MN.
MARCH 3, 2021: TOM MAYER
"How You Can Be a Rainmaker"
Tom Mayer is an energetic entrepreneur with 25 years of business successes under his belt. He is the visionary founder of Spirit Dental and Direct Benefits (named as one of the "Top Places to Work" by Minnesota Business Magazine), and co-founder of Five Star Gourmet Meat Company, a $4 million delivery business featured in Forbes, Success, and Twin Cities Business Monthly.
Mayer
 is unapologetically passionate about bringing affordable dental insurance to every American. His father inspired him to create Direct Benefits and its online storefront, Spirit Dental, more than a decade ago. "My dad was a janitor for the St. Paul Public Schools for 35 years," says 
Mayer
. "He was so meticulous about cleaning those classrooms and the little kids' restrooms. . .he had the happiest-go-lucky attitude of anyone you've ever met. He could talk to absolutely anyone about just about anything and make them smile."
But 
Mayer
's father suffered from diabetes. "Like most diabetics, Dad had a lot of tooth issues," 
Mayer
 recalls. By industry standards, he had great health benefits, including dental insurance that covered $1,000 per year, but that was usually spent in the first few weeks of January. "After that, he'd have to pay 100% of his dental expenses out of his pocket for the rest of the year." It was a financial and emotional drain on the entire family.
For 
Mayer
, it was also a motivating force, turning him into a crusader for dental health and dental insurance. He adds that the dental insurance industry still has a long way to go. "We have a dental health crisis in this country," he says. There are already 130 million Americans with no dental insurance, and some industry changes are actually making the situation worse, especially for American retirees. . ..Many of tomorrow's retirees – nearly 80 million Baby Boomers – will struggle to find affordable dental insurance," says 
Mayer
. "I believe all of us share responsibility for solving this problem and I will never stop finding ways to make better insurance and better value available to everyone."
"For most people, researching dental insurance can be overwhelming. It can be a challenge to find accurate information and even harder to know whom to trust. With 
spiritdental.com
, I want to get people's attention, make them smile, and make it easy for them to compare Spirit Dental to anybody else." If more people compared Spirit Dental to other insurance companies, 
Mayer
 believes they would know what he knows. "We created Spirit Dental to be the best dental insurance in America today. I don't think anyone can disagree with me on that."
Tom
 has a Bachelor of Arts degree in Management/Marketing from Hamline University, and a Master of Business Administration degree in Marketing from Carlson School of Management.
April 14, 2021: Carline Bengtsson
Dine4Dinners®
Carline Bengtsson is retired from corporate life following careers within the insurance, military avionics and medical technology industries at Blue Cross & Blue Shield, Honeywell and most recently Medtronic, where she was a people/program manager.  She received her Bachelor of Arts Degree in Business Administration and Art from Concordia University St. Paul, a Mini MBA from the University of St. Thomas, and a Marketing Certificate from the University of Pennsylvania Wharton Executive Education Program. Carline immigrated to Minnesota from Jamaica as a child and grew up to marry a native Swede which sealed her affinity for the culture, language, country, and the American Swedish Institute (ASI) community at large.  In addition to all things Swedish, Carline is a published cookbook author and an engaged community leader serving on several boards, and was recently appointed to the President's Advisory Council at Concordia University St. Paul.  She is described by her family and friends as a chef of enticing, inventive and delicious eats and recently formed the organization Dine4Dinners® to further pursue her two passions of helping others and creating memorable meals. The Dine4Dinners® mission is a shared vision with organizations that provide meals for those in need of daily nourishment through dependable, reliable and sustainable sources.