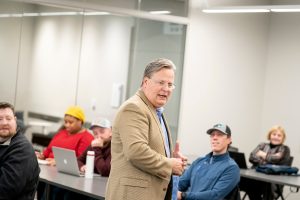 Augsburg's MBA program is organized around small groups, or cohorts. Students in a cohort program progress together through the sequence of classes for the duration of the program.
This provides a continuous, interactive, and collaborative learning environment. The cohort model fosters a cohesive learning community where students not only learn from one another, but also mentor and coach each other. Students share diverse professional expertise and experience, working in teams on projects, case studies, presentations, and simulations, both inside and outside of class.
Professionals bring a wealth of work and personal life experiences with them into the classroom. The personal connections and relationships with fellow students and faculty extend into an important and valuable network as students take careers to new levels.
Testimonials
"Being connected with my cohort was one of my favorite parts of the program. My cohort was diverse in every aspect of the word, and came from all sectors and career stages, which meant I had something to learn from everyone. We were encouraged to support and lean on each other, and as a result I developed some lasting professional connections and friendships."
–Lara Dreier, '15
"The cohort model is a great way to deepen the experience of learning with peers. I found that the conversations in class became more and more rich as our cohort spent more time together throughout the program. The longer our cohort was together, the more history we shared and knew about each other, which increased our ability to have meaningful conversation about the content of each class."
–Benjamin Stumph
"The cohort style is unique and invaluable because you build and grow from each other as the program goes on. You learn the strengths and weaknesses that you have and lean on each other to develop together in areas you may have otherwise been lacking. Everyone brings their own diverse experiences to the table, and when you can use each other as an additional tool or resource, growth and opportunities flourish. Not to mention, the additional benefit that once the program is done, the relationships that you have created over the life of the program will be irreplaceable and last a lifetime."
–Laurie Barger, '16