Each spring, the Augsburg MBA program offers students the option of earning credit while on a 9-day international travel experience. The purpose of the trip is to expose students to the thriving business climates of locations such as Germany, France, Poland, the United Kingdom, Italy, Brazil, Chile, and Argentina and to allow students an opportunity to understand the culture and environment of an economy outside the U.S.
Students experience an exciting week that includes visits to businesses and organizations such as:
European Union
German Deutsche Bahn Transportation
German Legislature
Shell Oil
Airbus
Porsche
BMW
3M Poland
Smart Car
Cargill
Amazon Europe Innovation Centers
Nike
The Royal Bank of Scotland
Students register for either Strategic Management (MBA 595) or Managing in a Global Environment (MBA 565). Classes meet before, during, and after the trip. Students in both classes are assigned appropriate projects that will enable them to leverage their experiences.
Testimonials
MBA students at Selvita Pharmaceutical in Krakow (Poland) March 2019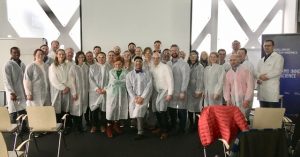 Sightseeing in Krakow (Poland) March 2019
"The MBA trip abroad was truly exceptional and a once-in-a-lifetime experience. Augsburg faculty and staff have done an amazing job cultivating relationships with partners and companies abroad. We were welcomed by founders, CEOs and VPs from large and small companies with the opportunity to ask them anything." Yasameen S., 2019
"The Augsburg MBA study abroad program was the experience of a lifetime. We were total strangers on the first day, but we all became best of friends during our trip. We studied together, visited top-notch companies together, ate and laughed together. It seemed that we had known each other for years. There is a saying, '"If you want to know someone very well, travel with him."' This came true during our study abroad program. As a group we learned about collaborative leadership, combining studies with a sense of companionship.  Overall, it was the best semester of my MBA program!" – Rahul K., 2019
"I had the pleasure of studying abroad in Brazil and Germany during the MBA program. Both travel experiences were eye-opening, and gave me a true sense of perspective on international business, and the legal and cultural nuances of conducting business in different countries."
–Ava Beilke, 2014