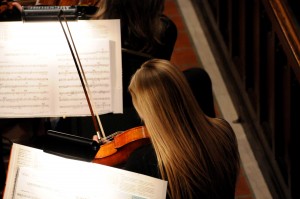 The Music Department at Augsburg University offers professional music training in the context of a liberal arts curriculum through three degrees and five music majors. Students receive a solid foundation of music history and repertoire, music theory and aural skills, and numerous performance opportunities.  It also offers a variety of music courses and ensemble experiences that are available to both music & non-music majors and courses that meet Augsburg's Liberal Arts Foundation requirements.
Augsburg's location in the heart of a major artistic center makes it an ideal place to study music, and the music faculty seek and encourage opportunities that connect the campus and the greater arts communities. These opportunities allow students to explore the links between theory and applied knowledge and may take many forms, including internships; community performances; music therapy practica; community-based learning projects; required off-campus performance and concert attendance assignments; or travel and study within and outside the United States.
The music department is an institutional member of the National Association of Schools of Music (NASM) and the American Music Therapy Association (AMTA).
---
Reserve you place Today
Space if filling up fast!
NOTE:  Friday, December 1 at 5 p.m. is currently FULL.
NOTE:  Saturday, December 2 at 2 p.m. is currently FULL
NOTE:  Saturday, December 2 at 5 p.m. is currently FULL (Please note, this waiting list is long and we may not be able to accommodate all current requests)
---
Upcoming Events
Advent Vespers
Thursday, November 30 – December 2
Central Lutheran Church
See button above to reserve your place today!

Augsburg Concert Band, Winter Performance
Friday, December 8 at 7 p.m.
Hoversten Chapel
Campus Parking Permit & Map

For a full list of events…
---
Congrats to Augsburg Music Faculty
Trudi Anderson, Kathy Kienzle, Merilee Klemp, Jim Jacobson
The day has arrived — the "official" release of "The Lyrical Pickpocket" – A new CD on the Innova label of the American Composers Forum! So very grateful to all for your incredible artistry and work on this project! Check the website the ACF has created for this new recording.
---
Congrats to Augsburg Music Faculty Member, Reinaldo Moya
The Schubert Club has appointed Reinaldo Moya as its new Composer-in-Residence beginning September 1, 2017. Moya will serve a two-year term in this position.