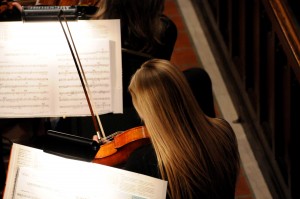 The Music Department at Augsburg College offers professional music training in the context of a liberal arts curriculum through three degrees and five music majors. Students receive a solid foundation of music history and repertoire, music theory and aural skills, and numerous performance opportunities.  It also offers a variety of music courses and ensemble experiences that are available to both music & non-music majors and courses that meet Augsburg's Liberal Arts Foundation requirements.
Augsburg's location in the heart of a major artistic center makes it an ideal place to study music, and the music faculty seek and encourage opportunities that connect the campus and the greater arts communities. These opportunities allow students to explore the links between theory and applied knowledge and may take many forms, including internships; community performances; music therapy practica; community-based learning projects; required off-campus performance and concert attendance assignments; or travel and study within and outside the United States.
The music department is an institutional member of the National Association of Schools of Music (NASM) and the American Music Therapy Association (AMTA).
---
All Band Reunion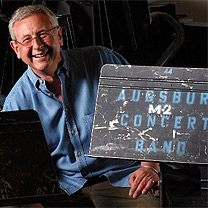 Calling all Auggie Concert Band, Jazz Ensemble and Gospel Praise members to join us at a swinging reception during this year's Homecoming festivities.
You are also invited to celebrate Bob Stacke (and all of the Augsburg Award Recipients) at the Homecoming awards convocation on Friday, September 23 at 5 p.m. followed by the alumni dinner at 6:30 p.m. (RSVP details here)
But do not miss the ALL BAND REUNION:
Friday, September 23 at 
8 p.m.
Dessert Reception – $10, Register Today!
Don't forget to bring your instrument or warm up those vocal chops for an open jam session!
Check out the Homecoming page for full details for all events and festivities.
– Hope to see you there!
---
Augsburg Welcomes New Faculty
A most warm and hearty welcome to our new faculty members:
Dan Albert (Music, Human Development, and Learning)
Reinaldo Moya (Theory and Composition)
Erika Svanoe (Wind Ensemble/Conducting)
Ben Klemme (Orchestra)
Dawn Miller, MT-BC, (Music Therapist, Masters Program)
---