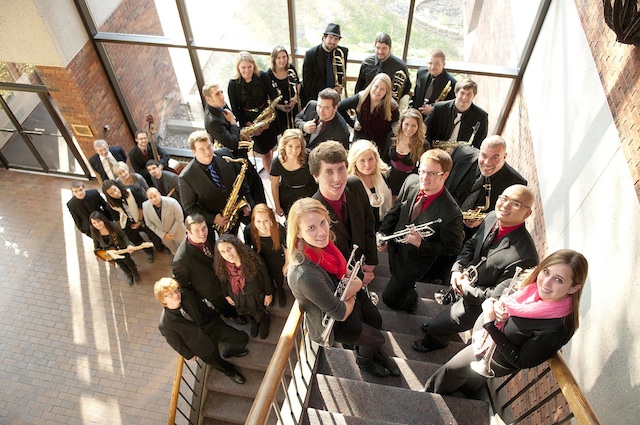 The Augsburg Jazz Studies Program, directed by Robert Stacke, offers a complete curriculum that includes a big band, combos, and a vocal jazz group, each of which is directed by a faculty member. These ensembles are open to all Augsburg students through auditions each fall. The Jazz Studies Program also features many guest artists and composers. Music students rehearse and perform side-by-side with some of the best jazz and gospel musicians in the Midwest, many of whom are Augsburg alumni. In recent years, the Augsburg Jazz Ensemble has performed with Delfeayo Marsalis, trombone; Swedish jazz artist Nils Lindberg, trombone & piano; and performed works by Dr. William C. Banfield, artist in residence.
The Augsburg Jazz, Gospel Praise Ensemble is a unique union of big band and vocal jazz that performs for conventions, churches and schools. They have appeared at three ELCA National Youth Conventions in Atlanta, New Orleans and St. Louis as well as The Dakota Jazz Club in Minneapolis, and the Nobel Peace Prize Forum. In 1995, they presented a command performance for the King of Norway, and in the past four years have performed for nearly 20,000 including Sheila Raye Charles, Jane Fonda, and Hillary Clinton.
2013-2014 Performance & Events:
Friday, October 25, 2012
High School Jazz Festival
Music Hall, Augsburg College
For information, contact Robert Stacke at 612-330-1271
Friday, November 22, 2013
7 p.m., Fall Performance
Hoversten Chapel, Augsburg College
Friday, April 25, 2014
Augsburg Jazz – Chapel Performance
Hoversten Chapel
10:40 a.m.
Saturday, April 26, 2014
Augsburg Jazz Spring Performance
Famous Dave's in Uptown
Minneapolis, Minn.
Time: 4 p.m.
Reservations Recommended: 612-822-9900
Saturday, May 3, 2014 – Gospel Praise
Augsburg Commencement
11 a.m.