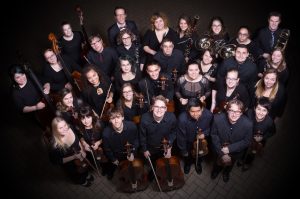 The Augsburg Orchestra was formed by composer Robert Karlén to explore music from every style and period. In addition to pieces from the standard orchestral canon, the Augsburg Orchestra has performed a diverse repertoire that includes settings of Chinese folk songs, Renaissance masses, and jazz standards. The Augsburg Orchestra is conducted by Rafael Rodriquez and students' performance in the ensemble is enriched by private lessons with Augsburg music faculty, which includes musicians of the Minnesota Orchestra and St. Paul Chamber Orchestra.
The Augsburg Orchestra offers students of any major an opportunity to participate in an orchestral performance ensemble at Augsburg University. Though no competitive audition is required for enrollment, students are asked to perform informal playing demonstrations before joining the ensemble. The ensemble is open to students who play flute, oboe, clarinet, bassoon, horn, trumpet, trombone, tuba, percussion, harp, violin, viola, cello and bass. Auditions are scheduled the first week of the fall semester or by contacting the conductor.
As members of the Augsburg Orchestra, students:
• strengthen individual musicianship skills and instrumental technique
• develop orchestral ensemble playing skills and strategies for meaningful collaboration
• explore details of the lives and music of the composers whose music is performed by the ensemble
• exercise civic responsibility and apply community engagement skills to connect the music-making process with the Augsburg community and its neighbors
2017-2018 Performances & Events:
Saturday, November 11, 2017
2 p.m., Fall Augsburg Orchestra Performance
Hoversten Chapel, Foss Center
(Parking Permit) & (Campus Map)
Advent Vespers
Thursday, November 30, 8 p.m. (Open Rehearsal)
Friday, December 1 at 5 & 8 p.m.
Saturday, December 3 at 2 & 5 p.m.
Central Lutheran Church
Reservations Required (Available beginning October 20 at 12 p.m.)
Spring Schedule…
To be posted soon!

Promotional Images:
Augsburg Orchestra Photo #1 (Print Quality)
Augsburg Orchestra Photo #2 (Web Quality)