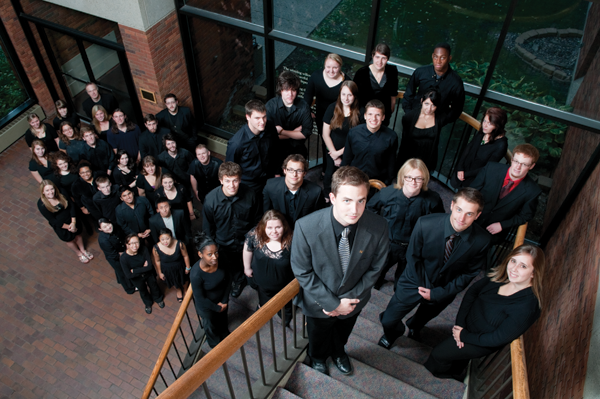 The Augsburg Symphony Orchestra was formed by composer Robert Karlén to explore music from every style and period. The group has played everything from settings of traditional Chinese songs and Renaissance masses to jazz standards. The students' study of these styles is enhanced by private lessons with the Augsburg music faculty who include members of the Minnesota Orchestra and St. Paul Chamber Orchestra.
In the fall of 2005, Douglas Diamond took over as conductor with a view to building the group into a collegiate symphonic ensemble. In recent years, the group has roughly doubled its size and has performed accessible masterworks including Beethoven's 1st and 8th symphonies, Schubert's 3rd, 5th, and 8th symphonies, Dvorak's 7th, and a host of smaller works. The current orchestra also accompanies the winners of the College's annual competition for student instrumental and vocal soloists; performs advanced student work from the department's composition studio; and tours for a week, either nationally or regionally, every year.
2013-2014 Performances & Events:
Saturday, November 16, 2013
3 p.m., Performance
Hoversten Chapel, Augsburg College
Friday, December 6 at 5 & 8 p.m.
Saturday, December 7 at 2, 5, & 8 p.m.
Central Lutheran Church
Reservations Required
January 3-10, 2014 – Florida
Saturday, January 18, 2014
Augsburg Orchestra Festival
Contact: Douglas Diamond for additional details
Saturday, January 18, 2014
3 p.m., Performance
Hoversten Chapel, Augsburg College
Saturday, April 5, 2014
7 p.m., Spring Performance
Hoversten Chapel, Augsburg College
2013 Chicago Tour & Home Concert