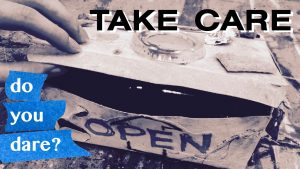 Take Care
Led by Janaki Ranpura
Showing September 27
Ross Studio Theater 8pm
See something. Say nothing.
Are these phrases an encouragement to mistrust? Perhaps we could take them as instructions for play. A group of students create care packages to leave in public. The results of what happens transform into performance for the showing of "Take Care."

The World of Puppetry & Mask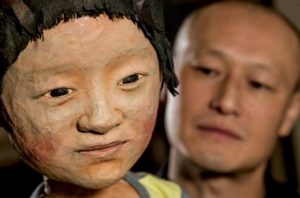 Led by Masanari Kawahara
Showing Wednesday, October 18 at 7:00pm
Green Room in the Foss Center
Giving life to inanimate objects made from cardboard, masking tape, newspapers and papier-mâché, we will create small and intimately-scaled puppet theater. Different forms introduced may include object theater, hand puppets, figure puppets, and doll/bunraku puppets and masks. We will explore creating an intimate theater from scratch inspired by poems, obituaries, or a love letter.
The Resistible Rise of Arturo Ui
By Bertolt Brecht
Directed by Warren Bowles
Thursday, November 9  at 7:00pm
Friday, November 10  at 7:00pm
Saturday, November 11  at 7:00pm
Thursday, November 16  at 7:00pm
Friday, November 17  at 7:00pm
Saturday, November 18  at 7:00pm
Sunday, November 19  at 3:00pm

Tjornhom-Nelson Theater, Foss Center
Brecht sets his satirical tale in Chicago during the turbulent times of Depression and Prohibition. Things are not going well for the Cauliflower Trust and so Arturo Ui seizes the opportunity to grasp power. Brecht directly references the rise of Hitler and the Third Reich though his parable is perfect for our modern times.
Reserve Tickets Starting October 26
The Misunderstanding
(Le Malentendu)
By Albert Camus
Directed by Del Logeais
January 25th through January 28th
Tjornhom-Nelson Theater
A prodigal son returns home unrecognized, having been abroad for twenty years, to an inn run by his mother and sister—who have been killing lodgers in order to make a living for themselves. In an immersive reimagining of this rarely performed play, described by Camus as the theatrical piece that "resembles him the most," The Misunderstanding explores concepts of grief, guilt, and the absurdity of existence in a world that is equally cruel to the innocent and the criminal.
Zero-Infinity Flight Path
By Jessica Huang
Directed by Ricardo Vázquez
Created by Other Tiger Productions
March 6th through March 8th
Tjornhom-Nelson Theater
Zero-Infinity Flight Path begins at the end of a journey to the top of a mysterious mountain. There, an ominous sacrifice will be performed for the salvation of humanity. The mission's success lies in the hands of one young Girl, a second generation immigrant gifted with visions and a prophetic tongue. When after days of travel, the mountain's summit finally appears, the Girl erupts with new language – language that seems in direct opposition to the task at hand. The rest of the party must contend with crises of doubt, questions of free will, and a dawning realization of who sacrifices what for whom.
The Crucible
By Arthur Miller
Directed by Darcey Engen
April 4th through April 9th
Bethany Lutheran Church
This contemporary site-specific revision of Arthur Miller's The Crucible will perform at Bethany Lutheran Church on Franklin Avenue close to the Augsburg campus. Audiences will experience the play in close proximity to the actors as they move through the sanctuary and surrounding spaces. In a time of fake news and alternative facts, Arthur Miller's The Crucible, a play about the Salem witch trails in colonial Massachusetts 1692, seems more significant then ever. Written by Miller in 1953 in response to McCarthyism, the play examines the dangers of extremism, fabricated accusations, and shattered trust.