High School and Community College Directors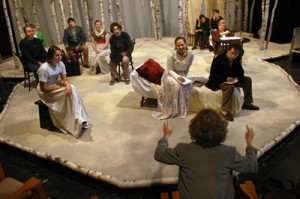 As you work with theater students, we invite you to take advantage of opportunities through Augsburg's Theater Arts Department. These include free workshops at your school, free admission to our productions and Theater Artist Series, and participation in our Theater Connections Day.
FREE, ON-SITE THEATER WORKSHOPS
Our professionally experienced faculty will travel to your school to lead a workshop, free of charge. All we ask is that we be allowed a few minutes to speak about Augsburg's Theater program at the end of the workshop.
All workshops are specifically tailored to meet your classroom or extracurricular needs. If you are rehearsing for a particular production, we offer expertise in everything from musical theater performance techniques to generating material for an original performance. If you're interested in a stand-alone workshop, there are many options to choose from. Here is a sampling of the kinds of workshops we've been able to offer in the past:
Fundamentals of Movement (45 – 90 min): This workshop is an introduction to modern dance and general body conditioning. Students participate in movement exercises as well as structured improvisations that explore basic principals of space, weight, and movement dynamics. The class will also include a physical warm-up with exposure to simple stretching, breathing, and toning exercises.
Crafting Performance from Personal Narrative (60 min – 2 hrs): This hands-on workshop combines free writing, guided visualization, group discussion, and an active laboratory approach to crafting and performing a story. Students draw from memories, observations, and lived experience to generate and develop performance material with physicality, vocal characterization, and aural composition.
Crafting Performance with Structural Apparatus or Props (60 min – 2 hrs): This workshop liberates the student from notions of dance and choreography by approaching movement with a physical tangible object. The Apparatus Workshop begins with safe and accessible floor-based structures (chairs, rehearsal blocks, exercise balls) to investigate weight sharing, motional navigation, and visual composition with a physical landscape. The Prop Workshop explores how an ordinary object (a piece of paper, umbrella, bicycle inner tube) can be transformed by exploiting its kinetic, textural, visual, and aural properties. Both workshops introduce fundamental concepts of abstract movement composition.
To arrange a workshop for your school, please contact Darcey Engen at engen@augsburg.edu or (612) 330-1549.
ARTIST SERIES EVENTS
Bring your students to our Theater Artist Series events and workshops, Featured Artist presentations, or student performance recitals. A full schedule can be found on our website. To receive a parking permit and to alert us you are coming to campus, please contact Darcey Engen at engen@augsburg.edu or (612) 330-1549.
FREE ADMISSION TO PRODUCTIONS
Bring your class or extracurricular theater club to see a production by Augsburg's Theater Arts Department on the house! You may also request a behind-the-scenes tour of the department, as well as a short visit with a faculty member or admissions counselor. To reserve tickets and arrange your visit, please contact Darcey Engen at engen@augsburg.edu; or (612) 330-1549. (Tickets may be limited due to advance ticket requests, so please reserve your spots early.)
THEATER CONNECTIONS DAY
You and your students are invited to participate in our annual Theater Connections Day on campus. This event includes a matinee of a mainstage production, a series of workshops led by current Augsburg students and guest artists, and complimentary lunch and continental breakfast on campus. For more information on this event, please contact Darcey Engen at engen@augsburg.edu or (612) 330-1549.