Directed by Richard Remedios
Tjornhom-Nelson Theater
March 31 7pm.
April 1    7pm.
April 13  7pm.
April 14  7pm.
April 15  7pm.
April 16  3pm.

Set in London during the plague of 1665 and based on true accounts of some who survived, The Living reveals what happens when a government under-reports the case numbers and fails to act in the face of a devastating epidemic. It is a heart-wrenching and sometimes funny display of human frailty and ignorance, courage and cowardice, survival and desperation, suffering and communion.
Aerial Hammock
Led by Beliza Torres Narváez
Studio Theater, Spring Semester 2023
In this workshop production, students will learn the basics of Aerial Hammock or Sling. They will also build strength and endurance staying close to the floor. At the end of the workshop each student will have learned the basic Aerial movement series and a short choreography, which will be shared in a showcase with the Augsburg community. (Suitable for different levels of fitness, strength or flexibility and body types.)
---
Earlier this Season.
The Most Massive Woman Wins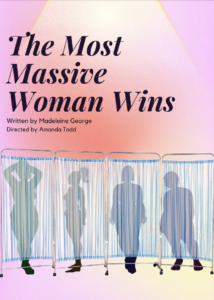 By Madeleine George
Directed by Amanda Todd
Tjornhom-Nelson Theater, February 2-5
Challenging, brutal and hilarious, four women of various shapes and sizes sitting in the waiting room of a liposuction clinic explore their perceptions of body image. The women reveal their experiences dealing with their weight issues through monologues, short scenes, and even schoolyard rhymes. From painful childhood memories to frustrations with the opposite sex, these experiences both haunt and empower these women as they imagine their way to a new vision of themselves as beautiful and whole.
Macbeth
By William Shakespeare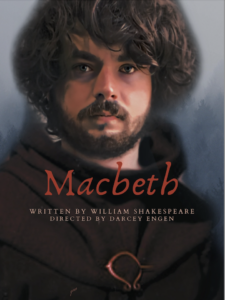 Directed by Darcey Engen
Tjornhom-Nelson Theater, November 4–13
Shakespeare frequently reminds viewers not to misuse power–there will be consequences. In Shakespeare's Macbeth, political ambitions arise in the Scottish soldier after he receives a prophecy of power from three eerie witches–he will be a nobleman and then he will be King! Working with his wife, Macbeth kills the King and takes power–only to be caught in a web of shame and guilt that requires him to continue to murder to keep his position. Eventually both Macbeth and Lady Macbeth descent into insanity, prompting a civil war that leads to their own demise. There are consequences when one misuses power!
---
Last Year's season…
"INTO THE WOODS"
Music and Lyrics by Stephen Sondheim
Book by James Lapine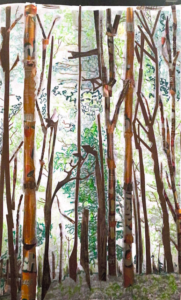 Directed by Darcey Engen
Music Direction by Jill Dawe
April 7 at 7 P.M.
April 8 at 7 P.M.
April 9 at 7 P.M.
April 10 at 3 P.M.
The woods can be dark, the woods can be scary, the woods can give you what you wish for—but no one leaves the woods unchanged. Into the Woods, the musical by Stephen Sondheim and James Lapin, asks how we encounter the world in which we live, how we deal with the consequences of actions taken by others, and how our own actions create consequences as well. No one is alone!
---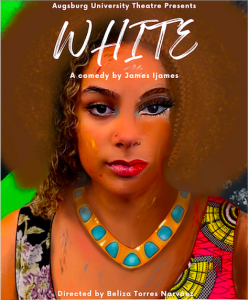 White
By James Ijames
Directed by Beliza Torres Narváez
When his good friend Jane becomes the head curator at the prestigious Parnell Museum, Gus is sure his break to be a renowned painter has arrived! However, things do not turn out as he hoped. Feeling excluded as a white gay man, Gus asks his boyfriend Tanner to connect him with Vanessa, an African American actress from his improv class. He is confident Vanessa can help him create a masterpiece for the museum's "New America" exhibit that will catapult them both to fame. Will she agree? White is a bold comedy using art to address head-on current issues of race, representation, gender, and sexuality.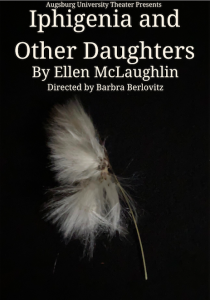 Iphigenia and Other Daughters
Adapted by Ellen McLaughlin
Directed by Barbra Berlovitz
A modern retelling of the fall of the House of Atreus. It follows the children of Clytemnestra and Agamemnon, siblings who are both players in the family tragedy and victims of it. The cycle of blood and vengeance seems inescapable until the final reunion of a lost sister and brother brings the bloody family saga to its mystical and unlikely end.