We've got your backs! Members of the Advisory Board are trusted allies and were selected for their areas of expertise as well as for their strong support of students. Please see their bios for their contact information and how they can assist you.
---
Kelsey Richardson Blackwell
(She, Her)
Kelsey is Augsburg University's Senior Director of Advising and Registration
Kelsey can be reached at richardk@augsburg.edu.
---
Amanda Burgess
(She, Her)
Hello! I am the Director of Financial Aid at Augsburg and am a 2005 alum. In the financial aid office, we strive to meet students where they are and provide support as they navigate paying for college. Finances can be stressful and exciting. We hope to provide a space where students can get their questions answered and feel empowered to make informed financial decisions. Please reach out anytime; I'm happy to help!
Amanda can be reached at burgessa@augsburg.edu.
---
Sarah Degner Riveros
(She/Her/Ella)
Hello! I am an Augsburg Alum in creative writing. I teach Spanish here and have been a faculty member in the Department of Languages and Cross-Cultural Studies at Augsburg since fall 2015.  Prior to coming to Minnesota, I lived in small town Indiana for 12 years, and before that I lived in New York City where I earned my doctorate in Spanish Literature at Columbia University.  As a single mother of 5 children and as a survivor of domestic violence, I have spent many years navigating systems.  I am very proud of the accomplishments of my students in the Augsburg Family Scholars program.
---
Ankita Deka
(She/Her)
I am happy to support you as you navigate college. In my role as faculty, I am happy to talk to you regarding future career opportunities and graduate school options. I am also happy to work with others at Augsburg to connect you to resources within and outside of Augsburg.
Ankita can be reached at deka@augsburg.edu.
---
Robert Gould
(He/Him)
I lead the offices of admissions and financial aid and see myself as a belonging adventurer.  I am willing to mentor, listen deeply, validate, and joke around.
Robert can be reached by stopping by his office in Admissions, calling, txt, email anytime about anything.  612 357 9142,
gouldr2@augsburg.edu.
---
Mike Grewe
(He/Him)
Michael Grewe started at Augsburg University in 2008 and is currently the Dean of Students. Mike's career in higher education has included work in student advising, orientation, LGBTQIA+ student services, student leadership development, commuter student services, military and veteran student services, Title IX, and student conduct.
Mike can be reached at grewe@augsburg.edu.
---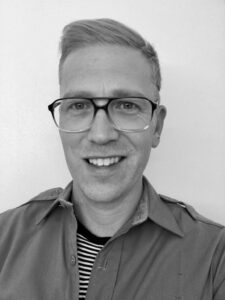 Christopher Houltberg
(He/Him)
Christopher Houltberg is a Minneapolis-based artist, designer and educator. Born in Salina, Kansas, Houltberg went to the West Coast for undergraduate studies and the East Coast for graduate school. His creative practice includes making, designing and teaching aesthetics and sits at the intersection of design and fine art. Shortly after moving to Minneapolis in 2005, he began working as a designer and art director for an international architecture firm. Drawing on this array of experiences, Houltberg employs an interdisciplinary perspective in his creative practice both in making and teaching. His artwork has been exhibited both locally and nationally and has been a recipient of a Jerome Fellowship (2012) and a Minnesota State Arts Board Artist Initiative Grant (2020). He is director of Design & Agency, a trans-disciplinary design studio where students, faculty and community members co-create: generating ideas and solving problems to create good in the world.
Christopher can be reached at houltbe@augsburg.edu.
---
Lydia Rikkola
(She/Her)
I am Lydia Rikkola! I am an Augsburg Alumni (2022 grad) my job title is whatever you students need it to be! I am available for homework support, I am free to be a venting resource. If you need a support person to find answers to your questions I am here to help in anyway I can! I am so excited to have you students here please take care of yourselves! I am so happy to be able to support AFS.
Lydia can be reached at lydia.rikkola@alumni.augsburg.edu.
---
Joanne Reeck
(She/Her)
Joanne Reeck is Augsburg University's Vice President for Equity and Inclusion and ADA Compliance Officer.
Joanne can be reached at reeck@augsburg.edu.
---
Stephanie Ruckel
(She/Her)
At Augsburg I work behind the scenes to make the enrollment process easier.  I love changing systems to improve the experience of others.  I started my career with a non-profit offering financial counseling to those that needed help with budgets and debt.  It's something I love to help others work through.  I think financial awareness is so important.  In my role I am able to connect with lots of other staff across campus.  I love to learn how others are servicing students and try to be part of it when I can-offering the skills I have.  When not working I love creating-whether it be a halloween costume for my kids, a new recipe, or woodworking, I find it so satisfying to be creative and make something new.  I feel lucky that my kids indulge my creations and my spouse will eat just about anything.
---
Erin Sugrue
(She/Her)
Hello! I have been a faculty member in the Social Work Department at Augsburg since Fall 2018. Before becoming a professor, I was a school social worker for over a decade. My research focuses on examining ways to bring more equity, justice, and care in our education and child welfare systems. I love working with students and am excited to be connected to the Augsburg Family Scholars program.
Erin can be reached at sugrue@augsburg.edu.
---
Diamee Yang
(She/Her)
I am the Senior Financial Aid Counselor and I specialize in the Minnesota State programs such as the Fostering Independence Grant. My goal is to help students and their families establish a comprehensive understanding of tuition and fees, financial aid eligibility, payment options, and other financial aid sources.
Fun Fact: I graduated from Augsburg in 2010. As a student, I participated in TRIO/SSS and Augsburg Asian Student Association (AASA).
Diamee can be reached at yangdx@.augsburg.edu.