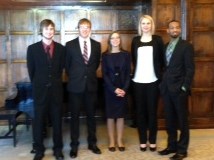 The Mayo Innovation Scholars Program (MISP) is an experiential, interdisciplinary learning opportunity that engages science and economics majors at select Minnesota private colleges in evaluating the commercial potential for inventions and discoveries by Mayo Clinic physicians and researchers. Each student is led by a MBA student and advised by a Licensing Manager from the Mayo Clinic Office of Intellectual Property. The student team gains valuable insights and experience in assessing and evaluating new medical technologies, devices, and ideas submitted to the Mayo Clinic's Office of Intellectual Property. The experience culminates with a presentation of the team's research findings at the Mayo Clinic in Rochester, MN.
Participating Mayo Scholar Students in 2013 included economics major Brianna Noland, biology majors Joe Buchman, Sandra Hinzs, Zachary Stevens and Augsburg MBA student Kelvyn Henderson. Faculty mentors for the team were Economics Professor Stella Hofrenning and Biology Professor David Crowe.
The Mayo Innovation Scholars Program is an annual research opportunity. There is a competitive selection process every fall to determine participating students. Please see Undergraduate Research and Graduate Opportunity for additional information.