Nancy Fischer
Associate Professor, Sociology Department Chair
Memorial Hall 432
CB 116
612-330-1095
fischern@augsburg.edu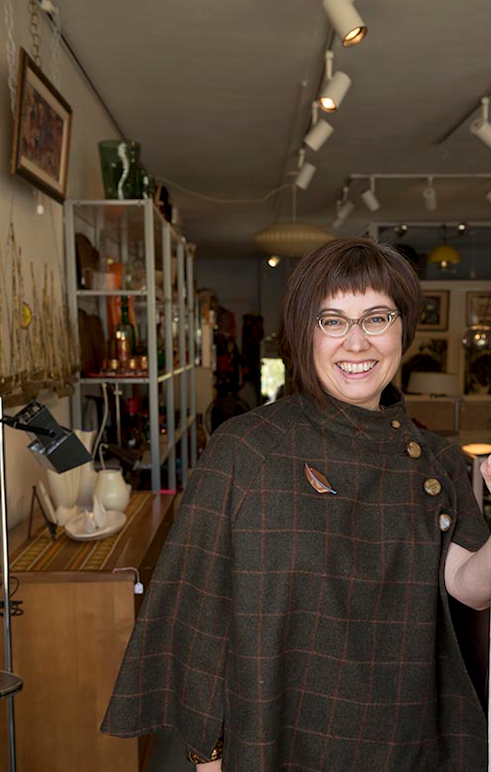 Nancy Fischer joined the faculty in fall 2005. She is an associate professor of sociology and teaches in the Sociology department, the Urban Studies program, the Gender, Sexuality and Women's Studies program, and the Environmental Studies program. She is Augsburg's current director of the Urban Studies program.
Nancy's research and teaching are in the areas of sexualities, sociology of culture and urban sociology. At Augsburg, she currently is teaching Introduction to Sociology, City Life: Introduction to Urban Sociology, Race, Class & Gender, Sociology of Sexualities, Sociology of Law, City and Regional Planning, and The City and Environment Keystone and the study abroad course Sustainable Cities in North America. "I think if I had to choose favorites, my favorite courses are in urban sociology and sociology of sexualities. I like teaching urban sociology because I've lived in different kinds of places – I grew up in rural North Dakota, later lived in Washington DC and Boca Raton, FL – so I have rural, urban and suburban experiences to draw from when I'm in the classroom. I really love cities. Growing up in a rural area, I always associated the city with fun, excitement, art and culture. My enthusiasm for the urban environment has never left me. Also, I have a great time when I teach Sociology of Sexualities because it is the class where I can really see students' sociological imaginations develop – we normally don't think about all the ways that sex and our sexual identities are socially produced and it's fascinating to explore that process in the classroom."
In 2008, 2010 and 2012 Lars Christiansen and Nancy Fischer co-taught the study abroad course Sustainable Cities in North America. Christiansen, Fischer and 12 students traveled to Portland, Oregon and Vancouver, British Columbia to learn from experts about food systems, waste and recycling programs, transportation, public policy, and community development and the latest in green building construction. In 2012, they visited Augsburg's Center for Global Education in Cuernavaca, Mexico to explore how Mexico City and Cuernavaca are improving their efforts to create more sustainable, livable cities. These classes literally "walked the talk" in terms of reducing carbon footprints – students rode bicycles, walked or took public transportation during the entire trip. Based on what they learned from this course, Lars and Nancy published "Teaching Urban Sociology and Urban Sustainability on Two Feet, on Two Wheels and in Three Cities" in Teaching Sociology. They also teamed with Augsburg Abroad advisor Andrea Dvorak and political science professor Joe Underhill to write "A Necessary Partnership: Study Abroad and Sustainability" for Frontiers: The International Journal of Study Abroad. In May 2016, Nancy and Douglas Green (English Department) will co-teach an abroad experience in Copenhagen, Denmark called "The City, Real and Imagined."
Nancy is the former chair of the American Sociological Association's Section on Sexualities. She is the co-editor of Introducing the New Sexuality Studies: Original Essays and Interviews for Routledge. The third edition of the Introducing the New Sexuality Studies will be available in March 2016.
Nancy is currently working on a research project she calls "The Social Life of Secondhand Clothes," which is also the title of her blog on vintage clothing and ethical clothing consumption. This project is a sociological analysis of the secondhand and vintage clothing industry that explores the emergence of vintage clothing as a popular fashion trend and the meaning of vintage clothing to those who wear it. Vintage clothing has been part of pop culture style since the late 1960s and she is explores that recent history in "Vintage, the First Forty Years: The Emergence and Persistence of Vintage Style in the United States" for the journal Culture Unbound. She is currently working on a book that she is co-authoring on vintage style.
Education
B.A. Hamline University (International Relations, Sociology)
M.A. American University (International Communication)
Ph.D. State University of New York at Albany (Sociology)
Areas of Concentration
Urban Sociology
Law & Society
Sexuality & Gender
Culture
Areas of Teaching and Responsibilities:
SOC 121 Introduction to Human Society
SOC 211 Human Community & the Metropolis
SOC 265 Race, Class and Gender
SOC 291 Sociology of Sexuality
SOC 320 Sociology of Law
SOC381 City and Regional Planning
ENV/URB 492 The City and Environment Keystone
SOC 295 Sustainable Cities in North America (study abroad)