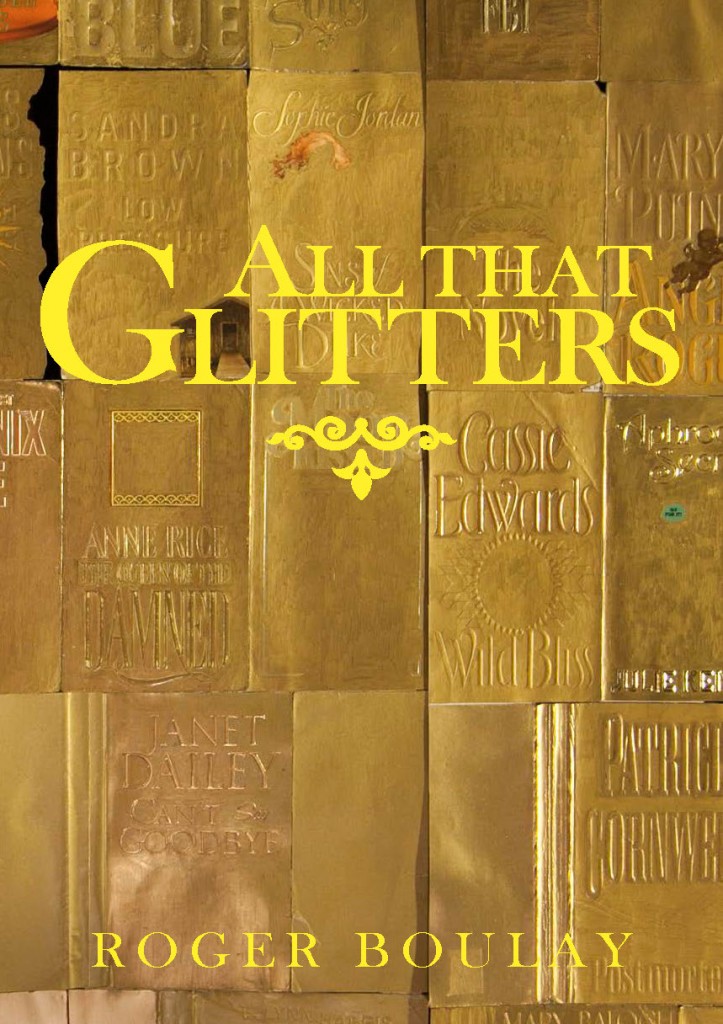 all that glitters
Exhibition Dates: January 12 – March 12, 2015
Closing Reception: Thursday, March 12, 6:00 – 7:30 p.m.
For Boulay's installation of over 1,000 gold paperback book covers, he collected pulp and popular fiction paperbacks with gold-embossed elements and meticulously painted the remainder of each cover gold. The work raises questions about value, taste and permanence.
Artist Bio
Roger Boulay is originally from Massachusetts. He earned an MFA from the University of New Mexico in 2011. He moved to the region in 2013 and now lives and works in Winona, Minnesota with his partner and two dogs. He has exhibited his work nationally.
Artist Statement
My work is about transition, precariousness and beauty. My current work uses books to investigate notions of instability and erosion. In this work, stories are layered upon one another, visible in fragments that collide and connect. I am exploring literal and metaphorical entropy at the intersection of language and material culture. For the last eight months I have been working on a site-specific installation. This piece involves over 1,200 popular fiction paperback book covers. Each cover has been selected because it contains gold-embossed lettering. I paint around each gold element with gold paint so that the entire book cover is covered in gold. It is detailed and methodical work. I am curious to see how erasing or camouflaging gold with itself could make the viewer think about the cultural and monetary value we associate with both gold and popular fiction.
#RBallthatglitters
---
ALL THAT GLITTERS – q/a with artist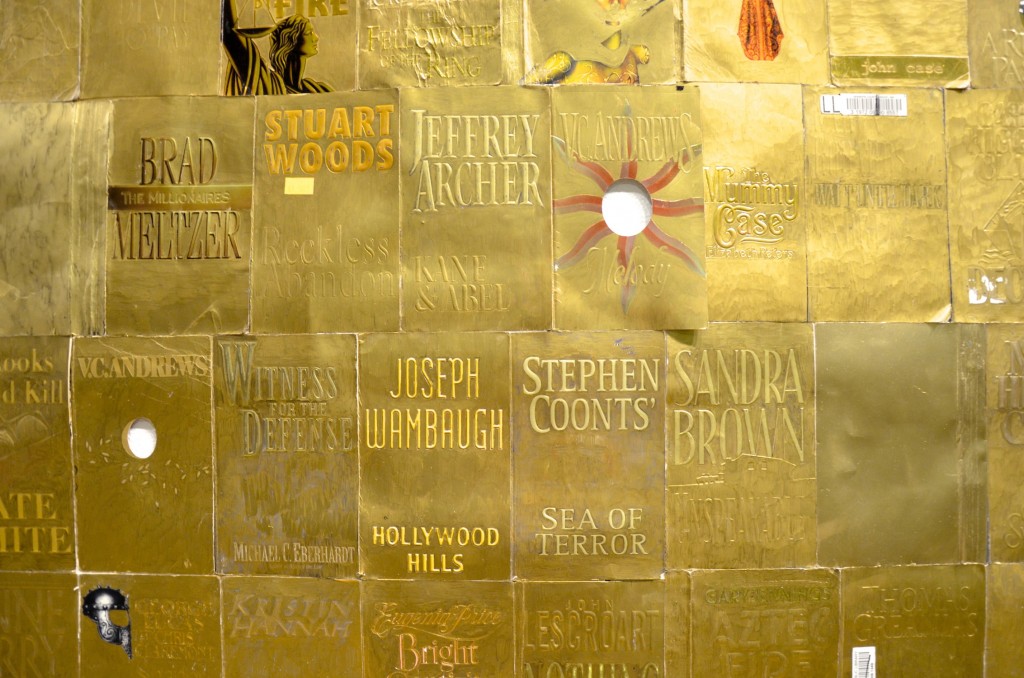 First I want to thank the Augsburg Art Department, Jenny Wheatley and her staff for accepting my exhibition application and being very gracious hosts. I also want to thank my family, Harvey, Shirley, Dekker, Charlotte and Brian for their support. A big thank you to Janet Hawkes, Rod Hawkes, Joan Lawrence and Joyce Lawrence, who helped me obtain a good chunk of the books for the piece. Kate Hawkes, my partner, has been wonderfully supportive and inhaled way too many gold paint fumes because of me and is a great accomplice in all things art and in life. – Roger Boulay
Where did the books come from?
The books came almost entirely from library book sales, where I could purchase fifty or sixty books for a few dollars. I also bought a few lots of books off of ebay to obtain specific genres for the piece that I couldn't find at library book sales.
Have you read these books?
I have read a few of these books previous to making the piece. One hope I have is that viewers will identify certain books they've read in the piece and then have a connection to a few of the stories alluded to in the work.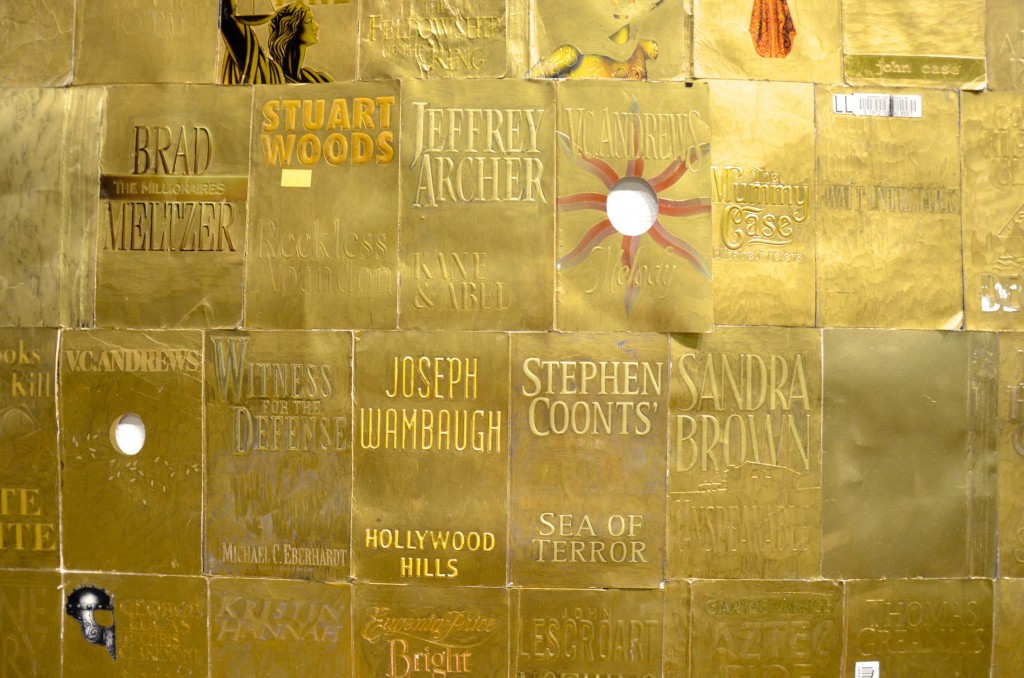 What was the selection process for the books used?
The piece is made entirely of paperback works of fiction. I selected books that had some gold element on the cover, often embossed gold text. A book had to have a gold element on the cover and be fiction to be in the piece. Some books appear more than once.
How did you assemble them?
The covers are glued to each other. I used the backs of many of the covers to attach the piece together. First I made fourteen 3′ x 5′ rectangular panels and then attached those panels together and filled in around them to create the final composition.
What will you do with the text pages of the books?
I am not entirely sure yet, but I have some ideas for a sculpture or to reform the text pages into a recycled paper.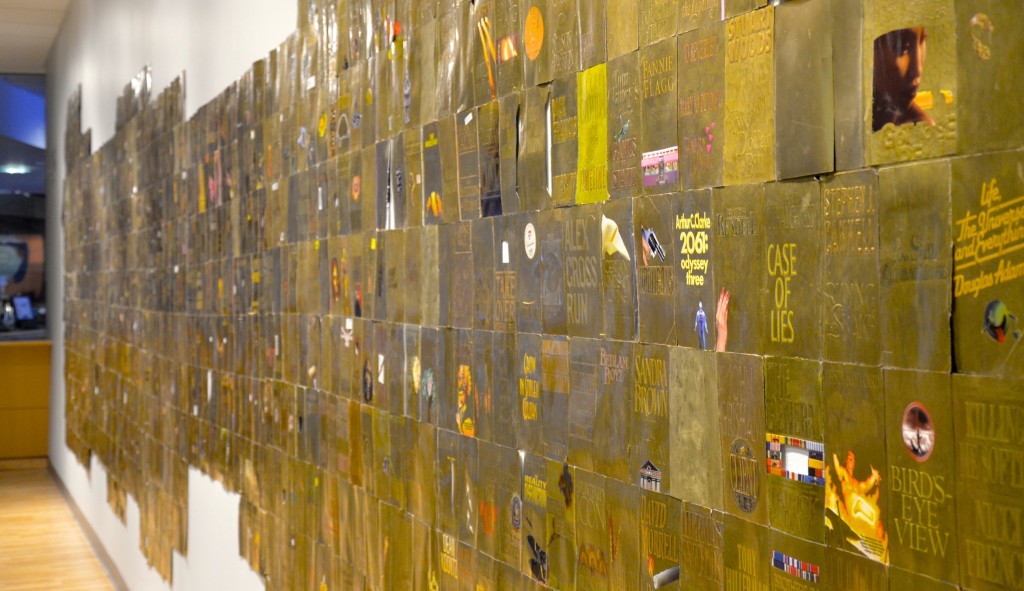 Can you explain the similarities and differences that "All That Glitters" and your previous exhibition titled "Pulp" share with one another?
Both bodies of work use paperback fiction as a starting point. Both projects are about erasure and disappearing. My process for some of the work in "Pulp" is a little different in that I've photographed some covers or pages to create larger panels that make shifts in scale or accentuate markings. "All that Glitters" is made exclusively out of actual book covers. Both projects reference building facades. Both works are about deterioration and change.
"All that Glitters" is different in that I'm concentrating on the possible meanings and associations of a particular color (gold) and how it relates to the mash-up of genres and time-periods and stories of the books in the piece.
Why did you organize the books into the shape you did?
On a basic level, I designed the piece for the Christensen Gallery. I didn't make a piece that was thirty feet tall, because it obviously wouldn't have worked for the space.
I want the shape of the piece to have different associations. For example, to me it references the periodic table, a fragment of a building facade or a big pile of gold bars.
What is your favorite genre to work with?
I enjoyed working with pulp fiction because the stories are so strange and the covers are really unique.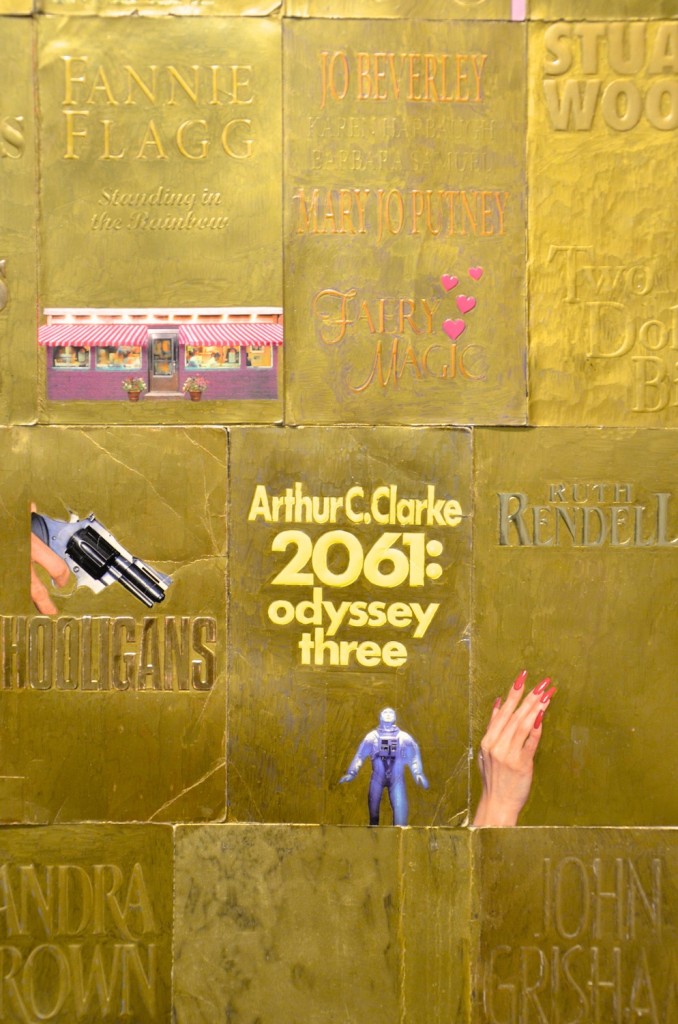 What kind of recurring themes did you find while working with the covers?
A lot of the titles use cliché in a specific way. There are tropes of particular genres such as the "damsel in distress" on the front of romance novels. By painting around the blonde or "golden hair" on these covers, it becomes more ambiguous as to who is male and female. That particular trope gets put into question.
What are some of your artistic influences?
I was thinking about the work of artists like Annette Messager, El Anatsui, Robert Heinecken, Adrienne Salinger, Patrick Manning and Mark Bradford while I worked on this project, all for different reasons. I also watched and rewatched a lot of Law and Order (the original series) while I worked on the piece.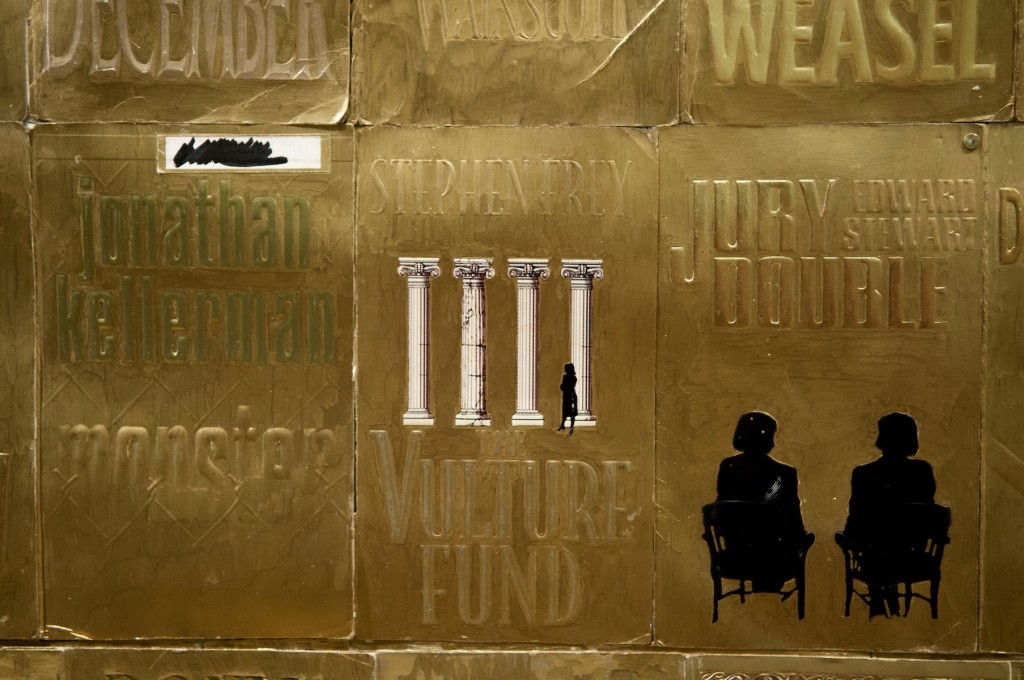 What would you like the audience to take away from your show?
I hope people have an enjoyable visual experience and make connections to certain titles and text or some of the bits and pieces I didn't paint gold that are floating through the piece. One of the strengths of this particular gallery is the ease with which the viewer can see things from a distance and also up close. I hope this enriches the experience of the work. I also hope the piece makes people think about value and how we assign value.
What would you like future generations to take away from this artwork if it is rediscovered a century from now?
That is a difficult question. I guess I wonder if print media will have mostly disappeared by then so this piece will speak to a particular moment of transition in our culture. I also hope the piece will describe how we constructed narrative and thought about color in some ways. Hopefully we are still around in a century…
Questions by gallery intern Megan Bartylla.
---
ALL THAT GLITTERS – images