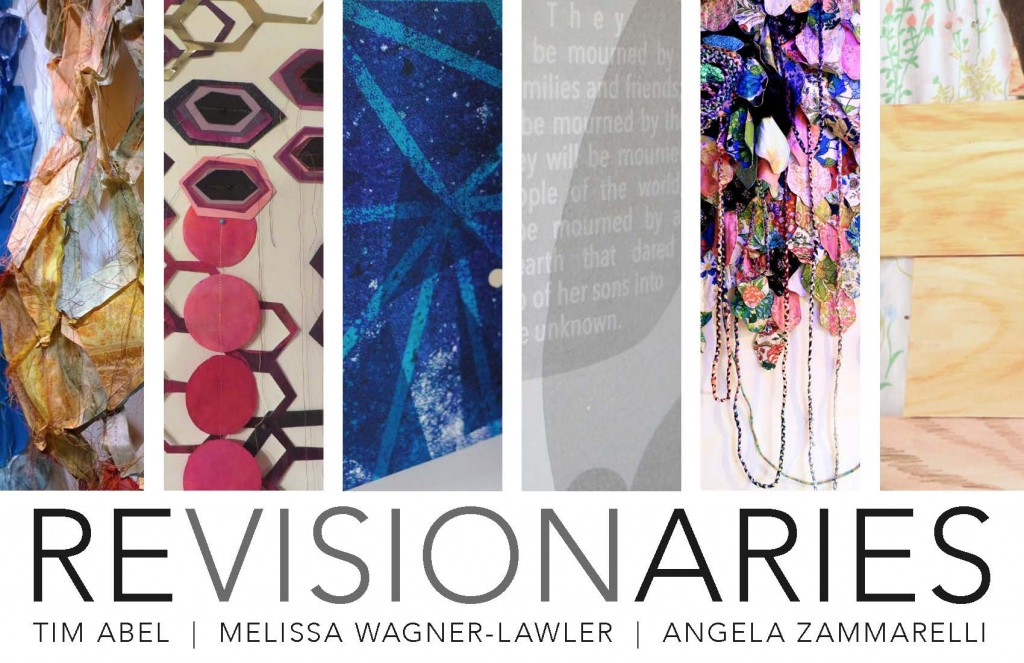 REVISIONARIES – TIM ABEL, MELISSA WAGNER-LAWLER & ANGELA ZAMMARELLI – MAY 15 – AUGUST 10, 2015
Reception: May 15, 6 – 7:30 p.m.
The concept for Revisionaries first existed as a digital experiment between three artists in the form of Precarious Worlds, a show for the online gallery platform Gallery Gray, in 2011. In this remix, there is a chance to re-contextualize ideas that were first uncovered in the potential space created in the digital show and a chance to inject new ideas through experimentation and collaboration that can only take place in the physical space offered in the gallery.
Exhibition Statement:
As artists, our artworks share an interest in saturation: a tendency towards decoration through pattern, layers of color, information and fragmentation. Angela Zammarelli uses fabric, cardboard, and herself to make sculptural objects and installations. Melissa Wagner-Lawler uses digitally layered text and pattern to create a visceral, delicate surface on the page that takes the form of artists books and works on paper. While, Tim Abel uses printmaking, papermaking, and sewing to make sculptural paperworks that vary in size from the handheld to large-scale installations.
Artist Bios:
Tim Abel is a paper-based artist and community art educator living in Wisconsin.
Melissa Wagner-Lawler is a printmaker and bookmaker who resides and teaches in Milwaukee, WI.
Angela Zammarelli is an artist living in Massachusetts who creates environments with found materials coming from free piles, trash/recycling, and hand me downs.
All three received their MFAs from Minneapolis College of Art and Design.