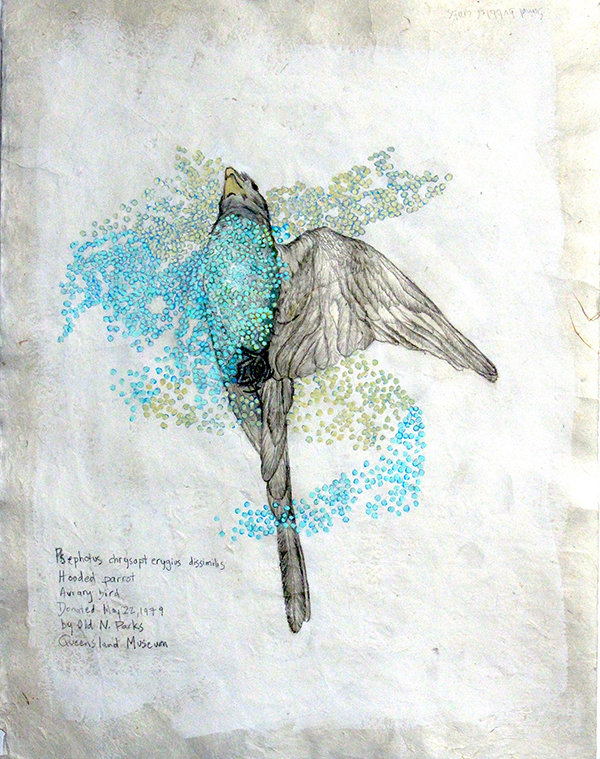 May 16 – July 18, 2018
Gage & Christensen Gallery
STILL. HERE.
MONIQUE LUCHETTI
In this two-person exhibition titled Still. Here., Barbara Kendrick tackles aging and Monique Luchetti takes on death, both reckoning with mortality.
Kendrick plasters her own image onto a pantheon of historic statuary plucked from the halls of museums, confronting our culture's aversion to seeing the wrinkled truths of aging.  Luchetti resurrects anonymous dead birds she finds in ornithology collections, draws portraits of them, in the hope of redemption.
Bio
Monique Luchetti lives and works in Brooklyn NY. She has exhibited national and international, most recently at the Western Colorado Center for the Arts, the Peale Museum, and the Brattleboro Museum. Luchetti has received numerous grants including the Pollock Krasner Foundation Grant, an Artists Space Grant and an Ohio Arts Council Individual Artists Grant. Her work has been reviewed in Art in America, The New York Times, and Zingmagazine and she has been an artist-in-resident at Yaddo, Saratoga Springs NY, JOYA, Spain and Altos de Chavon, Dominican Republic.
---
Artist Statement
Over the past few years I have spent many days researching ornithology collections, looking through hundreds of drawers of bird study-skins. The collections remind me of a library's deep storage, long forgotten cemeteries, and ancient archeological sites. The kind of places humans cherish for the clues offered to us about our own species.
These silent places interest me, they bear witness to past lives now forgotten, like the lost voices from a first-century Greek marketplace buried under the twelfth-century Basilica of San Lorenzo in Naples. Voices that were once heard in the excavated whorehouse in Pompeii, or in the Mithras temple found 6 stories beneath the Church of St. Clemente in Rome.

For me, ornithology collections are as these places are. Drawers filled with study-skins that were once living birds, with song, and flight – and souls. Now they are remains, cataloged, anonymous, an identity tag tied to a leg specifying their species, date of death and perhaps the name of their cataloger. The study-skins in my work embody my own personal sense of loss and of hope.
The focal point of this work is a large drawing, Forget-Me-Not. The artwork is 7 feet high and 17 feet long and composed of 27 assembled sheets of paper. The drawing represents bird species that are endangered or threatened with extinction in the United States. The research for this drawing was done at the Yale University Peabody Museum. The other drawings in the exhibition are studies done from the collection at the Queensland Museum in Brisbane, Australia.