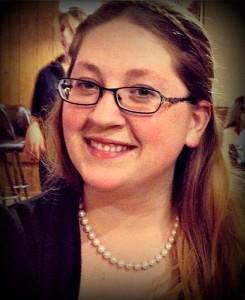 Lucy Hardaker (hardaker@augsburg.edu), one of the newest CGE staff members, is highlighted this month!
Position and primary duties?
I am CGE's Outreach and Enrollment Specialist.  I visit schools around the country to meet with study abroad advisors, faculty, and students about CGE programs.  I am a student's primary contact after they inquire or express interest in our programs.  I really enjoy answering student questions and helping them understand the study abroad enrollment process.  I also assist with the management of our social media channels.  One of my favorite projects is working with our Alumni Ambassadors, a program through which returned students work closely with interested students in selecting and preparing for a CGEE experience.  If you want to be an Alumni Ambassador or are interested in connecting with one, contact me at the above email address.
In what year did you start with CGE?
2014
Share with us a brief educational and work history.
I studied as an undergraduate at the University of Wisconsin-Eau Claire and, while I was there, I worked two different jobs. One, at a small scrapbooking and craft supply store, and the other at the international student services office on my campus. My time as a student assistant in the international office set me on a path to international education as a career. Once I graduated, they hired me as the host family coordinator where I matched international students to families within the Eau Claire community.  After a few years working professionally in Eau Claire, I moved back to my home of Saint Paul, Minnesota to pursue my Master's degree in Higher Education Administration at the University of Minnesota and to work with international students there as well. My job was to coordinate short-term programs, where I got to plan and lead educational field trips around the Twin Cities as a way to help students increase their understanding of US culture and the English language. I also assisted the international student recruiter in her job to recruit students to study in Minnesota.
Where are you from?
Saint Paul, Minnesota
Where do you work?
Minneapolis office
Most rewarding part of your work with CGE
I have been interested in intercultural connections and international travel for as long as I can remember, so I find it very rewarding to get students excited about study abroad. I love to hear the stories from the students after they return, too – to share in the joy of a transformative experience.
Most challenging part of your work with CGE?
Seriously – seeing the student's photos! It's painful to see all the places I still want to go in my life. My fingers start itching for online flight searches…
While all CGE visits and resource people are important and valuable, are there any particular stories/encounters that are particularly poignant for you personally or for our participants?  
I'm still pretty new to CGE so I don't have as many stories to draw from yet. However, each time I hear a story from a student that didn't think they would ever be able to go abroad, I am quite happy to know that they found a way and that they chose us. I believe that CGE's style of program is such a fantastic way to experience international travel – I wish my school had known of it when I was studying abroad!
What are your hobbies/personal interests?
My hobbies include: scrapbooking, riding my bike, and hibernating during Minnesota winters with Netflix!
 Where is your favorite place to travel or what is your dream destination for the future?  
My favorite place I have visited is Annecy, France, a small mountain town in Eastern France. I consider this my favorite travel memory because it holds a special place in my heart as the first international travel experience I had. I went to France for 3 weeks with my high school French class and have been smitten with travel and culture ever since. Annecy was my favorite from the trip as it is a beautiful town filled with wonderful people! And as a Minnesotan girl, I had never seen mountains before so visiting the French Alps was a very special experience.