Dr. Ann Lutterman-Aguilar, Director of Augsburg's Global Campus in Mexico, will be speaking at SIETAR's annual conference in Orlando. SIETAR is the Society for Intercultural Education, Training and Research. The theme of the conference (having its 15th year celebration) is Expanding Intercultural Horizons: Competencies for a Diverse and Global Workforce.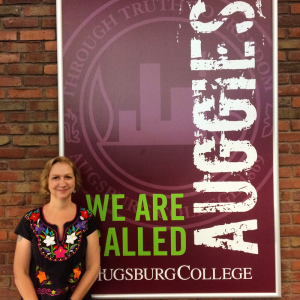 Ann will be presenting on the topic, "Holistic Global Development: Course Assignments that Help Students Integrate Intercultural & Career Development". From SIETAR conference site: "With over 22 years of experience in international education and the author of multiple publications and presentations, Dr. Lutterman-Aguilar will demonstrate how community-based experiential study abroad can help both international business and social work students, among others, learn to work across cultures, lead global teams or work with global groups, demonstrate leadership through the ability to communicate across differences and cultures, and demonstrate a commitment to diversity, inclusion and social justice as ethical professionals."
Congratulations Ann, on bringing an Augsburg College core value of experiential education to a wide variety of audiences!