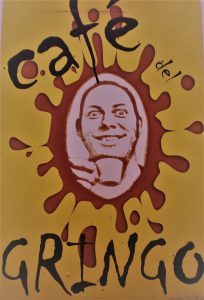 With a cup of coffee in your hand just about anything is possible! You can finish an assignment, have a great conversation or get through a tough chapter in your book… or your life! So here is the inside look on our top three favorite Cafés in Cuernavaca.
Bons Café
On one of the quaint paved streets near the cathedral in Cuernavaca lays Bons Café. Bons Café has a relaxing and welcoming atmosphere. There is ample seating in indoor, outdoor and second story areas. They have a complete breakfast, lunch and dinner menu and have a varied selection of drinks. We recommend the capuchino nevado (a cappuccino with a scoop of ice cream), iced chai, and for those of us who has a sweet tooth, the oreo frappe.
Check out their Facebook page for their latest drinks and treats!
La Rana de la Casona
For those of you who just can't keep our nose out of a book La Rana De la Casona is the café for you! They have a great selection of books to buy, as well as art displays. Located on a quiet street in the downtown area, this is a great café to read a book while sipping on a hot cup of joe.
Coffee Gringo
Want to know where to get the best cappuccinos in town?  Coffee Gringo  is the place to go! They have rich, smooth, and strong cappuccinos– everything you look for in a cappuccino! They have a special promotion on cappuccinos on Tuesdays:  buy two and get one cappuccino free. We also recommend the ice coffee, which is a perfect pick-me-up on a hot day! Located right behind the Cathedral in Cuernavaca, Coffee Gringo is a 15-minute walk from CEMAL, the CGEE main housing and classroom building. With free and fast wifi and a quiet off street location, we decided that this is our favorite Café to study at. With plenty of indoor and outdoor seating, finding a place to sit has never been a problem!