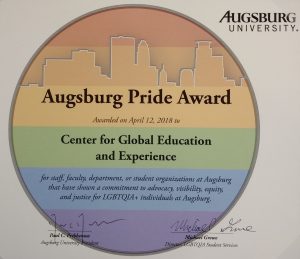 We are happy to announce that the Center for Global Education and Experience was selected as one of the recipients of the 2017-2018 Augsburg Pride Award!
This award is given annually to a staff, faculty, department, and/or student organization at Augsburg that has shown a commitment to advocacy, visibility, equity, and justice for LGBTQIA+ individuals at Augsburg, and in our case, at all of our locations around that world that serve students and participants from multiple institutions!
The nomination was anonymous. It described CCGE's efforts to train its employees to be culturally competent in working with LGBTQIA+ communities. It also discussed CGEE's efforts across its programming to provide equitable accommodations to LGBTQIA+ students and incorporate issues of gender and sexual justice in curricular and co-curricular programs.
Thank you for the recognition from Augsburg and our anonymous nominator!