In 2019, the CGEE representative at NAFSA will be Director of CGEE in Mexico and Global Faculty member, Dr. Ann Lutterman-Aguilar.

If you know CGEE, you know Ann! As one of our most senior members of the organization (celebrating 25 years with CGEE in 2018), Ann has been a pillar in our community, teaching semester courses, leading customized programs, and building upon the pedagogy we are so well known for throughout the field. Ann is an innovative leader in the world of intercultural communication.
Ann's Biography: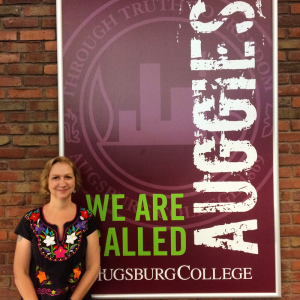 Ann is passionate about community-based experiential learning and has led curriculum development efforts for CGEE. She has spent time at CGEE's program sites in Central America, China, Cuba, Namibia, and South Africa, and loves to brainstorm with faculty and staff about new opportunities for international and intercultural learning. She has published articles in scholarly journals ranging from Frontiers and Transformations to Lutheran Pedagogy for a Global Context and the Journal of Feminist Studies in Religion.
She has also facilitated dozens of workshops on intercultural learning through study abroad at conferences of the American Association of Colleges & Universities, CIEE, the Forum on Education Abroad, NAFSA, the National Association of Experiential Education, and the Society for Intercultural Education, Training, & Research (SIETAR), among others.
Ann earned her doctorate at the San Francisco Theological Seminary (U.C.-Berkeley), her M.Div. at Yale, and her B.A. at Earlham College. She also completed a certificate program in Intercultural Communication and later became a Qualified Administrator of the IDI, which she uses regularly in her teaching and research.
Don't miss this chance to meet with one of CGEE Site Directors!
We'll be at the Go Overseas Pavilion Booth #1819. Make a one-on-one appointment with Ann Lutterman-Aguilar via her calendly page.