This is an event for all Augsburg University faculty, staff, and students, with CGEE's New Site Director in Northern Ireland, Nigel Glenny. 
The Augsburg community is invited to join CGEE in welcoming our newest program (and new location!) director, Nigel Glenny, to campus! He will be hosting a talk "Growing in a Contested Society: Reflections from Northern Ireland" for all to learn more about his home country and our work moving forward. We will conclude the talk with a meet and greet with Nigel for you to get to know him better and welcome him to the Augsburg University community.
When: Tuesday, September 13th
Time: 3:40 p.m.
Where: Hagfors 150A
ALL are welcome to attend! Please RSVP to the event.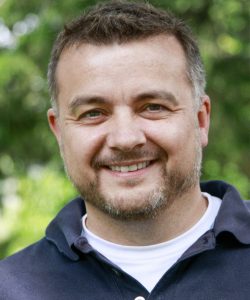 Nigel Glenny is the Site Director for Augsburg CGEE Northern Ireland and a Lecturer with the International Conflict Research Institute (INCORE) at Ulster University. He is a graduate of Queen's University Belfast with a First Class Honours Degree in Education (Religious Studies and History). He began his career as a history teacher then moved into local government as an Education Officer, where he designed and taught a wide range of  experiential learning programs for schools, colleges, youth, and community groups. Much of this work utilized elements of Irish cultural traditions to foster cross-community contact between Protestant and Catholic groups from divided communities within Northern Ireland. Nigel then worked several years at a leading non-governmental organization (NGO) engaged in peace and capacity-building initiatives throughout the island of Ireland. At that organization, he developed an International Citizenship Action Project that reached across communities in Northern Ireland, across the border between Northern Ireland and the Republic of Ireland, and across the Atlantic to the United States. He created peace and reconciliation curriculum, led programs in how to facilitate student engagement, and trained teachers and youth workers throughout Ireland and the United States. Following his position with the International Citizenship Action Project, Nigel came to Ulster University, first serving as a Lecturer with its School of Education and the UNESCO Centre.
Prior to its transition to Augsburg CGEE, the Conflict, Peace, and Transition in Northern Ireland program (formerly known as Democracy and Social Change in Northern Ireland) was delivered through the Higher Education Consortium for Urban Affairs (HECUA), with the first group of students participating in 2002.