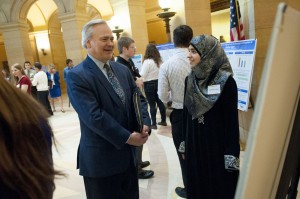 On Tuesday, April 8, Augsburg TRIO McNair Scholars* Amineh Safi '14 and David Fowler '14 participated in the 11th annual Private College Scholars as the Capitol event. Each private college in Minnesota selects two students for the Private Scholars at the Capitol event annually to present their research using professional quality posters, wherein they lay out the scope of their projects, including the methods, sources, findings and implications of their work.
"The Capitol event gives our students another opportunity to refine their presentation skills," says "Tina" Maria Tavera, Director of the TRIO McNair Scholars Program at Augsburg. "Plus, students get the chance to connect with their district representatives and highlight the tremendous quality of research being completed at Augsburg."
Both Amineh and David were well prepared to discuss their work and answer questions from the dozens of people who milled around the rotunda space, reviewing individual projects. Amineh's research topic, "Racializing Islam: Newspaper Portrayal of Crime Involving Muslims and Islam," is a descriptive content analysis examining how crimes involving Muslims are portrayed in the Minneapolis Star Tribune and the St. Paul Pioneer Press.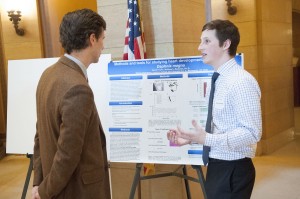 David, a biology student, served as researcher in Dr. Matthew Beckman's laboratory last summer. David's research focuses on methods for studying heart development and function in the model organism Daphnia magna. He hopes to use this and other experiences when he applies to graduate school next year.
Augsburg's McNair students who present at the capitol enjoy benefits that extend beyond the event, too. "I've seen students who, at the outset of summer research, were quiet, almost timid, come to this event and really shine," added Brian Greening, Assistant Director of Augsburg's McNair Program. "Scholars at the Capitol is a huge confidence builder for our students, as well as being a boon to the private colleges in Minnesota. I mean, how many people get to come to the state capitol and do this?"
* The TRIO Ronald E. McNair Post-baccalaureate Achievement program (McNair Scholars) is funded by the U.S. Department of Education. McNair Scholars helps first-generation and low-income college students, as well as students underrepresented in graduate programs, reach their goals of attaining graduate degrees. Augsburg's TRIO McNair program serves 26 students annually, assisting them in the process of conducting research on and off campus and applying for graduate programs.