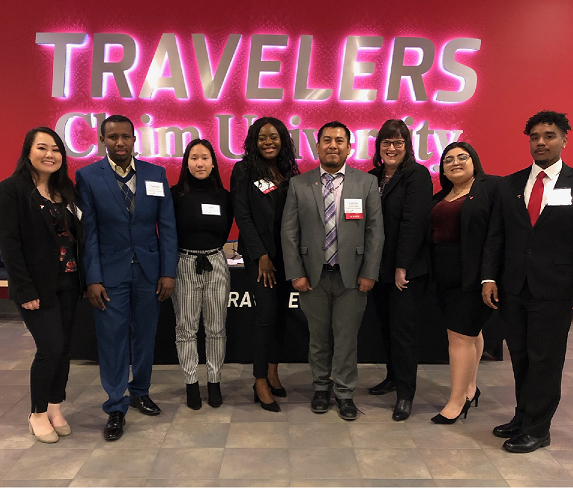 Minneapolis – The Travelers Companies, Inc. has provided Augsburg University with $50,000 to support the Travelers EDGE Scholars Program at Augsburg University.
Augsburg University has been participating in the Travelers EDGE Scholars Program since its creation in 2007. In the twelve years Augsburg University has participated in the Travelers EDGE Scholars Program, over 100 students have graduated from Augsburg University as EDGE Scholars.
EDGE Scholars benefit from a broad range of support services provided by The Travelers Companies, Inc., including: generous scholarship support, career and business advice, internships and job shadowing, and professional development workshops.
Travelers EDGE (Empowering Dreams for Graduation and Employment) provides a unique, holistic approach to education for underrepresented students. Through partnerships with colleges, universities and community-based organizations, Travelers EDGE increases access to higher education and provides students with opportunities to excel. The program helps students progress through middle and high school curriculum in preparation for post-secondary education, building a strong pipeline of future leaders to colleges and beyond. By increasing the number of students who complete post-secondary education, The Travelers Companies, Inc. helps communities to be successful in meeting their own demand for a skilled workforce, sustained economies and improved quality of life.
Current EDGE Scholar and Augsburg junior, Samantha Lopez, who just completed a summer internship at The Travelers Companies, Inc. said this about the program: "Travelers has opened so many doors for me. The financial assistance from my Travelers scholarship helps me to cover my academic expenses so I am able to focus on academics and participate in different leadership opportunities on campus. For my internship, Travelers offered me the opportunity to explore different work environments–both human resources and operations–so now I have a better idea of what kind of career I want to pursue after graduation. It was amazing to learn first-hand what goes on inside a corporation and find out I can do the work. Travelers has provided me with the support, skills and confidence I need to pursue a business career."
The Travelers Companies, Inc. and Augsburg University have formed a longstanding partnership around their shared commitment to educating underrepresented students. Augsburg University is one of the most diverse colleges in the state of Minnesota. Augsburg University's mission is to educate students to be informed citizens, thoughtful stewards, critical thinkers and responsible leaders.