Professional Development Week for Educators, June 25-29, 2018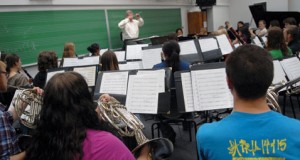 Do you have a passion for music-making? Do you love to share your talent with others? Would you like to make a difference in the lives of young people?
Are you ready to become "that music teacher"—the one who inspires the next generation of musicians, teachers, and musically-enriched community members?
Are you a capable musician dedicated to the pursuit of a rewarding career as a band, choir, orchestra or classroom music teacher? Are you a transfer student or returning college student seeking a music teaching degree?
If any of these scenarios describe your situation, we invite you to become a partner with us in this musical adventure.
Degree Requirements
Bachelor of Music, music education major – Degree Checklist
Bachelor of Music, music education major – Course descriptions are located in the University Catalog
Faculty Contacts
Daniel Albert, PhD
Phone: 612-330-1370
Email: albertd@augsburg.edu