Through the generous support of our donors, Augsburg is proud to offer the following music-related scholarships that can help our students achieve their academic goals.
Hognander Scholarships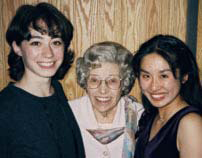 The Orville and Gertrude Hognander Music Scholarships are prestigious music scholarships at Augsburg and recognize students with exceptional music performance and academic achievement. Past Hognander Scholars now enjoy careers as jazz and film score composers, opera and music-theater performers on international stages, administrators of music nonprofits, and music teachers, among many other activities. Hognander Scholarships provide up to full tuition to encourage and support highly qualified music students in voice and instrument. Two recipients, preferably a junior and senior, are selected each year based on a résumé, academic transcript, and performance audition.
The Hognander Scholarships were established in 1998 by Orville and Gertrude (Lund) Hognander, both 1936 Augsburg graduates. As a student, Orville Hognander was the Augsburg Choir's first business manager who launched the choir on its first tours and national radio broadcasts. Gertrude Hognander's love of music included choral singing and her years as a church music director and organist.
For more information about the Hognander Scholarships, contact Tina Brauer in the Music Department at 612-330-1265 or brauer@augsburg.edu. To read about past Hognander Scholars and what they're now doing, see "Music after Augsburg," in the summer 2005 Augsburg Now PDF. This story is on pp. 25-27 of the magazine, or pp. 27-29 of the PDF.
Fine Arts Scholarships
The Fine Arts Scholarship program recognizes incoming first–year or transfer students who have excelled in art, film, music, or theater—including vocal and instrumental performance, acting, design, and production—and who plan to actively participate in the fine or performing arts at Augsburg.
Each year, faculty may select Fine Arts Scholarship recipients for the renewable $3,000 award, so they annually award a substantial number of scholarships in each of the fine arts departments.
Applicants need not major in art, film, music, or theater, but are required to participate in Art Club (for art scholarships) or a performance group (for music and theater scholarships). Additionally, music recipients must take lessons on the instrument for which the scholarship is awarded. For more information, see the Fine Arts Scholarship page.