Welcome! Augsburg University is excited to host another Advanced Placement Summer Institute (APSI) this June and July. The Summer Institute is designed to support all aspects of AP courses, encompassing AP methodology, class assignments and exams, course curriculum, as well as offering strategies for AP course instruction. There are a lot of changes for this year's institute.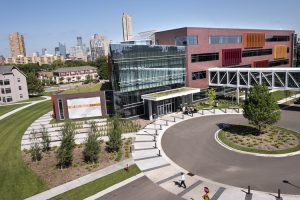 Jeremy Updike is the Director for our institute. He previously directed another APSI in the region for the past 10+ years, and brings a lot of experience with collaborating with institutional partners and fostering a strong sense of community within the Advanced Placement community for AP teachers. We're also excited to be offering lab sciences again in our brand new science building. Whether this is your first time at Augsburg, or your fifth time, we hope you'll take advantage of our professional development opportunity with some of the most widely known consultants in their fields.
Summer of 2020: We will be offering APSI workshops at both our Minneapolis and Rochester locations.
Our Minneapolis workshops will be offered either during the week of June 22-26 or June 29-July 2.
Our Rochester workshops will be offered during the week of July 13-16.