For new and experienced AP teachers
The AP Physics Institute is designed to help teachers build the foundation for a successful AP Physics program. Emphasis will be placed on how to prepare students for the level of problem solving and critical thinking needed to be successful on the AP Physics C exams. Some time will be spent on the specific math topics embedded in the AP Physics C courses. A special focus will be addressing how AP Physics is an adjustment in not just what we teach, but how we teach. Laboratory investigations will be incorporated throughout the workshop, with special emphasis on transitioning your laboratory into a guided-inquiry based program. We will also focus on how to dissect the exam to best prepare your students. We will review the requirements for the course audit and explore the new Course and Exam Descriptions (CEDs) and Science Practices assessed. Time will be allotted for best practices and for sharing ideas as a group. I am excited to both share my ideas and learn from you!
REGISTER NOW FOR THE JULY PHYSICS C WORKSHOP
---
consultant: dee dee messer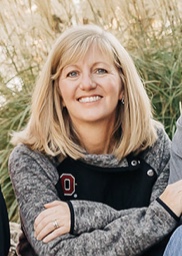 I have been teaching science for over 25 years at William Mason High School in Mason, Ohio. I have experience teaching chemistry, physical science, physics, AP Physics B, AP Physics C Mechanics, and AP Physics C Electricity & Magnetism. I have been a part of the AP Physics Reading for over 13 years as a reader, table leader, question leader, and exam leader for all four AP Physics exams. I was an AP Daily instructor for both the Mechanics and Electricity & Magnetism courses and created online instructional videos for the College Board to support AP teachers and students. I am a member of the AP Physics C Development Committee tasked with creating questions for the AP exams and updating the Course and Exam Description (CED) for both C courses. I am currently a College Board endorsed consultant for AP Physics C.  I collaborated on writing a Pre-AP summer course to help high school students prepare for success in AP Physics 1 for the National Math and Science Initiative (NMSI). Outside of teaching, I enjoy my other two full-time jobs as a wife and mom of three kids (and dog).