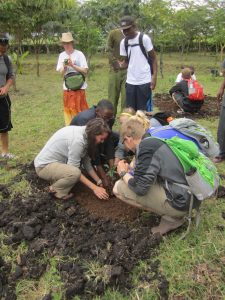 What will it take to transition our economy to renewable energy and minimize the impact of global climate change? To feed a world with 8 billion people using sustainable farming techniques that protect soil health and water quality?  To build cities that foster social justice and provide healthy communities and green jobs? To undo the history of colonialism and racism that have resulted in marginalized communities bearing the biggest burden of environmental damage?  These are big questions and big challenges.  It will take teams of diverse and dedicated citizens and problem-solvers to tackle them.  Students in Environmental Studies at Augsburg gain the skills, knowledge, and real-world experiences needed to do just that.  With a focus on urban environmental justice and a rich array of resources in a diverse urban neighborhood near the Mississippi River, Augsburg's Environmental Studies program provides students with training and foundation for building meaningful lives and careers that help address some of the most important challenges facing us in the 21st Century.
Augsburg's Environmental Studies program incorporates study in the natural sciences, social sciences, humanities, and professional studies, and allows students to pick courses that fit with their interests and strengths. Our location in the city offers great opportunities for the close study of complex urban environments and access to change-makers, internships, and innovative research opportunities. Our graduates:
gain knowledge of ecological processes
recognize the many and varied forms of nature in the city
distinguish stakeholders' interests in policy debates
decipher the context and variety of human experiences in nature
identify inequities in the access to and use of natural resources, and
articulate responses grounded in multiple disciplinary insights to current urban environmental challenges
Drawing on their experiences in settings as diverse as the Cedar-Riverside neighborhood, the upper Mississippi River Valley, and Mexico, graduates of the program have gone on to do work in non-profit organizations, government policy and planning positions, law, education, ministry, and in the private sector.