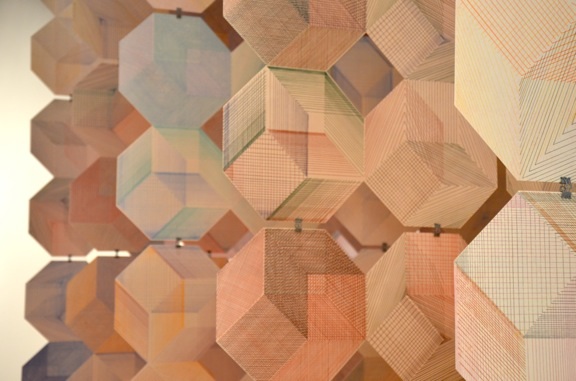 Blessings
Gage Family Art Gallery: May 18 – July 20, 2012
Blessings is an exhibition that explores the idea of change. Through a large-scale print installation, artist KimyiBo works with spatial depth, tension, and patterns to reflect and record her own shifting emotions.
In KimyiBo's own words, "My art is about change. I record shifting emotions through abstract images that conduct flows of energy. The methods I use are ordering space with changing patterns, playing with the dynamics between flatness and depth, creating tension between two opposing forces."
KimyiBo received her BA in Fine Arts from the University of Pennsylvania, Philadelphia and an MFA in Printmaking from Seoul National University, Seoul, Korea. She has had solo exhibitions at Gallery Gaia in Seoul, Korea and the UV House in Heyri, Korea. She currently lives and works in the Twin Cities.