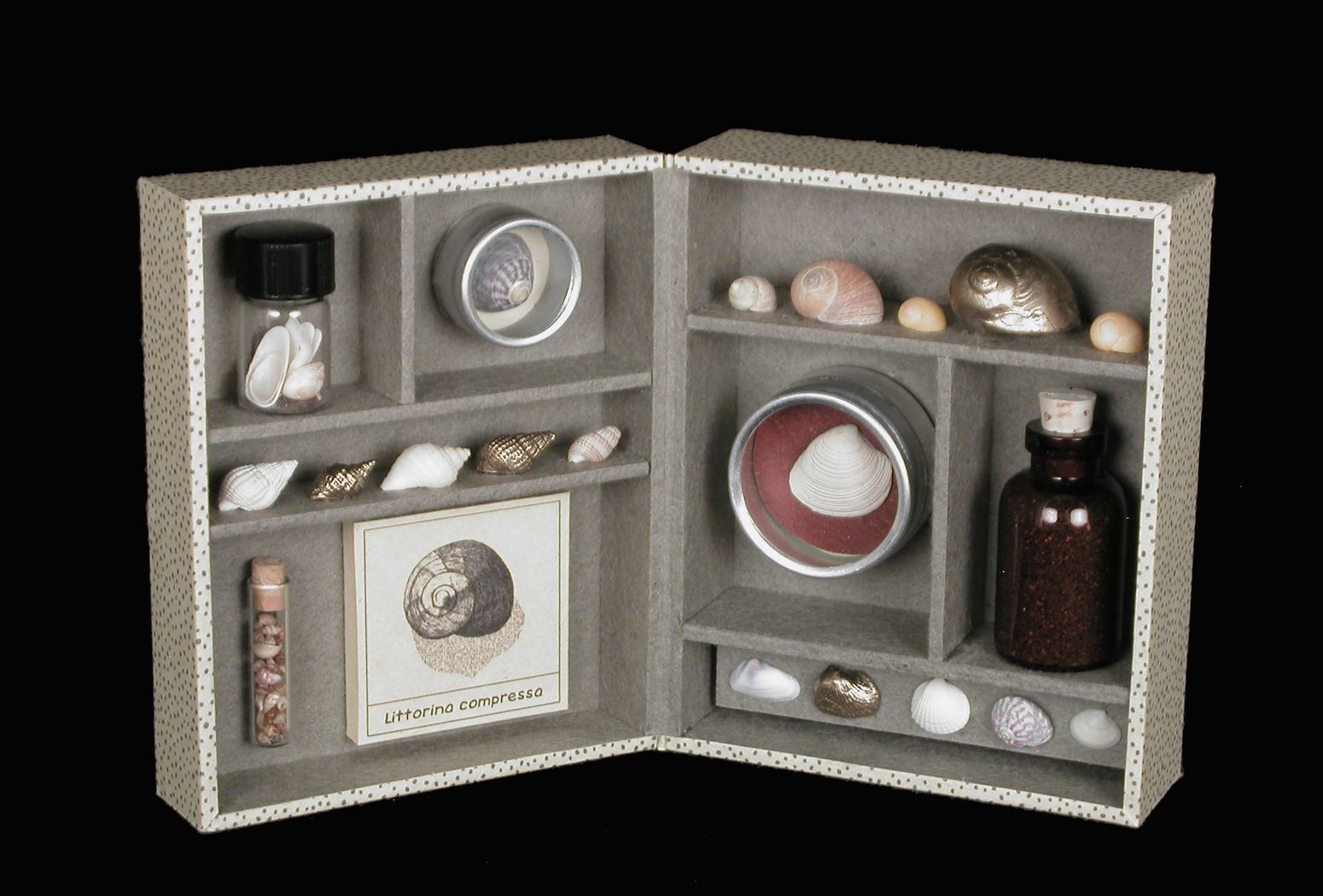 Circumstantial Evidence
January 11 – February 19, 2016
Reception: January 22, 6 – 8 p.m
Something of a peek into the artist's archives, this exhibition will present new books and boxes along with older works that have rarely been exhibited.
Artist Statement
I have been obsessed with creating order out of chaos (or even slight disarray) since I was a child. With five siblings, and four major relocations before I was ten, I found it necessary to keep my possessions small, contained, and protected. As an adult, the compulsion to collect, organize and find containers for things has remained with me, and has directed much of my artwork.
Inspired by Joseph Cornell and other artists working with boxes, I created the first of what would become an ongoing series of "not empty" boxes in 1991. Originally, the boxes contained artificialia – manufactured, as opposed to natural, specimens. The small objects and elements that I found or constructed were included and arranged primarily based on their visual qualities. The Small Files, 2000, evolved from those early boxes, but was much more personal, serving as something of an autobiography through tiny objects I had collected since childhood. It is the earliest complete piece in this exhibition, but it closely relates to the most recent ones created over the past several months.
About ten years ago, I began focusing on the natural world and its small inhabitants; many boxes since then (and two artist's books) have included natural specimens and artifacts that document specific moments in specific places. A number of experiences influenced this focus, including intensive beachcombing on Nantucket with my friend Rose Gonnella, a commission to create a Cabinet of Curiosities for the Carleton College Library, taking a course at Hamline University in the natural history of Minnesota, and a semester of collecting specimens in County Clare, Ireland, where I was a tutor for 13 students from the Minneapolis College of Art and Design at the Burren College of Art. Some More Specimens was originally a prototype for the Carleton Cabinet of Wonders, but was re-purposed to contain objects and memorabilia from Ireland.
Several newer not-empty boxes were created specifically for this exhibition, and delve into my own archives. Books not for sale houses books I have made since 1991 specifically for myself, family members or friends – books that I don't necessarily consider "artist's books" and have never exhibited. A set of three books contain reproductions of drawings given or sent to me by my nieces, nephews, and friends' children. The box for From Friends was given to me by a friend, and it seemed the perfect container for gifts from friends; it includes small images and objects, often handmade, that I have received since 1979.
A slightly different series of pieces made for the show include artifacts from the archives of close relatives who have passed away. The containers for these all have a strong connection to each person, although most have been altered. Nana's Handbag, the actual purse itself, was the inspiration for these homages. I chose this perfect container from among her possessions when she died in 2003, and have been meaning to do something special with it since then. Circumstantial Evidence provided the perfect excuse to finally make this piece for Nana and Pop Pop, and also to make boxes for my father, my brother, and my other grandmother.
This exhibition came along for me at a time in my life when I have been looking backwards and forwards from different points of view, and I am thankful to Jenny Wheatley and Augsburg College for the opportunity, as I am thankful to the many, many friends and family members who are represented in the work, either with physical objects or in spirit.
Artist Bio
Jody Williams publishes artist's books under the name Flying Paper Press. She has taught workshops and presented lectures at museums and colleges across the United States and in Europe. Her work is in the collections of the Walker Art Center, San Francisco Museum of Modern Art, Minnesota Historical Society, and numerous other museums, universities, and libraries. Honors include Jerome Foundation fellowships, grants and awards from the Minnesota Craft Council, the Minnesota Center for Book Arts and the Minneapolis College of Art and Design. In 2008, Jody Williams received the inaugural Minnesota Book Artist Award from the Friends of the St. Paul Public Library, and she was awarded a Minnesota State Arts Board Artist Initiative Grant in 2013.
---
CIRCUMSTANTIAL EVIDENCE – Studio visit