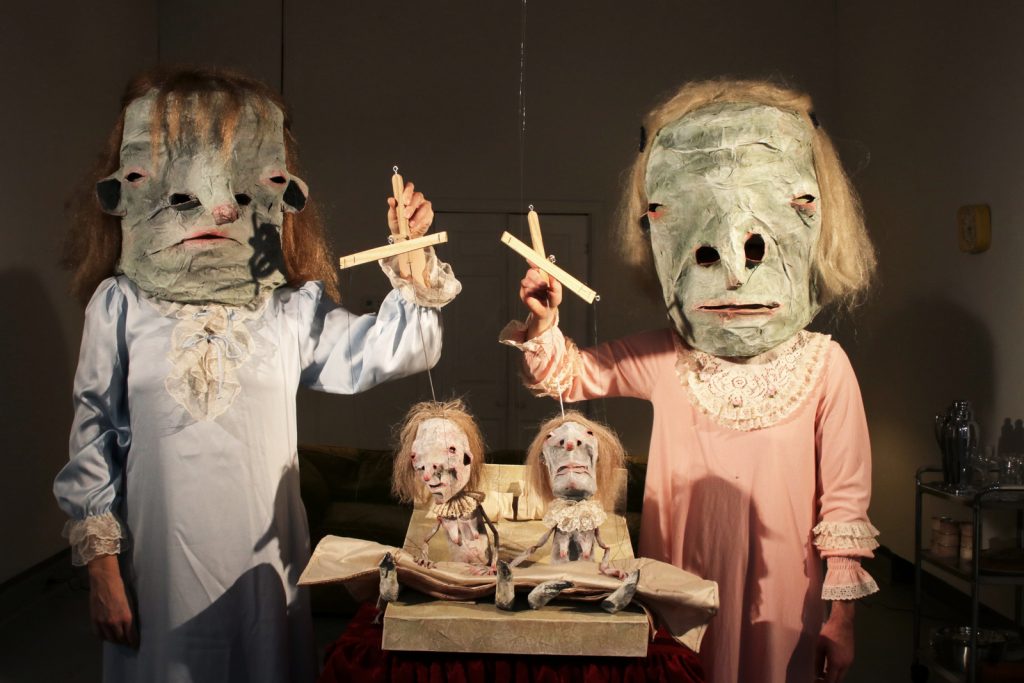 DOWAGERS
March 3 – 31, 2017
Friday, March 3, 6 – 8 p.m.
Using elements of hand-driven animation, printmaking, and puppetry, Dowagers will explore ideas about vanity, shame, and disappointment through a set of reclusive sisterly characters with a grudge to bare.
Artist Statement 
My work behaves as playful coping rituals for anxieties about aging, vanity, shame, and disappointment. I use elements of animation, printmaking, and puppetry to concoct an elixir of discomfort and delight. This coupling of unfamiliarity and recognizability is seductive in the belly. My recent performative puppet/figure work, Dowagers, explores ideas about control and play through a pair of reclusive sisterly spinsters who manage to encounter glee despite their strange condition. 
Artist Bio
Johanna Winters hails from Minneapolis, MN, and is currently a candidate in the MFA printmaking program at the University of Tennessee-Knoxville. She has worked as the Education Manager at Highpoint Center for Printmaking in Minneapolis, taught printmaking as an Associate Lecturer at UW-Green Bay, and recently completed a puppetry residency at the Open Eye Figure Theatre in Minneapolis. Her work has been included in national juried exhibitions, print biennials, and portfolios.

---
DOWAGERS Images