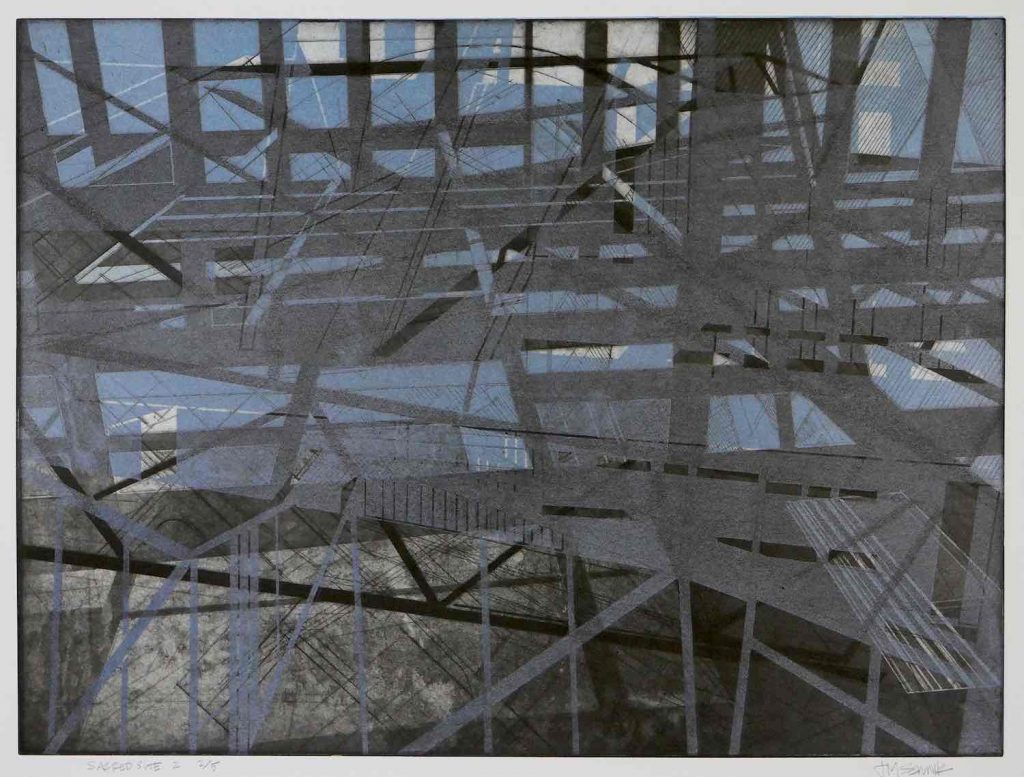 February 15 – March 22 – Christensen Center Gallery
Reception: Thursday, February 15, 6-8 p.m.
John-Mark Schlink juxtaposes architectural constructions and natural subjects in his new series of prints. His multi-layered compositions incorporate intaglio, woodcut and screen-printing techniques.
Bio
John-Mark Schlink is a printmaker and teaches Printmaking at Hamline University in Saint Paul. Notable recent exhibitions include: Formation, International Print Exhibition, China Printing Museum, Beijing, China; 50/50: New Prints/Winter, International Print Center, New York, NY; MAPC Members' Juried Exhibition, Carnegie Center for Art and History, New Albany, IN. His prints have been published in Art in Print and Creative Quarterly. In the summer of 2017 he was selected by Ann Aspinwall and Knut Willich of Aspinwall Editions, New York, to participate in a printmaking residency at the Print Association Kloster Bentlage in Rheine Germany.
Artist Statement
My approach to printmaking has been to embrace the autonomous act and significance of the print, emphasizing the visual and conceptual art of an individual image in a tradition of multiplicity. My primary media are intaglio with engraving and etching and woodcut relief techniques; as my process develops, photography and digital media have also been integrated into the intaglio and woodcut prints, as hybrid images. Recent print series
have contained both monoprints and small editions of prints that utilize multiple matrices for an individual print. This in combination with selective inking of the plates and blocks allows an improvisational approach to the creation of the images balancing the intentional with chance compositional relationships. In addition, this part of the process allows me to reference my "catalog" of images (whether created by me or from a found image) and arrange/rearrange them in a constructive/deconstructive manner. The overall conceptual concern in my work has been an exploration of infinite, transfiguring space through a non-linear narrative using architectural language and forms. I think of the compositions as inter-spacial, inter-dimensional, multi-perspective imaginings. I am interested in an active type of space that engages the eye and the mind through labyrinthine structure, mingling the boundaries of outside and inside in an indeterminate realm.
Image above: Sacred Site, Intaglio, 18″x 24″, 2017
---
Images from exhibit