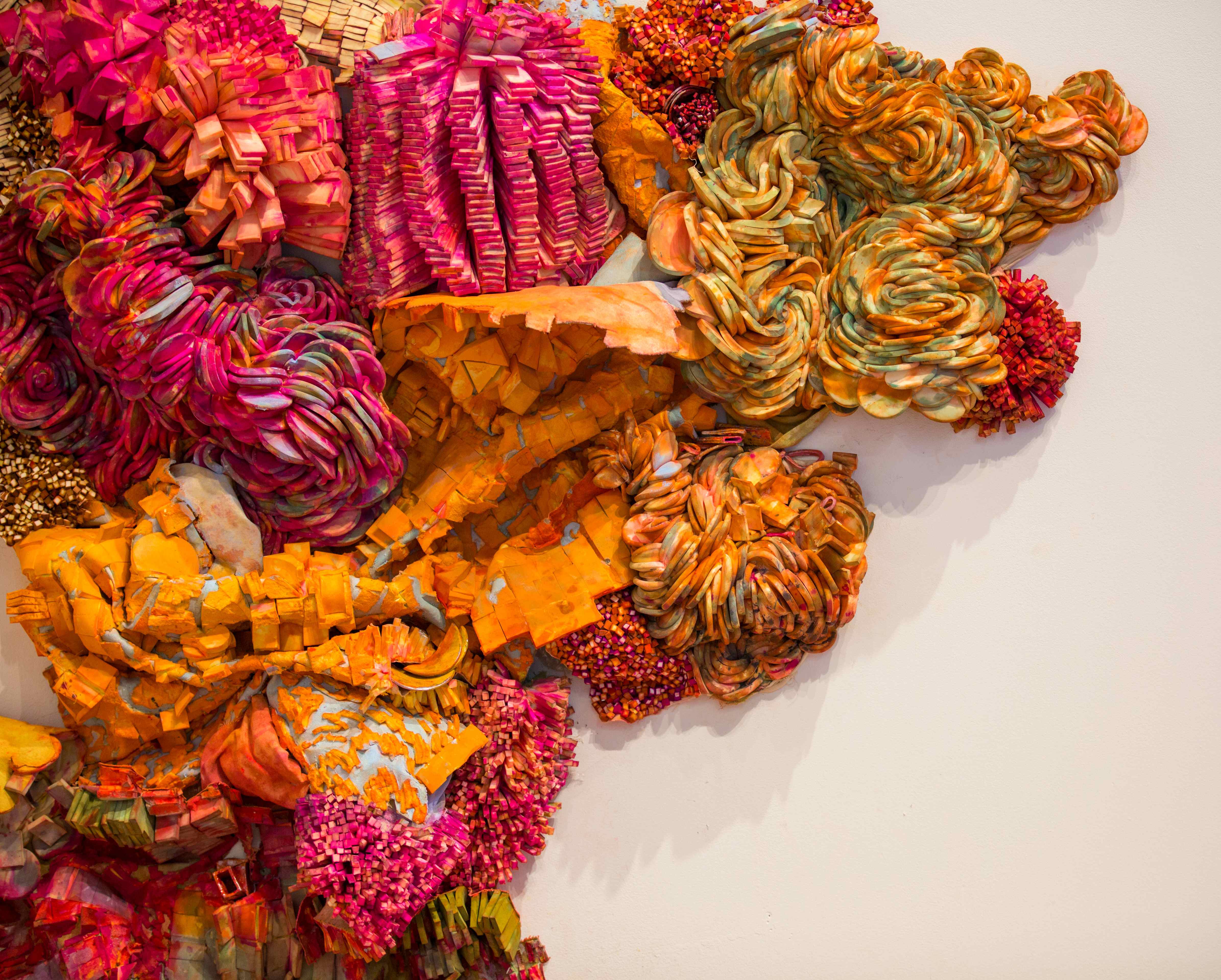 UNDER COVER by Margery Amdur
September 6 – October 17, 2018
Christensen Center & Gage Family Art Gallery
---
Artist Talk: Wednesday, October 17, 12:30 p.m.
Adeline Johnson Conference Center
Creative Process Panel Discussion:
Wednesday, October 17, 6:30 p.m. Auditorium 150, MCAD
---
Artist Statement
As an artist, I traverse multiple disciplines and my art does not fit easily into categories.  I have worked for much of my career with landscape and personal typographies as metaphors for cultivating visual tensions where issues of abstraction and representation intersect. If one of the jobs of representation is to show how the world looks, abstraction is free to reflect our sense of what matters in the world.
I was trained as an abstract painter; but my work rarely resides within a two-dimensional picture plane.  I use unorthodox materials to build form and mass in ways that include extravagant and ornate surfaces. Additionally, I utilize the installation format as a way to navigate what once existed as a large divide between Painting and Sculpture.  Within this context many of the handcrafted elements can be manipulated to permit recycling and revitalization of older ideas, and can also be tailored to more than one location. I believe that when an artist chooses the installation format as their primary form of expression the relationship between the artist and the viewer/audience, becomes more actively engaged and a richer dialogue inevitably ensues.
In the past two years I have produced work that continues to reveal the importance of my hand as a primary tool, and has primarily been oriented for gallery and museum settings. Cosmetic sponges have become my building blocks. By manipulating commercially produced "make-up" sponges I have created formations inspired by natural and architectural geometry.  Luscious and voluptuous constructions have been inspired by "living walls," basalt formations, and aerial views of sprawling urban metropolises. I build  "poetic moments" that become densely layered and eventually monumental. At the core, my constructions probe an array of paradoxes— organic and inorganic matter, machine manufacturing and handcrafting, permanence and impermanence, beauty and deterioration.
Bio
Originally from Pittsburgh, Margery Amdur received her B.F.A. from Carnegie-Mellon University and her M.F.A. from the University of Wisconsin in Madison. Margery has had over 60 solo and two-person exhibitions. Her international exhibitions include Turkey, Hungary, Poland, England, Iceland, Latvia, and Suriname.
She has been reviewed in national and international publications including Sculpture Magazine, New American Paintings, Fiber Arts, New Art Examiner, and Art Papers. In 2014, her work was on the cover of ArtVoices, and will soon be in a third edition of the Manifest International Publications.

For over twenty years, Margery has been actively creating site-specific, indoor and outdoor temporary and permanent art installations. In 2012, she completed Walking on Sunshine, a permanent public art project, in the Spring Garden underground-subway station, Philadelphia, PA. In the fall of 2015, as part of the Art in Airport Program, Margery created My Nature, a mixed-media, and site-specific installation in Terminal B, at the Philadelphia International Airport. As part of her six-week residency at Central European University, Budapest, Hungary, she and a group of students created Inside/Out, an installation in the interior of one of elevators on CEU campus. In 2016 and 2017 the US Embassy selected Amass #16 to be installed in the US Ambassador's Residence, in Riga, Latvia. Amass #17 was permanently installed in the newly completed US Embassy Headquarters in Paramaribo, Suriname.
Spring 2018 should prove to be a dynamic and productive period. Margery will be exhibiting her work in Material Slip, an international exhibition at the University of Hawaii. In April, she returns to Riga, Latvia as artist in residence at the University of Art and Design. In addition, she currently has an installation in Riga's Sixth International Textile Fiber Triennial at the Museum of Applied Arts and Exhibition Hall Arsenals. As the recipient of the Jerry Shore Fellowship Margery will spent the month of May at the Vermont Studio Center. Fall of 2018, She will be exhibiting a new installation, in the Gage ad Christensen Center Gallery at Augsburg University, Minneapolis MN.
---