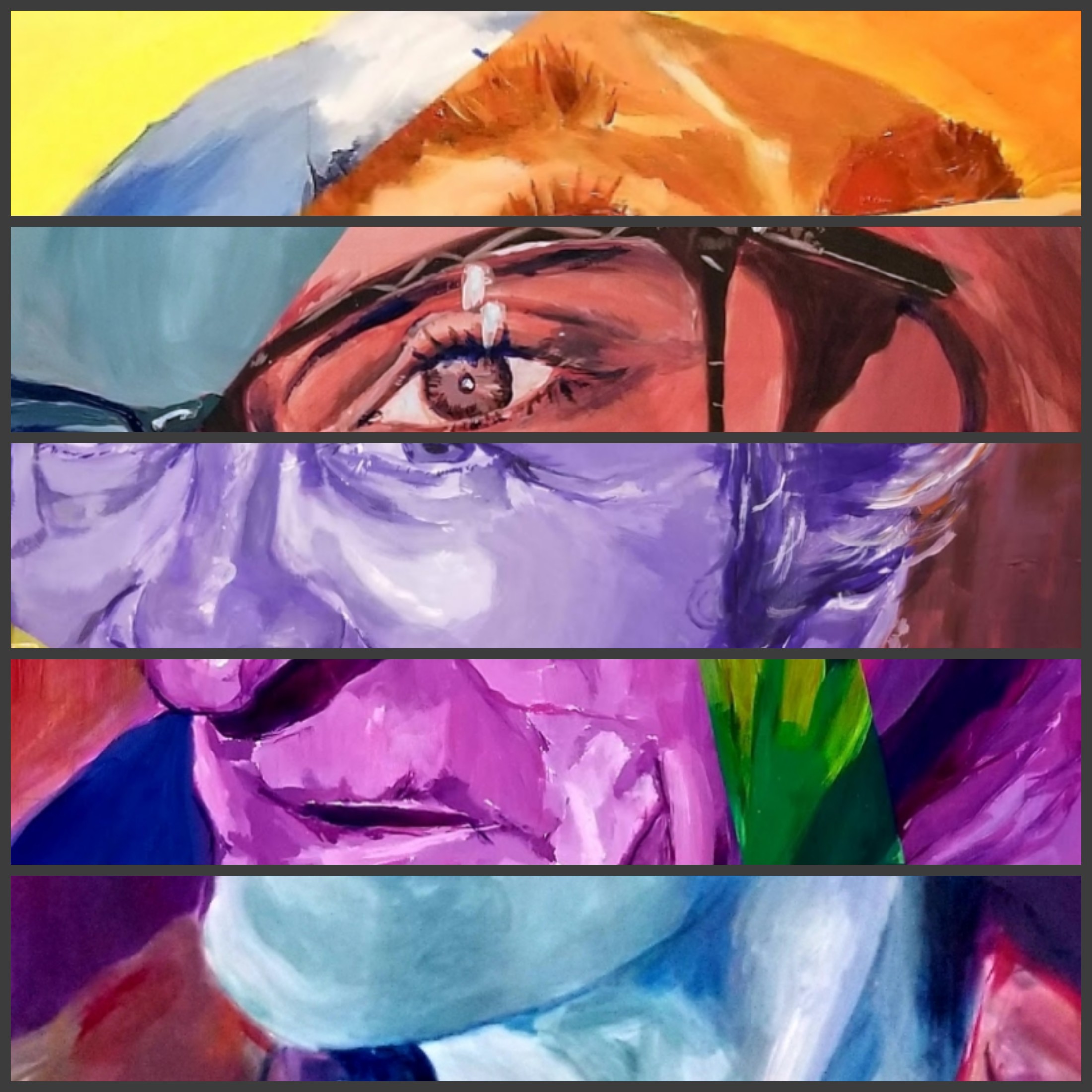 Greater Than Face-Value | Emily Duesing
Greater Than Face-Value is a series of portraits that peel back the layers of each subject's world with bright colors and graphic elements. The show offers a challenge to encounter those within our influence, including ourselves, with greater vulnerability and empathy.
---
Slideshow of Artwork
Give your feedback about the show, support an emerging artist.
---
Artist Statement
My work focuses on human landscapes. The portrayal of the subjects is realistic in form and stylized in color. This examination of the face and head becomes an investigation of human experience and connects to ideas about identity and adversity that exist outside the boundaries of the canvas.
For me, art is an intimate consideration of concepts that I cannot grasp any other way except to visually explore. The act of making becomes a prism to reveal layers of complexity in the subjects. I recognize the only thing I can change in my life is me. When I make art, I fearlessly confront some incongruence within myself. Therefore, my work is autobiographical, and portrait focused.
Emotion, as I experience it, is continually shifting and changing; it is impossible to grasp its totality all at once. I use my art to pull apart the facade that we present to the world and explore the fullness of humanity.  With the color pallet obscuring and revealing emotions, I illustrate what this changing emotional landscape could mean for myself and the viewer.
Bio
Emily is a two-dimensional portrait artist who investigates empathy through painting the figure. She has always had a fascination with the human face and what it can reveal to a viewer. Emily currently lives in Minneapolis and has her Bachelor's in Fine Art from Augsburg University. Emily is focused on becoming a licensed counselor where she hopes to use art to facilitate healing.  Themes in her work include vulnerability, humanity, and redemption. Emily primarily makes work and her studio apartment or in the Augsburg painting studio. Emily has received several honors and recognitions for her work including the Normandale Purchase Award and Augsburg's Fine Arts Scholarship, numerous juried shows, as well as a solo exhibition and artist talk at Gallery 720 in Minneapolis.
---
Virtual Mock-up
Due to COVID-19 the show in the physical gallery space has been delayed. Here is a virtual representation of what it will look like in the Gallery720 space.
---