Tag:

Soomaal House of Art
SOOMAAL FELLOWSHIP EXHIBITION – 2019
Xariir – Khadijah Muse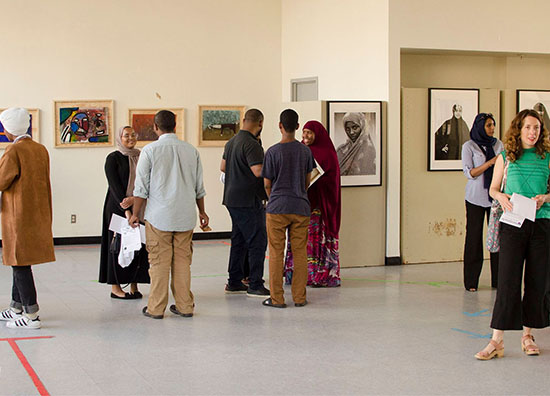 SOOMAAL FELLOWSHIP EXHIBITIONS – 2019
August 1 – 29, 2019 – Gage & Christensen Gallery
Artists Talk & Reception: August 17, 2019, 6 pm
Gage Family Art Gallery
---
Soomaal House of Art (Soomaal) is a Minnesota-based Somali art collective that provides studio space, studio critiques, artistic community, mentorships for younger Somali artists and an annual exhibition space with educational programming.
Soomaal House of Art provides a platform for Somali visual artists who want to create and use art to shape and frame critical discourse around vexing local and global issues of our time. Moving forward, we hope the collective action of this group will lead to sustained partnerships with Minnesota institutions and, together, inspire more Minnesotans, especially Somali Minnesotans, to harness the power of art as a tool for intellectual and civic engagement.
Soomaal Fellowship is an initiative by Soomaal House of Art and in partnership with Augsburg University Art Galleries. The artists considered for these fellowships work in a variety of visual art media, including both traditional and new media. During the twelve-month fellowship year, each artist receives studio visits, access to technical assistance and a culminating gallery exhibition at Augsburg University.
Khadijah Muse and Kaamil A. Haider, the selected 2018/19 fellows, have each produced a body of work that culminates in an exhibition on August 1–29, 2019 at Augsburg University's Gage Family Art Gallery and Christensen Center Art Gallery. The exhibition will have educational components to supplement artworks such as public presentations and panel discussions around the show and contemporary Somali visual art.