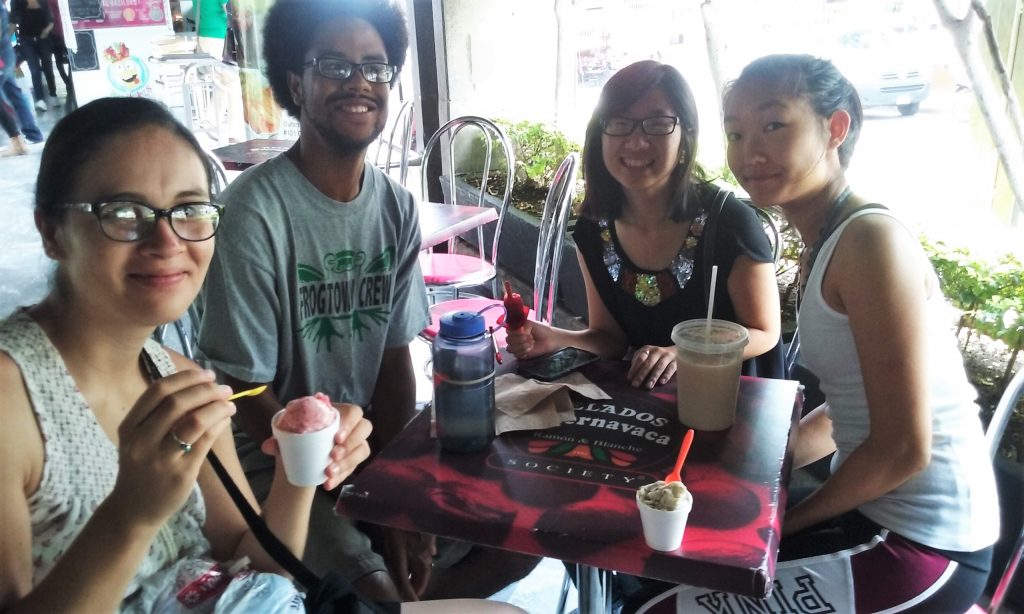 Every week we are going to be sharing some of our favorite places in Cuernavaca with you! We will be giving you the inside look on all the fun places to go in Cuernavaca, Mexico while you study abroad! Today's Cuernavaca Corner was written by Brittney Westgard, alumni of our Social Work program and current volunteer in Mexico. Brittney is an Augsburg College Alumni.
This week we stopped by some of our favorite places to get cool treats. We started off with Tepoznieves, an ice cream shop that started off in the local town of Tepoztlan, Morelos and has now spread into different cities throughout Mexico.  The best thing about Tepoznieves is their vast selection of both diary based and non-dairy based ice creams (that's right I said non-Dairy!!!). There lively décor makes it an experience unlike any other!  Our favorite flavors are rose petal, fig mezcal, blackberry cheesecake, or Beso de Angel (Which means "Angel Kiss", with a name like that you know it must be heavenly).
When you want something on the go or at a very reasonable price, you can always pick up a cool treat from the many venders selling Raspados (shaved ice done right), Bolis (a frozen juice or dairy based treat…in a bag) or Paletas (popsicles).
If you're looking for gourmet artisanal ice cream, Helados Cuernavaca is the place to go! They have all your traditional flavors like chocolate, coffee, cookies and cream as well as traditional Mexican flavors like corn, jicama or mandarin!
For those of you who cannot survive without an ice cold coffee or Frappe, don't worry….be happy! We have a brand new Starbucks right downtown with a rooftop patio that has a great view of all the main downtown attractions!