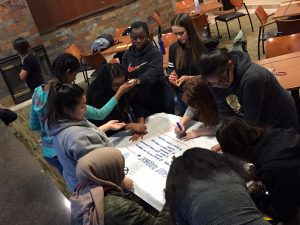 The Augsburg Bonner Leaders Program is now the LEAD Fellows Program.
LEAD Fellows (Leaders for Equity, Action, and Democracy) are undergraduates who do public work projects and paid apprenticeships at community-based organizations. Students bring energy, creativity, and commitment to the communities in which they work while learning about public issues and developing capacity as agents of change. The program provides LEAD Fellows with a supportive cohort experience, unique and challenging opportunities to do meaningful paid work while pursuing their education.
The LEAD Fellows Program is a part of the national Bonner network. For more information about the national network of Bonner programs, visit the national Bonner Foundation site.
Some LEAD Fellows do further leadership development through the academic study of leadership in the Leadership Studies Minor.