Did you know that annually on February 6th the Sami National Day is celebrated in Norway?
The Sami, considered indigenous to this region, is the descendants of nomadic peoples who inhabited northern Scandinavia for thousands of years. Historically they travelled between borders of Russia, Finland, Sweden and Norway. Now most of the Sami population in Norway lives above Trondheim in the central part of the country, stretching all the way to the north into the Kola-peninsula in Russia.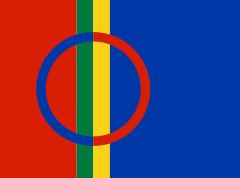 The Sami population have their own parliament called Samediggi, their own flag, and they traditionally wear the Samioutfit (Gákti )for ceremonial and symbolic purposes.
Would you like to know more?
Norway House is currently displaying a photographic portrait exhibit by Randall Hyman called Sami Dreams. The mother of one of our very own exchange students, Marja Ristinna Gustad, is depicted in this exhibit (which is open until the beginning of June).
In addition, Augsburg Native American Film Series will screen a short film called Sami Boy, created by Elle Sofe Henriksen, as a part of a larger celebration titled Celebrating Native Voices: Short Films by Indigenous Filmmakers. This film is available through our partnership with the Norwegian Honorary Consulate General in Minneapolis and the Norwegian Film Institute. This event taking place on April 16 at the University of St. Thomas.