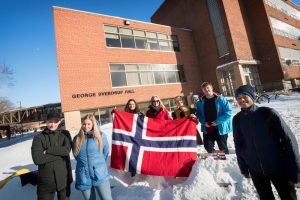 Norway Hub connects the Augsburg community to present-day Norway by providing resources on contemporary Norwegian life and culture, inspiring Augsburg students, faculty, and staff to be dynamically engaged with the University's Norwegian legacy.
Opportunities will include inviting academics, politicians, diplomats, and artists (e.g., writers, filmmakers, musicians, dancers) who have strong connections to Norway and/or Scandinavia. The Hub will provide internship possibilities to students and serve as a resource for faculty and staff, supporting research and grant proposals. We provide cultural activities and scholarship opportunities and bring Norwegian experts and changemakers to campus. Additional outreach involves working closely with partners like Norway House, the Norwegian Honorary Consulate and additional Norwegian-American organizations in our region.
If you are interested in any of these areas, or have questions related to inviting speakers, visa processes, specific events, or outreach, don't hesitate to contact us.
We are located on campus, at the basement of Memorial Hall right under the skyway.