Written by: Matt Lubega ' 20
Communication Studies Major | Leadership Studies Minor
Faiza Jama, Third-Year majoring in Computer Science with minors in Management Information Systems and Mathematics. In the summer of 2019, Faiza interned with Thrivent Financial as their Marketing and Insights Intern. A typical day in this role was working on various projects that consisted of gathering beneficial information and data for Thrivent.
Faiza was excited about this internship because she got to learn new tools that will benefit her in a future career. She learned tools like Python, which is a programming and coding language that is used for website development. Faiza had little experience working with Python entering her internship, but at the end of her internship, her Python skills improved tremendously.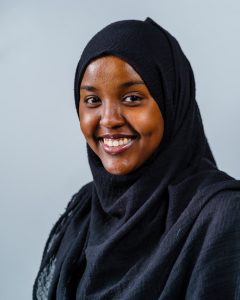 Faiza related her struggles with the internship, "This internship was challenging but in a good way! Don't be discouraged, struggling on projects can also be a form of learning. So any student who is looking for an internship or career that involves data should be prepared to find outside resources to support you throughout your work. It sounds weird, but a lot of YouTube videos on coding and research helped me out through my projects this summer."
She also mentions the importance of problem-solving in an internship as "Your supervisor will be impressed with you if you're able to problem-solve on your own. So utilizing your outside sources may be better than constantly asking your supervisor how to fix or do things. Still don't be afraid to ask your supervisor questions or guidance if you're stuck!"
After this internship experience, Faiza realized that coding daily may not be the best thing for her, but she enjoyed the market research aspect of this internship.
When asked about advice for students during the beginning of their internship Faiza states:
"Try to get to know the people in your workspace, You'll never know which people can help you succeed or who could be a great resource. Also, you can meet life-long friends with other interns or staff!"
Faiza is a 2019 recipient of the Augsburg University Endowed Scholarship.
Find your own internship opportunity through Handshake or one of the many career fairs that are hosted throughout the year.