Written by: Matt Lubega ' 20
Communication Studies Major | Leadership Studies Minor
Civastina Kyewaa, is a fourth year student majoring in Mathmatematics and Mathematical Economics with a minor in Statistics. Civastina interned at Wolters Kluwer as a Business Analyst Intern during the 2019 summer.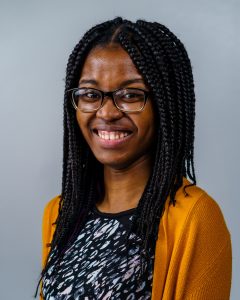 A typical day at Wolters Kluwer for Civastina consisted of creating excel sheets to analyze data and shadowing other colleagues in her office. Civastina enjoyed being able to shadow her colleagues because she was able to get exposure to different projects, work-styles, and ways to solve problems.
Civastina describes that finding her internship can be difficult and overwhelming sometimes. She suggests for students to "Reach out to the Strommen Center or any career resource programs." and "Make sure your LinkedIn and Handshake accounts are up-to-date because you'll never know who's going to view you."
Civastina's biggest advice to be successful throughout an internship is to "Make sure to remember names! You'll never know how someone can help you find your next step and it would be unfortunate if you didn't even remember their name." and "Immediately get to know the people you will be working with and don't be afraid to ask them questions regarding careers."
"Not only did this internship help me figure out what I want to do for a career. My experience at Wolters Kluwer prepared me for my current internship in the Information Technology department at Fairview health and Services".