Abdulkadir A. Sharif is part of the Citizens League Capitol Pathways program and a senior at Augsburg University, studying Political Science and International Relations. He has specialized in public policy, international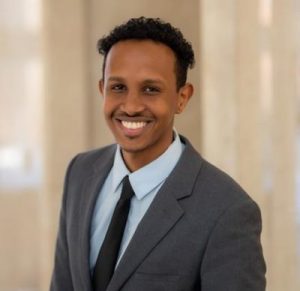 development, and conflict resolution. Mr. Sharif has participated in multiple leadership opportunities that have allowed him to gain a wide range of skills.
At Augsburg University, he has been involved with the pan-African student union, student government, and residence life. He is also a Bonner Leader Scholar where he has interned with the Minneapolis Public Schools, Trinity Lutheran Congregation, Pan-African Center, and the Environmental Stewardship Committee. Mr. Sharif was awarded the 2018 Student Leader of the Year at Augsburg University. Additionally, he was awarded a David L. Boren Scholarship to study in Tanzania and is a recipient of the Benjamin A. Gilman International Scholarship to South Africa and Namibia. While in Namibia, he interned with the Namibia Institute for Democracy as a research assistant focusing on civic engagement and anti-corruption mechanisms in the country.
Most recently Mr. Sharif was a Public Policy and International Affairs fellow at the Woodrow Wilson School of Public and International Affairs at Princeton University. He hopes to one day pursue a career in international development focusing on economic advancement.
Mr. Sharif  has joined Lockridge Grindal Nauen (LGN) state government relations team for the 2020 Legislative Session.
Original source: https://www.locklaw.com/lockridge-grindal-nauen-welcomes-amy-zhou-and-abdulkadir-sharif-to-state-government-relations-team/