Learn about opportunities for junior high and high school students at Urban Plunge, Interfaith Bridge Building, and campus visits below. You may also be interested in the Youth Theology Institute hosted on campus by the Christensen Center for Vocation and Campus Ministry each summer. Contact us at (612) 330-1732 or dames@augsburg.edu
---
Urban Plunge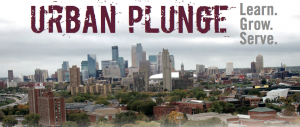 Urban Plunge is an overnight, Augsburg student-led, faith-based experience for Middle and High School youth groups. Come to learn about and explore the gifts and challenges of our Cedar-Riverside neighborhood in Minneapolis by connecting with community members 
and using "The Sermon on the Mount" 
as a guiding message. Want to know more? Contact us or download info packet.
---
Interfaith Bridge Building
Come to Augsburg University and our neighborhood and explore how interfaith friendships enrich our lives. What in the cross of Jesus Christ leads us to one another?
Experience: Interfaith Service Learning, Sacred texts, Sacred spaces (especially our local mosques), and Interfaith dialogue with religiously diverse college students. Want to know more? Contact us to book a Saturday experience or download info packet. Or watch this video introduction to the program.
Like Interfaith Bridge Building on Facebook
---
Youth Group Visits
Do you have a youth group at your congregation that you would like to bring to Augsburg University for a tour?  Augsburg Admissions has many options available, whether you'd like to come during the week or on a Saturday.  Please make your arrangements through Augsburg Admissions by starting on the Visit Campus webpage and scrolling to the appropriate section, i.e. "Summer Visits" or "Group Visits" at the bottom of the page.
We'd like to know you are coming, too! Please call Campus Ministry at (612) 330-1732 and let us know how we can interact with your visit.