Annual Service Trip
Serve…partnering with Habitat for Humanity of Greater Birmingham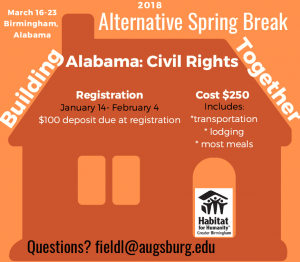 Build Community…on and off-campus
Explore…vocation, various cultures, civil rights, and more
Learn and Share…before, during, and after the trip
Grow…in skills, faith, and relationships
Registration: No spaces are available. All registrations at this point will be on the wait list. ($100 is due at registration)
Registration Process:
Complete registration form 2019 Registration
Bring $100 deposit and copy of health insurance card to Janice Dames in Campus Ministry Office, 104 Foss
Dates of Trip: March 16-23, 2019
Destination: Birmingham, Alabama
Cost: $250, includes lodging, traveling, and most meals
Sponsored By: Campus Ministry and Christensen Center for Vocation
Questions: Contact Student Leader Sydney Saygbe or Staff Lonna Field (fieldl@augsburg.edu) or stop by Campus Ministries in Foss 104
"Like" us on facebook! And follow us on twitter @AuggieSpringBrk
Visit our past Spring Break Blog Sites: https://augsburgasb.wordpress.com/.