Recently, a small group of participants from the first Riverside Innovation Hub learning community gathered for a celebratory banquet to officially mark the end of the three year learning experience. After the last year and half of meeting virtually, it was so delightful to gather in-person with those that were able to attend. Our time together was shaped by text of Ezekiel 47: 1 – 12, especially verse twelve, "Their fruit will be for food, and their leaves for healing." We shared stories of celebration, transformation, and gratitude.
Social Time & Celebrations
Upon arrival, people were invited to write things they wanted to celebrate for themselves, their faith community, their team, their neighborhood, and young adults on printouts of leaves and fruit. We celebrated persistence, relationships, our neighbors, ice cream, community, stories, strong connection during the pandemic, new connections and nurtured relationships, new friendships, curiosity, leadership, vaccines, and much more.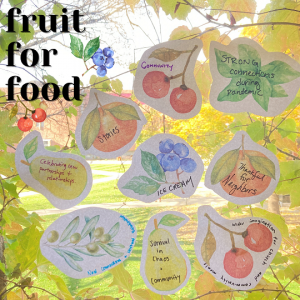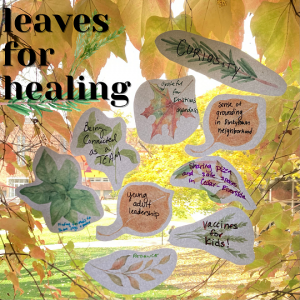 ---
Dinner & Storytelling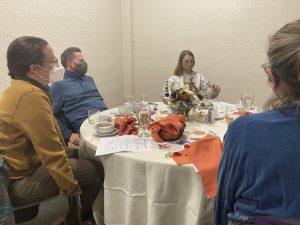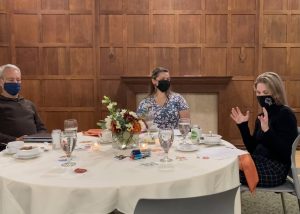 Then, as drinks and dinner were served, we shared stories of personal transformation and light bulb moments with the people at our tables. We heard themes of the importance of community, the impact of young adult leaders who invested much of their time and energy into this experience, stories of remembering and reimagining what it means to be church in this time and this place, and gratitude for the relationships.
One participant reflected on the way that the structure of this learning community, and their faith community's specific project provided structure for them to continue building and deepening community throughout the pandemic.
Another person shared some of the stories that they heard when they met and deepened their relationships with their church's neighbors. They reflected on how transformational it was to get to know those people and have the honor of hearing their stories.
Others shared about the young adult participants who lead their team and their larger congregation into conversations about white supremacy and racial equity.
It was a joy to hear some of the stories of transformation and light-bulb moments that people experienced throughout the last three years.
---
Dessert & Ezekiel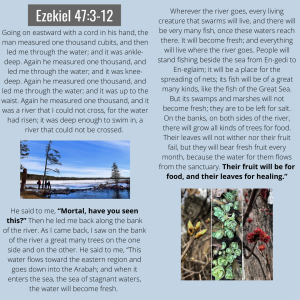 Over dessert, we listened to the reading from Ezekiel 47: 1 – 12 and reflected on "What do you hear in this text now, at the end of our 3 years together?" Over the course of our three years together, we've read, listened, and reflected on this story. The text is full of details and various things come into attention during different readings of it. One person reflected that in the early days of this learning community, the metaphor of the ankle-deep water resonated with where we were at in the stage of this project. Over the last few years, we've found ourselves at various depths of the river, sometimes knee deep, and sometime so deep that it could not be crossed. At this point in our time together, it might feel like we've come back up to the bank, only to be invited back towards the river with the  question, "Mortal, Have you Seen this?" 
---
Gratitude & Sending
To close our time together, everyone was invited to share a word or sentiment to bless and send all those present and absent from our first RIH learning community. We concluded with deep gratitude for all of the people in our learning community who we got to know over the course of the last three years. It's an absolute gift to be able to do this work alongside of so many incredible humans.