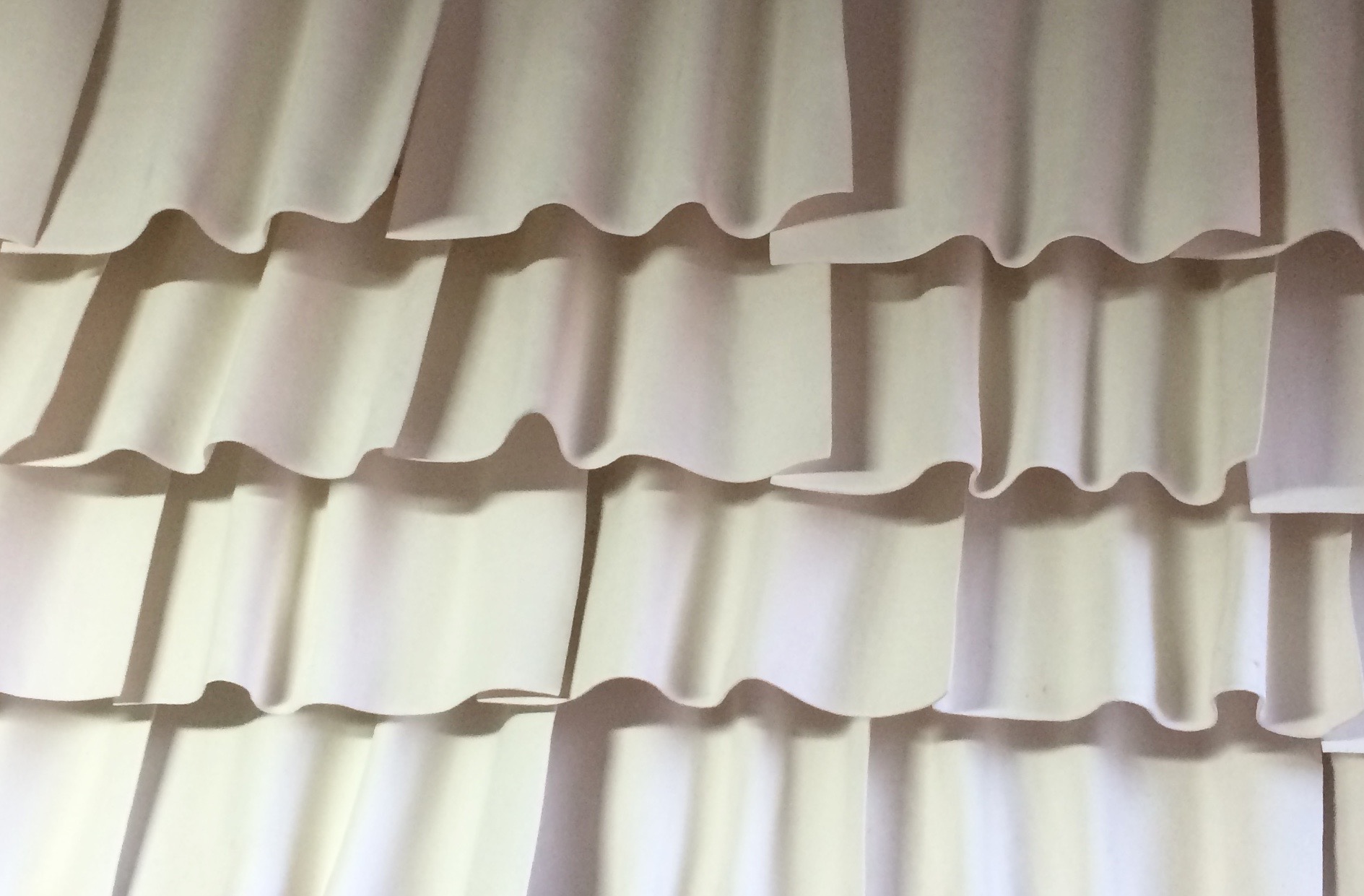 For the Frill of It
November 11 – December 20, 2016
Cohen's ceramic installation references clay roof tiles, using something practical as a springboard to make something impractical — ruffled tiles.  In For the Frill of It, Cohen questions the definition of value, what is useful and important, and ideas of luxury and excess.
Artist Statement
As a ceramic artist, I am committed to exploring clay as an expressive material. Its tactile quality, rich history, and utilitarian, sculptural, and decorative applications continually inspire me. For the Frill of It references clay roof tiles, a practical springboard to make something impractical — ruffled tiles.
This project began as a daydream over a year ago. I imagined myself very small and standing under a giant ballerina's tutu. Surrounded and enveloped by her tutu, I was swept by the beauty of her skirt. It wasn't until I revisited this daydream that I began to recognize the strength, power, and grace of the ballerina.
In the studio, ideas of luxury and excess and how they translate through fashion and dress initially inspired my research. Through a reductive process in which I removed more and more information, a ruffled tile remained. As I began constructing the ruffles and testing fit and installation methods, the similarity to clay roof tiles was evident. The connection to a roof, its purpose to provide protection, added layers to the ruffles, not only in physical assembly but in meaning. This association deepened my exploration of what is viewed as feminine and masculine and how they support and/or oppose one another.
The production of the tiles was systematic. The repetitive tasks and months of studio time allowed for an internal dialogue about investment of time and effort, practicality, and triviality. As the work increased in size and scope, it began to take on a life of its own and I no longer questioned my commitment to it or its value.
For the Frill of It has been a transformative journey. Through the enormity of the project and commitment required, I continually examined and reflected on my evolving relationship to the work. My hope with this work is to impart warmth, softness, and strength.
This project was made possible by the support of friends and family for which I am truly grateful. I wish to thank Jenny Wheatley for her trust, support, and encouragement and Peter Hannah for his expertise, guidance, and assistance. In addition, I would like to thank Katie Smith, Linda Dobosenki, Anne Wendland, Seth Eberle, Brian Antonich, Sarah Ostrum Reis, Stacie Schlomer Totzke, Kimberlee Joy Roth, Trygve Nordberg, Alyssa Baguss, and others who graciously donated their time and effort to make this project happen.
-Eileen Cohen
---
Q&A with Eileen Cohen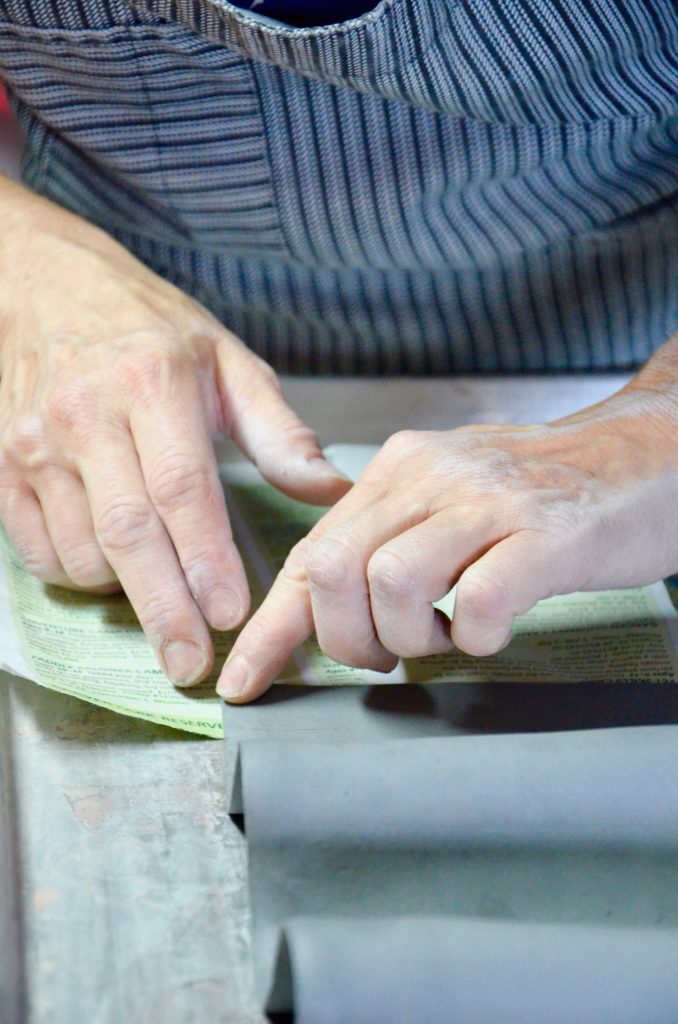 Where did you find the inspiration for this project?
A few ideas played into the conception of this piece. I knew I wanted to use the wall and create work with a strong visual impact. I was thinking about fabric moving on or off the wall, about molding and how it is used to hide or conceal seams and dress up a space, and about ruffles and tutus. Further, the connection to ceramics as a material and its history was an important factor and consideration. The work references roof tiles and makes a connection back to clay as a humble material, one with function and purpose. I questioned the purpose of making ruffled tiles to make a pretty wall and the value of doing it, For the Frill of It, so to speak. The journey has been invaluable and full of unexpected lessons.
What are some of the challenges you faced while creating?
I spent several months testing what size and shape to make tiles and how to install them on a wall. The scale of the project grew beyond my original conception leading to storage issues, time constraints, cost, etc. I have a small workspace and quickly max out space, impacting production.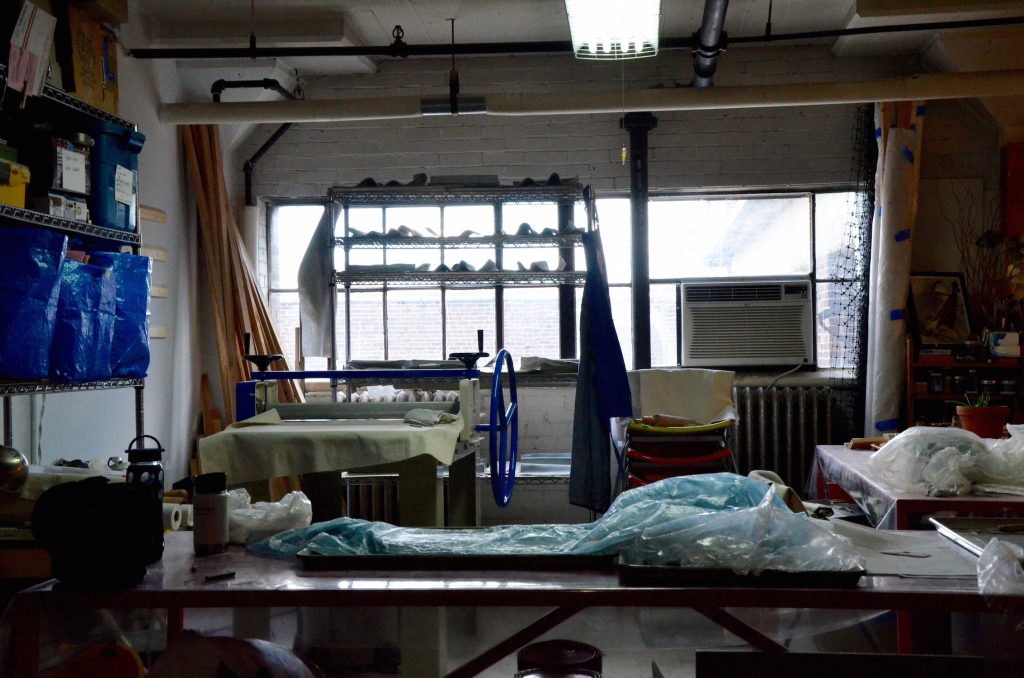 How have the quantity of tiles and repetition that goes into creating each individual tile contributed to your experience and the meaning of this piece as a whole?
I enjoyed the repetition. The repetitive action is a practice or discipline. It helped set goals for how I used my time in the studio and kept me focused and goal-oriented. The quantity of tiles made me question the practicality of this project and ask questions about how I spend my time, effort and money.  I struggled with acceptance of my idea and the value of doing it but at a certain point I fully committed. In the end, it was completely worthwhile and a valuable pursuit.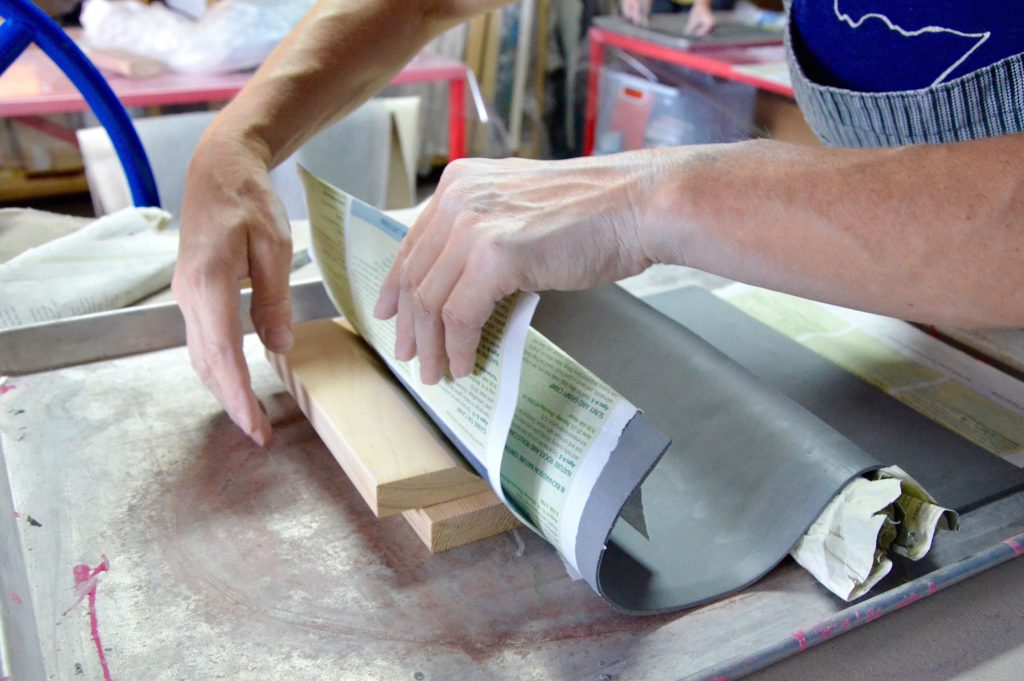 How have people responded to this project so far?
Overwhelmingly supportive. Curious. Interested.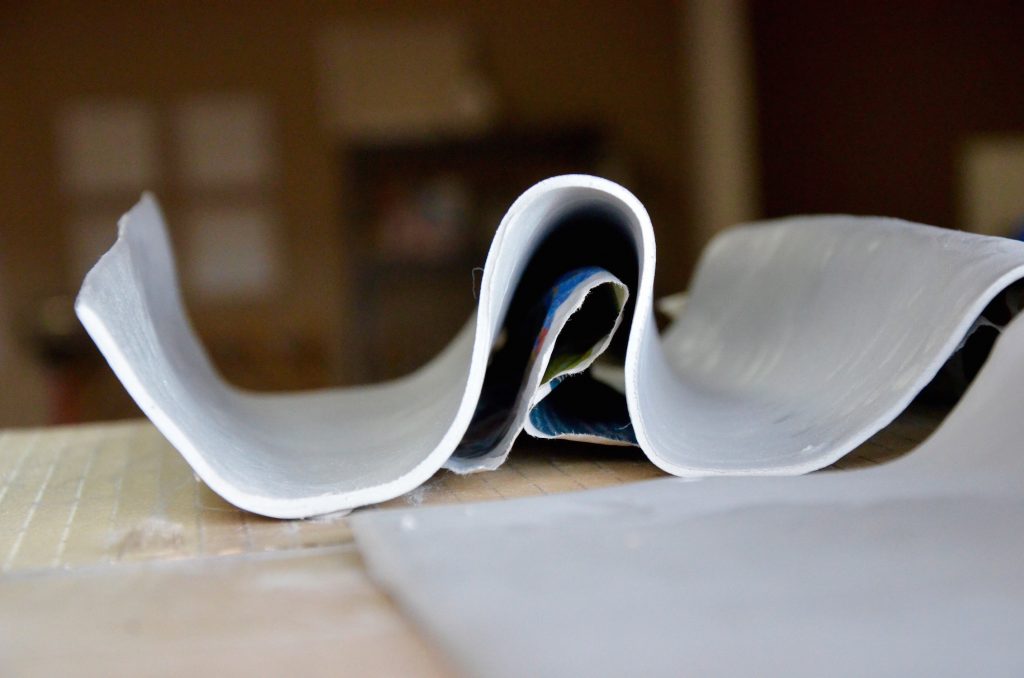 What message would you like the viewer to take away from this installation?
I wanted to create a warm, soft, feminine space. I hope the viewer stands in awe of it for a moment.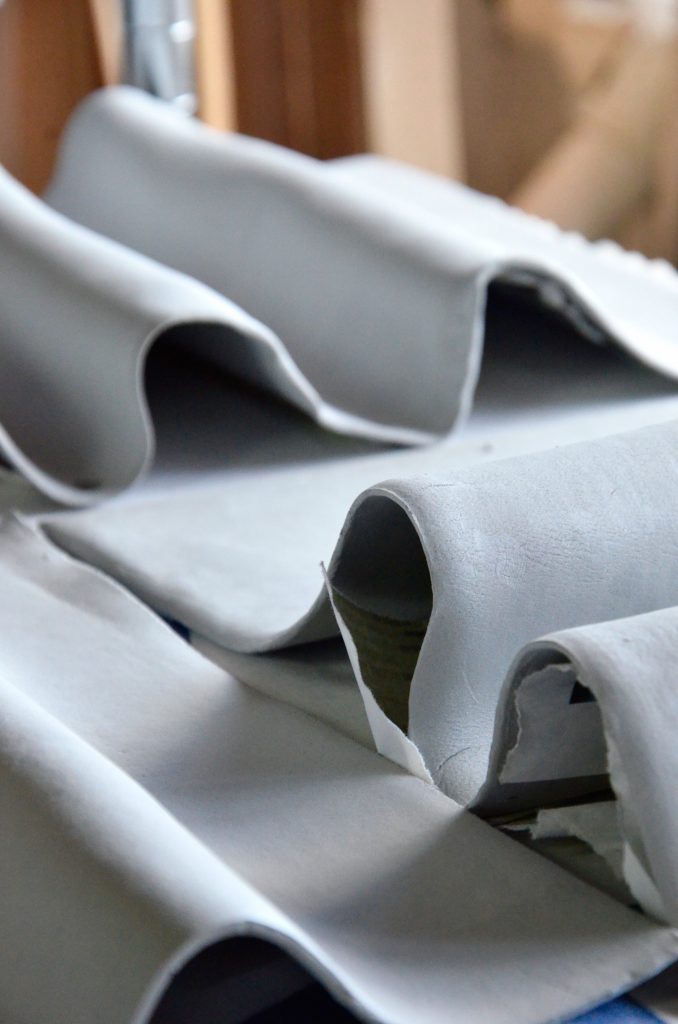 What advice would you give to aspiring artists?
Trust yourself. Commit to your ideas. Ask for help. Plan ahead. Ask questions.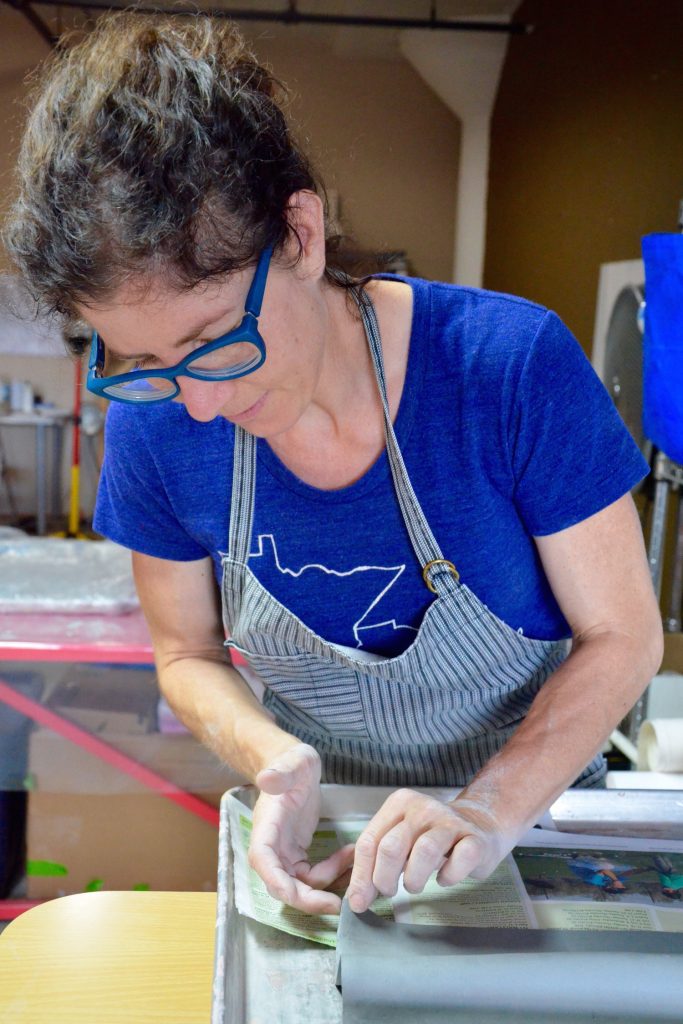 Questions by Gallery Assistant Katie Smith
---
FOR THE FRILL OF IT Images