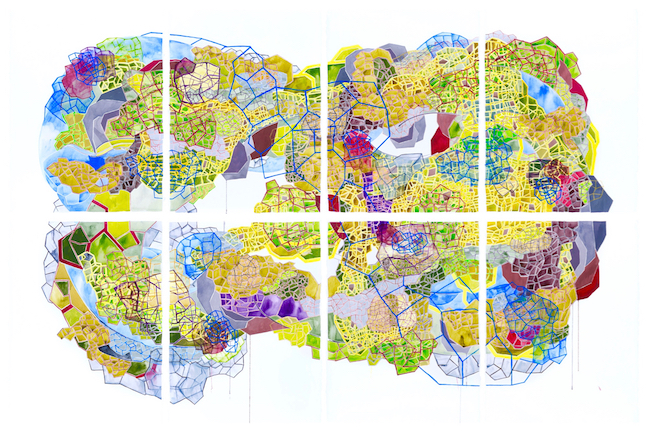 Unquiet Territories
November 7 – December 20, 2016

Working with watercolor on paper, Kroul creates dense organic formations from small shapes and patterns. Inspired by memories, neural pathways and natural elements, these map-like rhythmic structures are landscapes of the mind.
---
UNQUIET TERRITORIES – Q/a with artist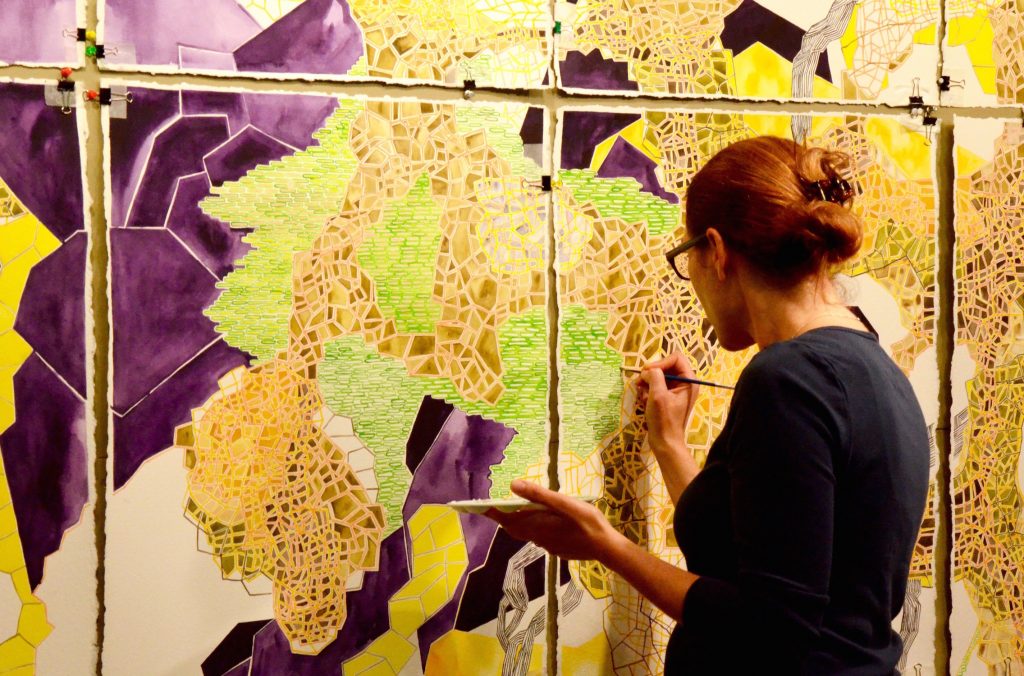 When did you begin working with watercolor?
I began working with watercolor as a primary medium 15 years ago. I was pregnant with my first child, and I wanted to keep working consistently without the use of toxic materials and fumes. Before this I had painted with oil paints on canvas.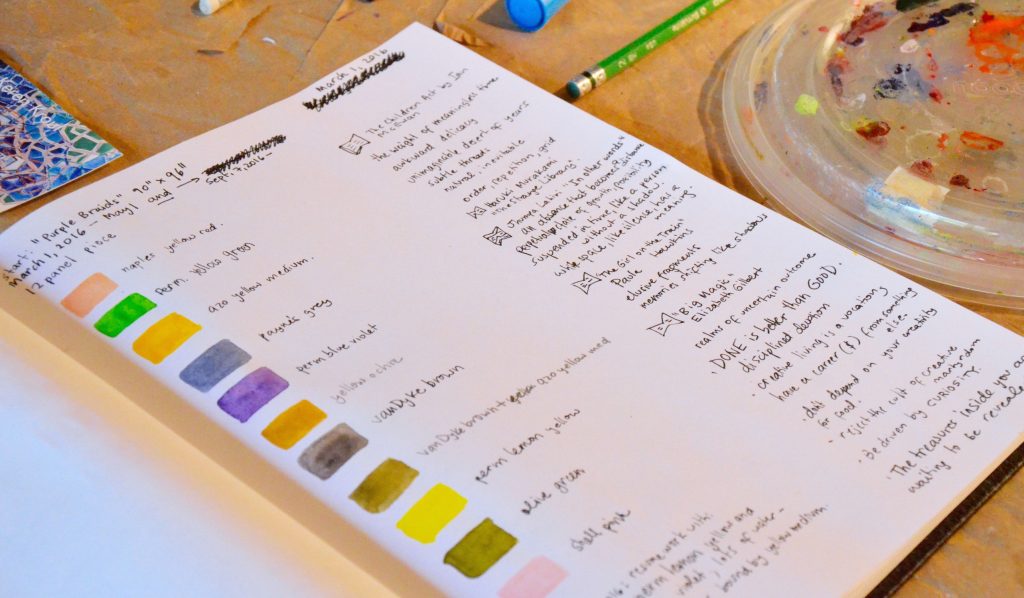 How do geometric shapes relate to your personal memories? What shape and color does a positive memory tend to form in your mind? What shape and color do you use to depict negative memories?
In this body of work, I am using the geometric shape less for its meaning and more as a tool. To me it works as a unit of imagery, like a line or a brushstroke. It is a unit of visual language and also a unit of time, a building block building a larger image from tiny shapes. The color, however, is more specific and meaningful. I love color. I find that color is strongly connected to moments and impressions. For example, blues are the sea of my childhood in Israel and greens are the lush vegetation of Costa Rica, where I lived as a teen.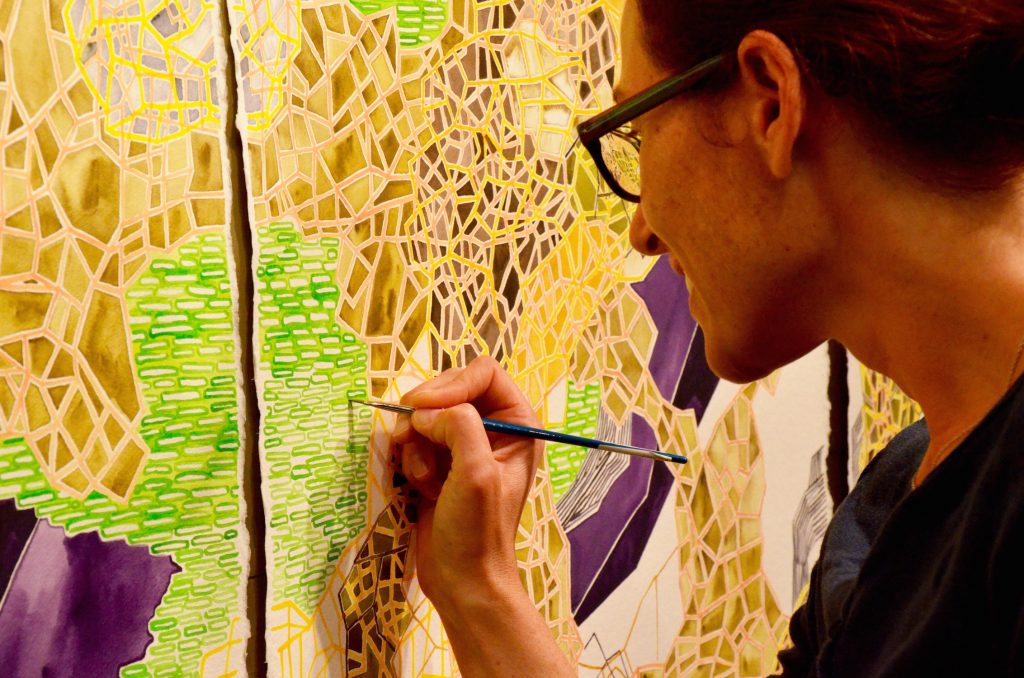 Are you willing to share with us a specific memory that is included in this exhibition?
The 12-panel piece that is purple with green and yellow depicts the following memory: The small black vertical lines that seem to be tangled and flowing downwards represent my great aunt's braids. She was my grandmother's twin sister. Her name was Judith, and she died of typhus at age 23 in a concentration camp in Jurin, Ukraine, in 1945. Throughout her life, my grandmother kept those braids wrapped in silk in a drawer by her bed and was eventually buried with them. To me this image represents loss, of course, but also continuity, hope, and memory as an active living companion.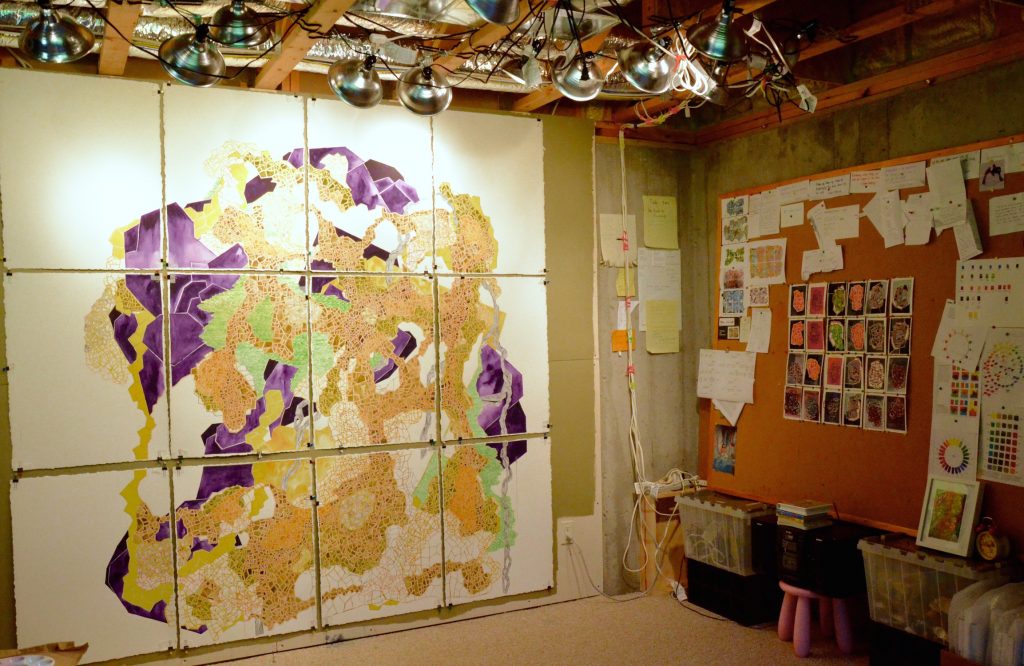 What is the most difficult part of the process for you?
The beginning and the end of each piece are the most difficult, in the sense that I am doubting myself. In the very beginning: how to begin, what colors to use, and what overall shape? In the end: when to end, how much is enough, and what will tip the image over the edge and ruin the thing?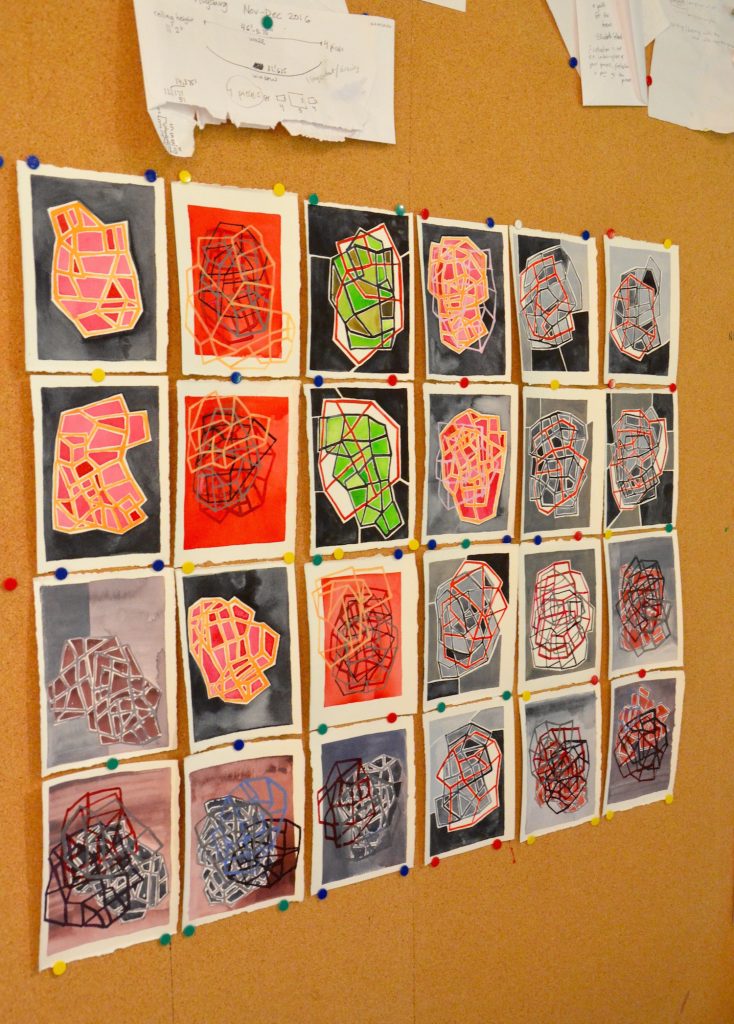 What is your favorite part of the process?
Every part of the process is both challenging and fun.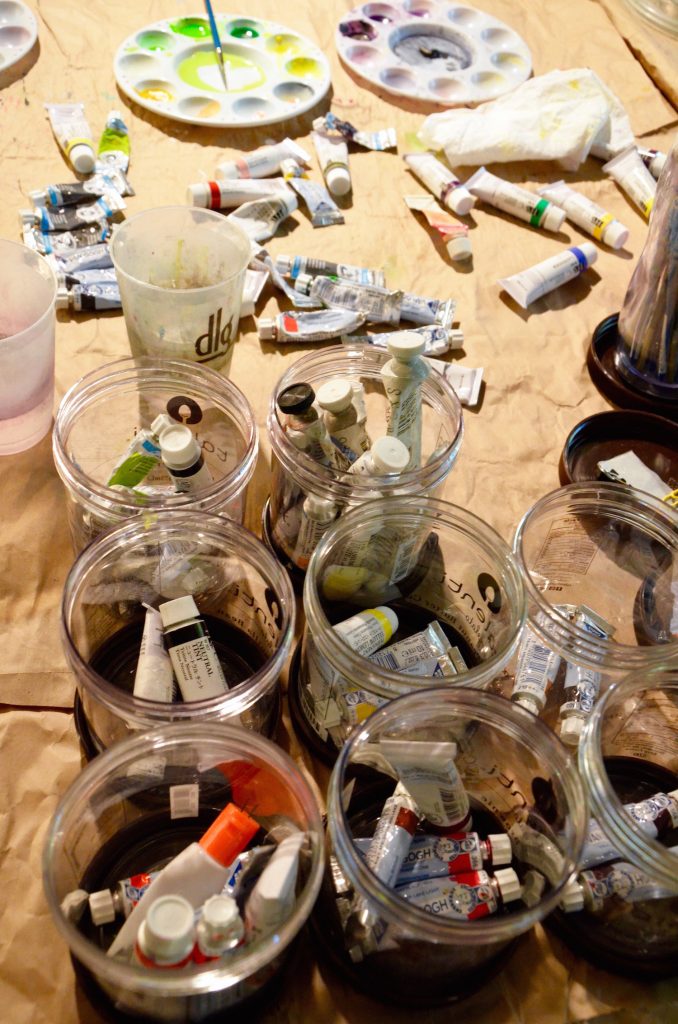 Who are some of your major artistic influences?
I am inspired by a range of artists and art practices: from Rothko and Frankenthaler (for the monumentality of their work and their belief in the emotional universality of color); to Guston and Amy Sillman (painters working at the cross of abstraction and figuration); to traditional world crafts like textiles and tiles (for their use of specific geometry and intense saturated color.)
What advice would you give to emerging artists?
a) Have a source of income that is not your studio work. b) Show up to your studio practice as often as you can.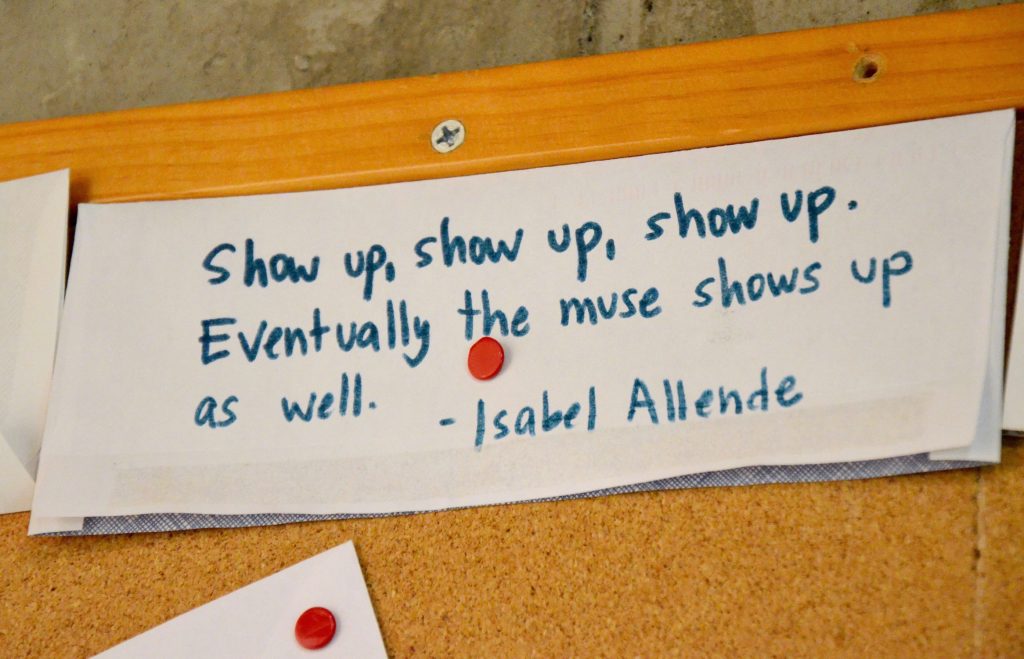 What is next for you?
Artistically, I am moving on from the geometric imagery into more representational/specific imagery and looking into the possibility of moving away from the wall. What would that look like? Professionally, I am exploring more exhibition venues and teaching opportunities.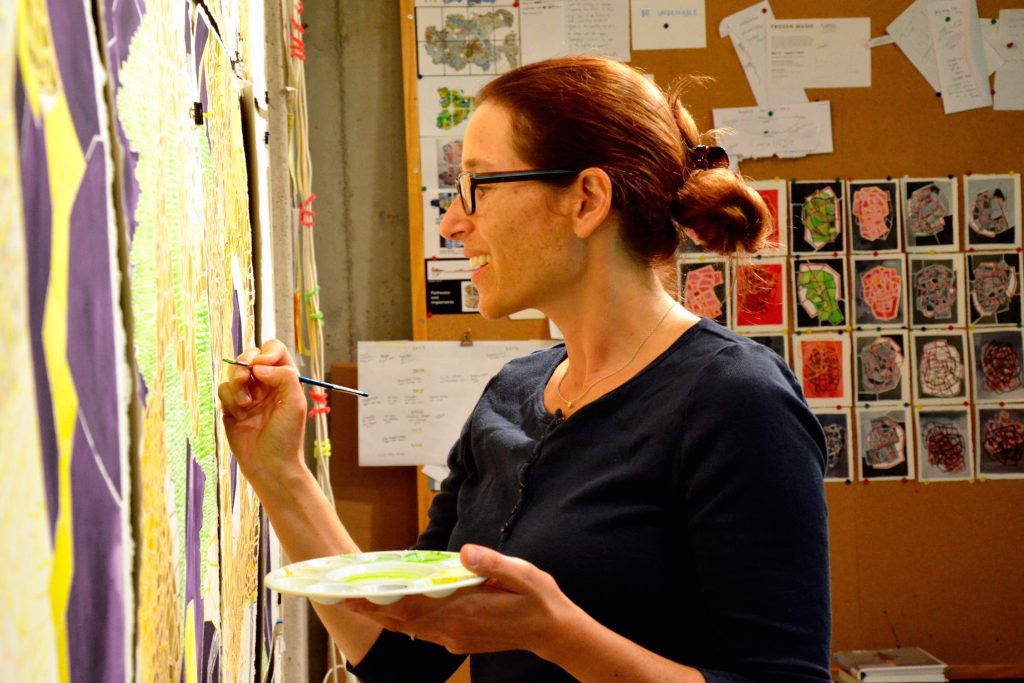 Questions by Gallery Assistant Katie Smith
---
UNQUIET TERRITORIES – images